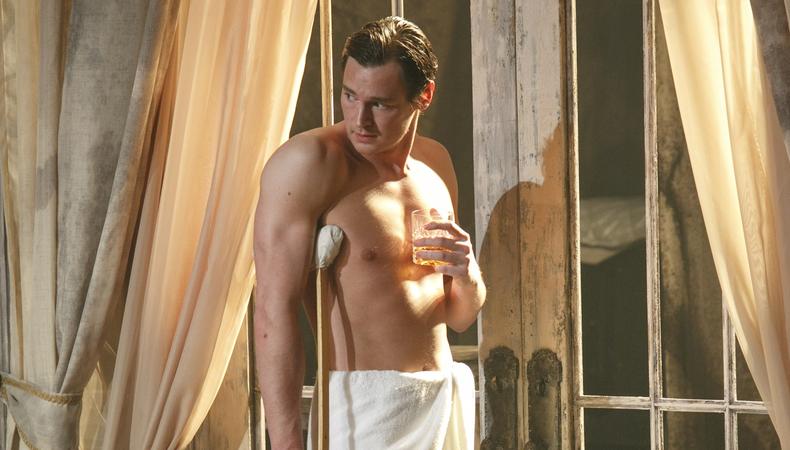 Benjamin Walker has spent a lot of time playing presidents. Weird interpretations of them, that is. He rocked out as Andrew Jackson in "Bloody Bloody Andrew Jackson" and slew vampires as the titular hero of the action flick "Abraham Lincoln Vampire Hunter."
But he's returning to his classic roots with Tennessee Williams' "Cat on a Hot Tin Roof," which opens on Broadway Jan. 17.
"I think what's going to surprise people is that they are going to think they know it because maybe they saw the movie," he says. "And when they see the actual play, they're going to have to realize, 'I didn't actually know what happened in this play. I thought it was a drunk guy and a girl in a slip!' And that's really not it."
Backstage sat down with Walker for this week's cover story, and here are some excerpts from the lively conversation, including how he acts drunk, using dialects, and his best advice for aspiring actors.
On preparing for the role
Tennessee's written so many different versions of the play. Some things that aren't in this version that are in other versions kind of help you understand what he was going for. Understanding what real alcoholism is and so the intricacies of such a complicated marriage and sexuality are certain things that we've talked about in rehearsal, and they're very present in the play. It's not really things you can go research. It's something that you have to find together in the room.
On acting drunk
That's probably where you get in trouble. If you're playing drunk, you're probably doing it wrong. I won't speak for everybody, but when you're drunk, the whole point is to not look like you're drunk 'cause you're constantly trying to compensate for the fact that you're behind or you're falling over or experiencing something that you can't control. That is something that you can really focus on as opposed to doing an impression.
On using his Southern accent onstage
It's actually confusing because the one I grew up with has nothing to do with this one. This is very high-class, and it's very melodic. The one I grew up with was a bit more flat and, not low-class, but a small town as opposed to the expanse of the plantation. This is a bit more Scarlett O'Hara versus trailer park.
On what he's learning from the cast
Particularly from Ciarán [Hinds], he has a kind of ease that is phenomenal. No matter what happens so far in performances. No matter how lost I get. As soon as I make eye contact with him, I'm no longer out of the experience or self-conscious or thinking about what I had for breakfast. I'm talking to Big Daddy. He has magnetic strength that is remarkable. He has this European sensibility, where he doesn't take himself so seriously. I think a lot of American actors really take themselves seriously. We're telling a story. Let's do that, and we don't have to worry about anything else really. That's where the fun is anyway. It's not personal. It's work. It's craft as opposed to expression, and it should be both. He is so strong, and he makes it look effortless, and that's nice to see.
On new work versus published work
Usually the things that are already written and published are great. And there's a reason that they endure. And not that "Jackson" wasn't great, but the first draft needed work. We needed to continue to work on it and based on the different actors in it and as the music changed. As we learned more about Jackson, it needed to evolve. It's nice to have something that is already right. And it comes with its own challenges. You have to figure out how to make that work, as opposed to "I'm just going to say what I think is funny."
On dream roles
I want to work with good people. I'd like to do a real—not that "Jackson" wasn't a musical, but it was rock 'n' roll music. I'd like to do some Sondheim or something. I think that'd be fun.… I've always wanted to do Franklin Shepard [in "Merrily We Roll Along"]. I think that play actually has legs. It gets a bad rap.
On advice for actors
Study. By study, I mean really take what your teachers have to say seriously. Try fully. Learn everything you can. You don't have to agree with it all. You don't have to like it all. But you have to try it all. I'd also say what they can't teach you in school is that it also takes time. We live in a very "American Idol" mentality, and that has not been my experience, and I would encourage people to not aspire for that. It is a craft and life that should last the entirety of your life. Some things look overnight, but they're not. Who remembers the third runner-up of the third season of "American Idol"? You wouldn't want that anyway. Who knows? Maybe they're brilliant. Maybe it's like Kelly Clarkson, you asshole.
Pick up a copy of Backstage starring Benjamin Walker on newsstands on Thursday and check out the full cover story on Backstage.com!