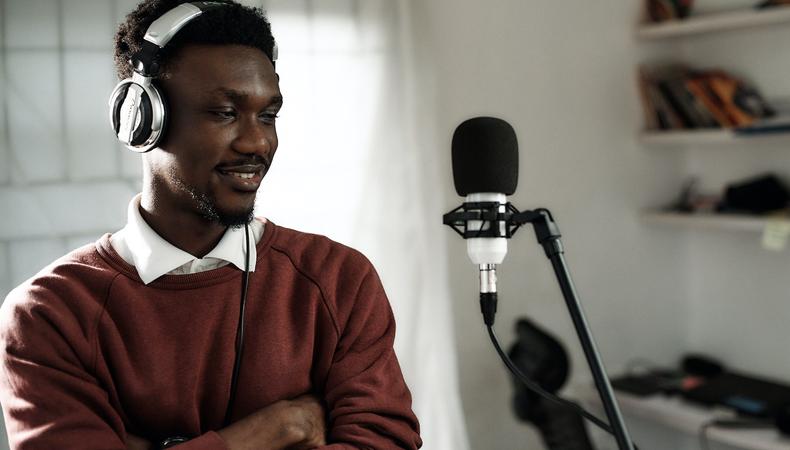 As more and more opportunities emerge for Black voice actors, it's important to be prepared for the competitive commercial voiceover industry.
"I'm definitely seeing an uptick in companies wanting to hear authentic, diverse voices," says voice actor Tracie Frank, whose credits include Bank of America, Wells Fargo, and IBM. "When I started pursuing VO in the early 2000s, I was encouraged not to put my picture on the website with my work. At the same time, there were lots of people who were not of color booking things because they could do a Black or Indian voice. But now, to hear our own voices that are actually our own voices, no matter your race or ethnicity or background, is a positive thing."
Llou Johnson (Burger King, Ford Motor Company) relates, having come up in the 1970s and 1980s. "We've come a long way, but we are still not where we can be," he says. "So as long as we're creating our own products and content, and getting out there, I think the future will be a lot brighter than it has been for the African American VO talent. It's all about making sure that when that door opens, you're prepared."
"Think of yourself as mainstream and not just relegated to your race's work," adds voice actor and coach Joan Baker. "That is a big deal, and never has it been like this before. So now it's time to go to work."
Keep reading for all the advice you'll need to break into—and thrive in—commercial voiceovers from those who do it every day.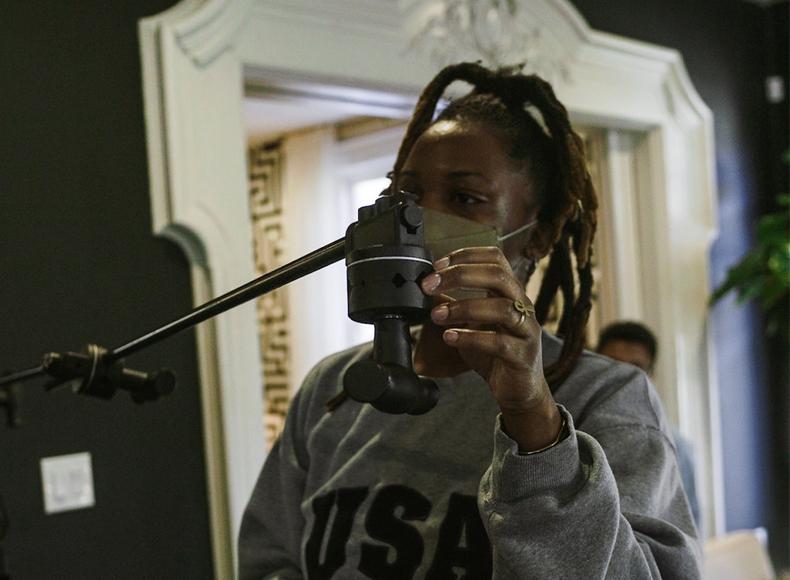 @thirdandwonder/nappy.co
1. Find good coaches
David Cherry (Tidal, Stereo app) was a full-time Twitch streamer who spent his days entertaining people with his voice. He searched for voiceover coaches online and enrolled in several weekly classes, both over Zoom and in-person, working one-on-one with Crispin Freeman, Adventures in Voice Acting, Dorah Fine, and commercial coach Dave Bisson. Utilizing the expertise of several coaches, he went from having no acting experience to booking roles after a year.
"This is why it's good to have coaches," he says. "I spoke to mine and said, 'Hey, I'm currently not represented. Do you have any recommendations?' I talked with them and also looked up other voice actors and saw what agencies they were part of. Each coach has something different to teach me."
2. Take VO classes
Dre Washington (Amazon, Marvel) dedicated himself to voiceover classes for two years before he felt ready to make a demo reel and seek an agent. In fact, prior to his training, he had zero experience in performing. Through a friend, he heard about and started taking a weekly commercial VO class in Hollywood—Kalmenson & Kalmenson Voice Casting and Education—where he learned everything about the field. "I just fell in love with it," he says.
From there, he branched out into more classes, learning not just acting but also the business side of voiceover—which includes marketing yourself and your brand. "To be successful, you have to be good in both subsets. I learned to read scripts, take direction, how to convey different emotions, and also how to be a good businessperson, a good marketer, and a professional," says Washington. Additionally, the knowledge he obtained from his classes—including guidance on creating demo reels with a producer, submitting them, and finding an agency that was a good fit for him—helped him to get representation faster and easier.
"I would definitely recommend to anybody who wants to go into voiceover to make sure your acting chops are up there," he says. "You want to go into the session, knock it out in as few takes as possible, and save everybody time—because time is money."
3. Find a mentor
Carmen Crews' (Walmart, Myfembree) gateway to commercial voice acting arrived through her post-college job working for an airline—a role in which she made overhead announcements. A casting director on one of her flights took notice and eventually walked her through what steps to take if she wanted to pursue voice acting. Crews studied extensively under the CD, frequently sitting in on classes for free. For six years, she spent every weekend interning and coaching, "absorbing all the information."
Outside of class, Crews listened to commercials and read billboards out loud while driving. "I actually believe there are no good or bad voices," Crews says. "There are, however, good or bad actors. Anyone who has a voice can be a voice actor—but voiceover isn't just about reading words on a page. Even professionals are still being coached to help improve their technical skills, like breathing, delivery, pronunciation, and articulation."
4. Find your community and learn to network
Connect, connect, connect. Breaking into VO is no different from breaking into acting for film, TV, or the stage. It's crucial to make connections and network with those in the field, put yourself out there, and stand out. Crews advises those aspiring to enter VO to utilize Google, "a newcomer's best friend. Search for voice acting jobs, make a list of contacts [and] reach out. Find and go to conferences and workshops, absorb as much info as you can, meet as many people as you can. This way you'll be able to market yourself and build your career from there."
According to those in the know, you have to look at it as creating a business for yourself—which means having a good social media presence and website, and understanding the different markets (East Coast versus West Coast, etc.). Johnson says, "If we are talking about young African American talent getting into the business, one thing I tell anybody is that everything they get, every job they have, they should look at it as if it's their last. You don't rely on agents and managers to get you VO or working opportunities. It is up to you. Learn the craft, find out where the work is, and go get it."
On networking, Baker says it's crucial to know who to connect with: "buyers, producers, and facilitators" who work within networks, studios, production companies, talent and casting agencies, and gaming and toy companies.
RELATED: 15 Networking Tips for the Working Voice Actor
Here are Baker's most important networking tips:
Understand that "the meaning of networking is to establish multiple relationships that connect on a variety of meaningful lives."

Be "honest and straightforward in your dealings. Don't play the game of 'fake it til you make it.' You will eventually be found out and you will not be given a second chance."

Become a regular at "key conferences, events, and happenings," and know that it could take years of merely showing up to things to be recognized by someone who can really help your career.
"You're kind of like a one-man or one-woman show," she says. "You have to stand out, and then you have to find people who can assist you in your entrepreneurial business, because that is what VO has come to today. We're entrepreneurs asking talent agents, producers, and casting directors to partner with us."
For Black talent on a quest for work, Bryan J. Howard—a prolific commercial and audiobook voice actor—has created the African-American Voice Actor Database, "a go-to source where casting directors could find professional African American voice actors." Additionally, the Jackson Agency is a Black-owned talent agency based in California whose initiative is to provide diverse actors with opportunities they might not normally get.
5. Understand the audition process
When it comes to auditions, working voice actors commonly receive invitations through their agencies. They may submit multiple auditions per day and dozens or hundreds per month. Washington says, with his home studio setup, he's had to travel to an outside location only two to three times out of thousands of auditions. "They send you the copy and what they think they want," he says. "They don't really know what they want until they hear it."
"You have to love auditioning. You have to look at auditioning as the job because it basically is," he adds. The goal is to walk into every audition with a firm idea of what makes you unique and stick to it. "That's what will get you the job. People think you have to sound like somebody you're not or do things you wouldn't really do, but it's the complete opposite. If you want to be a great actor, you have to be true to yourself, and take those words and make them yours."
For Frank, the audition process involves getting so familiar with the material, she can offer casting directors multiple takes—one to the letter, and then something with her own twist.
"Do it the way they're asking and then another take where you add your own personal spin to it. A lot of times, that will push you over the top," she says. "They've heard a lot of the same thing, and then they hear you add your own personality and voice to it, and then they might say, 'We didn't know that's what we were looking for, but there it is.' They want that unique thing that we bring to the table."
Continuing, she says, "I do my auditions at home, so there's very little pressure. Nobody's standing there watching. That level of stress is removed from the process. I'm judging myself. So you have to be able to self-direct."
According to Everett Oliver—a voice acting director and private coach for commercial and animation—after an initial audition, producers will want to know more about you and see how well you take direction. "For callback sessions, one good question to ask is, 'What did you like about the audition I sent in?' " he says. "And then, 'What would you like me to do differently?' And remember that even if you're not right for that specific job, they could keep you in mind for something else."
Baker adds that because everybody's auditioning from home at this point, it's imperative to also have training and skills in software, equipment, and microphone setups for when you submit auditions.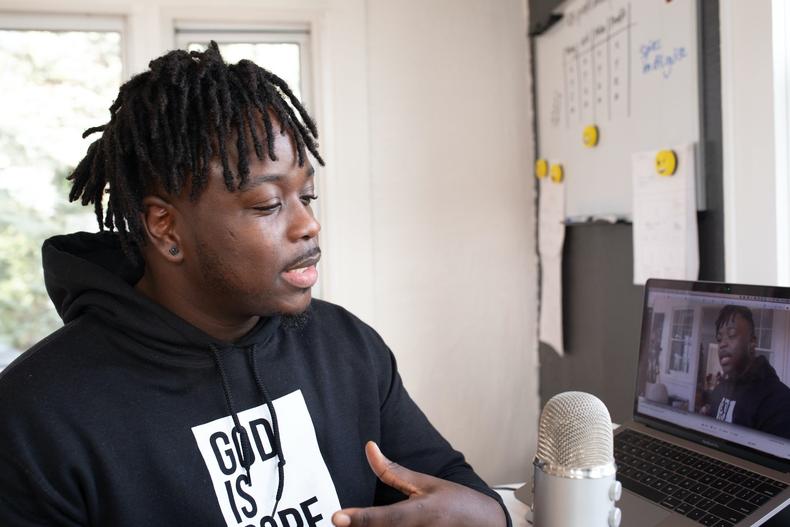 nappy/Pexels
Acting skills
"It's not called voiceover, it's called voice acting," says Oliver. "I think because people have told them they have such a great voice, most don't know what to do with it. They don't know how to use this instrument that they have."
Oliver suggests aspiring Black voice actors study improv to ensure they can adapt to any material without losing their unique voice. "[As a director], I'm looking for personality and confidence to come through, whether or not the words pop off the page, the emotional shifts, how funny they are. What is your POV in the commercial?" he says.
"If you're not comfortable directly reading off the page but making it sound like you're not reading, you might struggle in this industry," says Frank. "You need to be able to infuse your voice, be emotive, and convey if you're smiling or if you're supposed to be sad—depending on the emotion the advertiser is trying to pull out of people that hear it."
Marketing prowess and self-advocacy
"People forget that this is a business and should be treated as such," says Johnson. "You cannot, as a talent, wait for somebody to bring you supper."
Baker agrees: "You have to stand out. We're entrepreneurs asking talent agents, producers, and casting directors to partner with us…and they're not going to partner with you if you're lightweight. There are just too many people who aren't lightweight."
The most essential part of your marketing toolbox is a professional-quality reel. Your commercial demo is your business card. It should be no longer than 60 seconds long, composed of clips that best represent you as a commercial voice actor. To ensure your reel meets industry standards, Washington suggests working alongside a VO professional.
"I sat down with a demo producer and he just asked me, 'What do you enjoy? What do you like doing?' " he says. "It was tailored to my needs, so it definitely worked out for me."
Frank warns against taking shortcuts with online offers that promise, "take three sessions with us and we'll make you a demo reel and money."
"That just isn't anything," she says. "Don't trust that kind of stuff. If you really want to make money doing this and you're serious about being a voice actor, it takes an investment of time, effort, and money. You want to do it right. You have to be able to learn, take constructive criticism, and grow from it. And a lot of acting classes will be able to do a demo with you at the end."
For Baker, who had several doors closed to her throughout the 1990s, the most essential self-advocacy skill for a Black voice actor is learning to move past rejection. "If you're not getting rejected, then you're not in it," she says.
"The performers you love are the ones who had a hard row to hoe," she continues. "There's no escaping that, and yet there's something extraordinary about putting yourself through these different scenarios and coming up strong. You keep coming out of the fire. You keep learning, you keep self-discovery as your motivation."