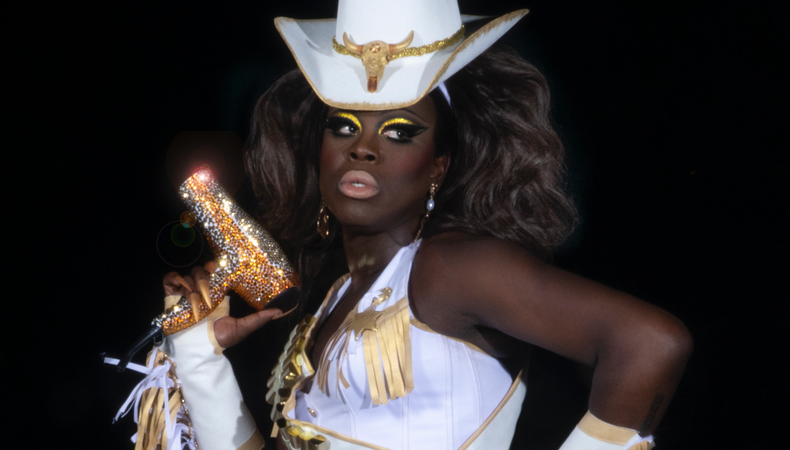 "In the Envelope: The Actor's Podcast" features intimate, in-depth conversations with today's most noteworthy film, television, and theater actors and creators. Full of both know-how and inspiration, "In the Envelope" airs weekly to cover everything from practical advice on navigating the industry, to how your favorite projects are made, to personal stories of success and failure alike. Join host and Awards Editor Jack Smart for this guide on how to live the creative life from those who are doing it every day.
If Bob the Drag Queen could go back in time and tell his younger self one thing, it would be simple: "Girl, work."
Before becoming an actor, producer, comedian, and activist, best known as the Season 8 winner of reality competition franchise "RuPaul's Drag Race," Bob the Drag Queen was Caldwell Tidicue, a queer kid with dreams of superstardom in Columbus, Georgia. "Maybe if I was really not afraid of fucking up the time-space continuum," he says, "I would probably be like, 'Hey, don't take those summer courses because it's going to rack up a lot of debt and you won't pay it off for years. It's going to ruin your credit.' Outside of that? 'Girl, all the stuff you're doing is really nailing it.' "
That kind of confidence is of course necessary for any career in the arts, but perhaps especially when it comes to drag, an art form that elevates and mocks gender expression and encompasses everything from live comedy and music to costuming and fashion to hosting and producing. Growing up, Bob was inspired by Whoopi Goldberg, Carol Channing, and children's shows on Nickelodeon; later it was seeing "Drag Race" Season 1 winner BeBe Zahara Benet onscreen. "Maybe a little bit naively, I always think to myself, 'I could do that,' " he tells Backstage.
Since drag so often requires constructing an ultra-confident persona and convincing audiences to buy into that fantasy, showcasing his best qualities onstage came naturally to him. "My Blackness, my queerness, my gayness, my inability to shut the hell up—these are all things that have really worked for me," Bob explains. After leaving Columbus State University early to move to New York City and pursue theater and comedy, he began performing stand-up and lip synchs in 2009, realizing drag was his way into the biz. "For me, it was really important to immerse myself in the New York nightlife drag scene and become an integral part of that community.
"I think if you want to drag, you'll figure it out," he adds. "My drag mom is YouTube. I learned everything I wanted to learn. You can learn anything on YouTube."
As first Kitten Withawhip then Bob the Drag Queen—who the performer calls "my drag persona, which isn't really a persona, it's more of a nickname"—continued to evolve, so did his journey as an artist. "My first couple of auditions that I ever embarrassed myself at were all thanks to Backstage," he remembers. "I didn't notice that there were a lot of roles written for me specifically, like a funny person who can't sing and is a halfway decent dancer. There's not a lot of stuff written for that and all those roles are going to Whoopi Goldberg!"
Bob also wrote musicals, produced cabaret shows, and built a strong network of collaborators that has endured after "Drag Race" launched him to mainstream success. "If I can't find the places that I want, I will write them myself," he says. He's acted on HBO's "High Maintenance" and "A Black Lady Sketch Show," Netflix's "The Tales of the City," the film "Rough Night," and in Berkeley Repertory Theatre's "Angels in America," produced music videos and stand-up specials "Suspiciously Large Woman" and "Live at Caroline's," and hosted "The Trixie & Katya Show," "The Pit Stop," and the "Sibling Rivalry" podcast opposite Monét X Change.
This year, amid a global pandemic and civic unrest, Bob has continued making social media and YouTube content. He also starred as co-host and consulting producer on HBO's Emmy-nominated reality hit "We're Here," and created the first annual Black Queer Town Hall alongside fellow artist-activist Peppermint. "I didn't realize how important it is to have people's attention," he says of his philosophy toward using one's platform to enact change. It's like the most valuable resource on the planet.... There's an unlimited amount of attention, and I have a really nice ability to get a lot of it, and I try to keep that in mind."
To hear Bob's ultimate advice—"No one is going to cheer for you harder than you have to cheer for yourself!"—and more, tune into his "In the Envelope" episode below. Stick around after the interview for casting insider Christine McKenna-Tirella's breakdown for identifying and dealing with casting scams. And check out her favorite listings of the week: a TV hosting gig for a foodie, the Amazon series "Paper Girls," and a socially distanced pantomime experience in the U.K.!
Listen now on:
Looking for remote work? Backstage has got you covered! Click here for auditions you can do from home!