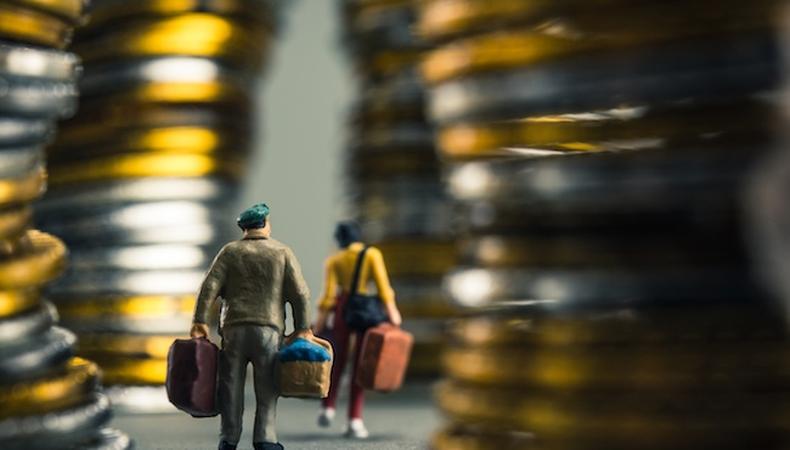 Most American actors go from gig to gig, company to company, and sometimes work a side hustle in between. Unless an actor, for example, has secured a position at a resident ensemble or on a long-running TV series, their professional identity is as vast and varied as the productions for which they work.
Every year around tax season, artists rely on itemized deductions to help balance out business expenses. They can subtract items classified as profession-related expenses like makeup, union membership, or even a subscription to Backstage, from taxable income. However, under the new tax bill, Actors' Equity is warning that the legislation could change finances for every American theater artist.
To more thoroughly inform members, Equity released the results from a new study. According to the Hollywood Reporter, where the study's findings are published, the GOP bill will raise the standard deduction by $5,650. However, per the report, actors who traditionally itemize deductions would pay full tax rates on business-related purchases and not be eligible for the standard deduction. The bill would also limit the deductions for state and local income and property taxes, disproportionately affecting California- and New York–based entertainment hubs, where many actors live.
In light of the GOP's legislation, some are wondering if it makes more sense to register as a single member limited liability company, commonly known as an LLC, because the incoming tax protocols seem to be more business-friendly than artist-friendly.
Playwright Gabrielle Reisman has been gearing up to register as an LLC for some time. While attending the University of Texas at Austin's graduate playwriting program, a professor introduced the notion of artist incorporation. Since her graduation, she had been pondering making a move, and "this new tax fuckery is finally the tipping point," she said via email.
In many ways, theater artists function as their own businesses. From building a website, traveling for auditions or gigs, leading workshops, signing contracts, and, in some cases, hiring an agent or manager, artists rely on business-related decisions daily.
"As I think about creative producers or actors trying to take ownership of their own work, I think it's an interesting opportunity," said Julie Hennrikus, executive director of StageSource, an actor resources organization in Boston. "For actors, I think it's an interesting way of taking agency."
There are a few different ways an actor can legally create a for-profit business standing. The legal models of small businesses include a sole proprietorship, partnership, or an LLC. None of these require a governing board as a nonprofit organization does, and all can be registered rather quickly.
But there are more reasons, besides taxes, that it might behoove theater artists to incorporate. As Reisman mentions, the thought of artists registering as their own business is not new.
The most significant reason an artist should consider forming a business is for legal protection, said Dominic Yeager, head of the arts management program at the University of Alabama. "The No. 1 reason is to protect personal assets. In the event of a falling-out between the actor and producer or actor and agent or manager, all personal assets would be protected."
A sole proprietorship does not remove the owner from legal and financial responsibility in the event of a lawsuit or dispute. There are similar weaknesses with the partnership model. The LLC, however, provides stronger protection for the owner, removing a significant portion of the personal risk.
In fact, this is why most businesses organize under the classification of an LLC—it protects from personal liability. But what exactly does that mean?
"If there happens to be litigation, it will be between the claimant and the LLC rather than the individual, which means all individual assets will be protected," said Yeager. "There are potentially some tax benefits to doing business through an LLC, as well. Starting a career in this field can be expensive, and doing business under the LLC, one can potentially use the losses in doing business as deductions for other income."
However, to attain this legal and financial protection, actors must follow through with adequately registering their business and activating it throughout the negotiation processes with the organizations that hire them. "It does not do any good simply to form the LLC," said Yeager. "One must also complete contractual agreements through [the] LLC."
An LLC, Hennrikus said, not only gives the actor more protection but could help facilitate cleaner collaborations with creative partners and empower actors to produce original work. "Well-seasoned actors sometimes create their own work.... As we're moving toward a more 'creator economy,' maybe this is another path forward."
It might be a stronger and more sustainable option than starting a nonprofit theater company, as many are inclined to do, Hennrikus suggested. "An ego is not a mission statement," she said. "I think artists need to be careful about starting a nonprofit to do their work."
Nonprofits, or 501(c)(3)s, require significant documentation with the federal government and, most importantly, they necessitate the acquisition of a board to operate as a governing body of the organization. This means the board, not the founder, would have the ultimate control. Furthermore, nonprofits are granted a tax-exempt status because, theoretically, they are supposed to offer some public good or enhancement. Sustaining an actor or even a project is difficult to justify for a nonprofit's function.
So, where should one begin?
"The primary resource is the secretary of state website from the state where one would like to create their LLC," said Yeager. "This website will give all the directions needed to create an LLC. If an individual is not comfortable doing the paperwork themselves, I suggest they hire legal representation to do it for them."
Actors who work across state lines should register in the state where they primarily reside and should be sure to pay close attention to the tax stipulations of each state where they do business.
Additionally, any new LLC owner should consider which bank to utilize and what benefits or tools their bank may offer to small businesses.
"This is a conversation so that being an actor isn't passive," said Hennrikus. "There can't be theater without actors, as much as people would like to make actors feel differently."
Get all of your acting questions answered by peers and experts on the Backstage Community forums!