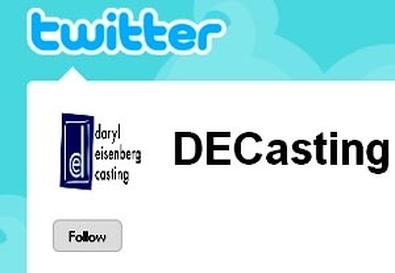 Call it Twittergate.
Casting director
Daryl Eisenberg
has drawn fire on
several message boards
for
using Twitter to comment on actors
auditioning in front of her this week for the New York Musical Theatre Festival's "Gay Bride of Frankenstein."
The controversy escalated Aug. 12 when an
Actors' Equity spokesperson told the website
BroadwayWorld.com, "AEA is aware of the situation, because of numerous complaints about the unprofessional behavior of the person in question, and is addressing the situation accordingly."
Examples of Eisenberg's so-called "unprofessional behavior" include tweets such as, "If we wanted to hear it a different way, don't worry, we'll ask," and "Good thing my assistant noticed that he had NO CONTACT INFO ON HIS RESUME. We stopped him before he left the room. He was actually good!"
Eisenberg claims she never tweeted maliciously.
"This was entirely meant to inform and educate actors," Eisenberg said. "I'm sorry to see that it's been taken in a way that is different than its original intention." The casting director added that much of the response has been positive.
But Darryl Winslow, who believes his Aug. 12 audition prompted Eisenberg to tweet, "if you are going to sing about getting on your knees, might as well do it and crawl towards us...right?" feels less than positive about the situation. He says the audition piece he did, a comedic piece that involves him dropping to his knees, has won him parts in "Evil Dead: The Musical" and "Bonnie and Clyde: A Folktale," and callbacks for "Shrek: The Musical" and "Billy Elliot."
"The upsetting thing is that an audition room should be a safe place for an actor to go in," Winslow said. "It's like Vegas. What happens in the audition room should stay in the audition room."
Casting director Paul Russell, who
chastised Eisenberg in an Aug. 13 blog post
, agrees. He is unimpressed by Eisenberg's contention that she only tweets during breaks, never while an actor is performing.
"Comments about the actors should be made privately to the creative team, not announced on Twitter," Russell said. "She has breached the bond of trust between actor and casting director."
Eisenberg said that she will continue to tweet from the audition room (though her future comments will have "a different tone and a different time frame"), and it doesn't look like anyone can stop her.
Isaac Robert Hurwitz, executive producer of the
New York Musical Theater Festival
, said, "If people are hurt by that process, it's not something that I support," but acknowledged that he has no authority over casting directors for individual productions.
Equity spokesperson Maria Somma echoed the union's earlier statement, saying, "Every actor expects and deserves to be treated with respect and professionalism in this very competitive business, and when those values are so cavalierly and irresponsibly eroded as they have been in this case, you see the kind of firestorm this young lady has created by her actions."
As for Eisenberg, she has an idea about why she has drawn so much fire. "I think that a lot of people have never really read the Twitter account and don't know how Twitter works," she said. "It's such a new technology, not everyone understands it."
UPDATE [8/13 6:50 p.m.]:
The producer of "Gay Bride of Frankenstein" has announced a second
Equity principal audition
for the show Aug. 17. The casting notice notes that "All Equity members who consider themselves 'right' for one or more of the above roles are welcome to attend, including those who auditioned at the Aug. 12 EPA." In a
statement on the union's website
, Equity claims that the producer, Billy Butler, "immediately understood the negative impact [Eisenberg's tweeting] had on members who were auditioning and has scheduled another audition."