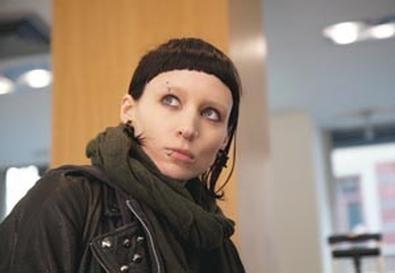 Director David Fincher and casting director Laray Mayfield—collaborators on "The Social Network," "The Curious Case of Benjamin Button," "Fight Club," and "Zodiac"—have teamed up once again to tackle Fincher's much-anticipated adaptation of the novel "
The Girl With the Dragon Tattoo
."
Mayfield, who won an Artios Award from the Casting Society of America last year for "The Social Network," started talking with Fincher about the casting of the new film in May 2010. "I was both excited and overwhelmed," she says about taking on the highly anticipated project. To prepare, she read all the books in Stieg Larsson's trilogy. Then, to have a point of reference, she watched the 2009 Swedish film version of the novel. "There is always a concern when there is pre-existing material," Mayfield says. But she points out that Fincher was basing his film on the book, not on the previous movie: "David is so honorable to the books, characters, and Sweden, so I wasn't worried."
Their central challenge was casting the main character Lisbeth Salander, described in the novels as a small-in-stature 24-year-old computer hacker with a photographic memory, a history of violence, and a tragic past. The role went to Rooney Mara. Reportedly, nearly every female actor in Hollywood wanted to play Lisbeth. However, producer Scott Rudin says Fincher's idea from the beginning was to cast a relative unknown, so that audiences would put their own ideas about Lisbeth onto whoever was playing her. Fincher wanted "someone that we didn't have any history with," Rudin explains. "Brilliant people tested for it. I mean, a lot of stars tested for it, and were fantastic, but there was something about Rooney. She was so exciting in it, and so fresh, and completely unpredictable. The fact that we just don't know her that well made it, gave it a kind of kinetic energy that I think probably wouldn't have happened with somebody else."
Mayfield introduced Fincher to Mara during auditions for "The Social Network," in which he cast her as Erica Albright. "David loved her on 'Social Network,' " says Rudin. "From the time we started working on 'Dragon Tattoo,' I think David always really wanted Rooney to play it. In deference to the scale of the decision, he went through a very long process and worked with many people and many days of shooting film tests—tests with sets, tests with costumes, hair, makeup, the whole deal. And I look back at it now and I think, 'Why did we do all of that if it was always going to be Rooney?' "
In addition to Lisbeth, Mayfield says, there were many other casting challenges—mainly the generational casting of several roles and the fact that many of the characters are related to one another. "We needed to make that believable," she says. Another challenge was casting the role of nasty Nils Bjurman, Lisbeth's legal guardian, who does terrible things to her. Dutch actor Yorick van Wageningen ("The Way") sent in an audition tape from Europe. "He was fantastic," says the CD. Later she was surprised to find out how different van Wageningen was from his character. "When I met him in person, I melted. He is a teddy bear."
Mayfield says she is thrilled with how the film turned out: "I am always excited for audiences to see everything David does."
Casting Director: Laray Mayfield
Director: David Fincher
Writer: Steven Zaillian, based on the novel by Stieg Larsson
Starring: Daniel Craig, Rooney Mara, Stellan Skarsgård, Christopher Plummer, Robin Wright, Yorick van Wageningen
The Pitch: Journalist Mikael Blomkvist (Craig) seeks out a young computer hacker named Lisbeth Salander (Mara) to aid him in his search for a missing woman.
To read Back Stage's complete coverage of Awards Season, please get our FREE SAG Nomination Committee Guide. Or follow all our daily coverage with Back Stage's new online Awards Season section.