In the Envelope: The Actor's Podcast features in-depth conversations with today's most noteworthy actors and creators. Join host and senior editor Vinnie Mancuso for this guide to living the creative life from those who are doing it every day.
Ever since breaking out as Wednesday Addams in 1991's "The Addams Family," Christina Ricci has become the face of onscreen outsiders—a status, she says, that she's finally able to articulate personally. "I'm not a person who understands group mentality," Ricci tells us. "I don't understand needing other people to validate your taste and choices, or having to agree with everyone all the time."
In this episode of In the Envelope: The Actor's Podcast, Ricci breaks down how she maintained her independence throughout her three-plus decades as an actor. That journey includes playing the type of passive-aggressive character that has been evading her until her turn as Misty on "Yellowjackets." The dark Showtime drama is earning Ricci serious Emmy buzz.
She has been advocating to play a certain kind of rage her entire career.
"I've been trying for a long time to use passive aggression [in my characters]. I really think passive aggression is rampant, especially when you take into account someone's physiology. I'm a very small, harmless woman. I cannot be openly hostile in public with strangers. It is just not smart. But I can be as passive-aggressive as I want. It's a way of expressing rage that is safe for someone like me…. I find it is very common with women, because we don't feel safe, physically. So it's something I've tried to do and play with in other characters and felt was very appropriate, and I've always come up against a lot of resistance."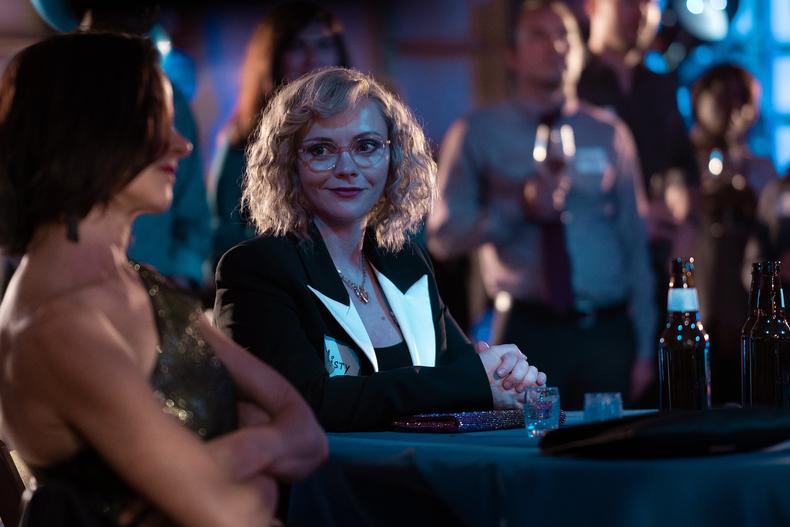 Kailey Schwerman/SHOWTIME
"Yellowjackets" features the types of characters Ricci has been wanting to see for a long time.
"I think we're at the point…generally as an audience, where we can find characters interesting that we don't see ourselves in at all. You don't have to see yourself in somebody to be fascinated, interested, or root for someone. I'm really happy we're at that place, because I really spent years arguing that point."
She has one go-to piece of advice—whether you're an actor or not.
"I would give this advice to anybody, really, starting in pretty much any field—and certainly in an artistic field. You should always be open to constructive criticism; but also, find the thing that you do that's special, and do that thing. No matter how strange the thing is that you're good at, if you're the only person who does that, and does it beautifully…play to your strengths, even if they're not popular at the time."
Listen and subscribe to In the Envelope to hear our full conversation with Ricci:
This article is sponsored by HBO Max.