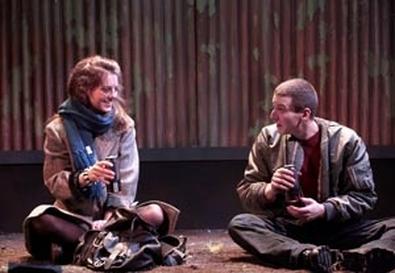 British playwright Chloe Moss, winner of the Susan Smith Blackburn Prize, makes her U.S. debut with Babel Theatre Project's production of
Christmas Is Miles Away
, a charming if rough portrait of three young adults' friendship over the course of two years.
Though director Geordie Broadwater isn't able to completely mask Moss' meandering story, the three actors give extraordinarily rich and nuanced performances. Alex Fast and Roget Lirtsman play Christie and Luke, two unlikely male pals since primary school. As the play opens, cracks in their relationship are showing. While Christie contemplates college, Luke, already adrift, can only succumb to his father's demand that he enlist in the army. When Julie (Emily Landham) comes into Christie's life, the divide between the young men widens.
Fast, still a student at NYU, impressively captures the ethereal nature of Christie's emotions as well as his keen if unwitting selfishness. Similarly, Lirtsman revels in Luke's hedonistic joie de vivre early on, then turns him into a haunted, introspective soul after he returns from the Gulf War. Landham's performance is equally complex as Julie navigates the young men's fraying friendship.
Christmas Is Miles Away
darts between a secluded spot in the English countryside that the guys call their own and Christie's suburban bedroom. This is a tall task for designers on a budget, but Daniel Zimmerman devises an ingenious and economical way for the play to shift locations. It's just another facet of this terrific introduction to a new generation of promising theatre artists.
Presented by Babel Theatre Projectat the Connelly Theatre, 220 E. Fourth St
.,
NYC
.
May 4
–
23. Wed
.–
Sat
.,
8 p.m. Additional performance Mon
.,
May 4, 7 p.m
.
(
212
)
352-3101 or www.theatermania.com
.