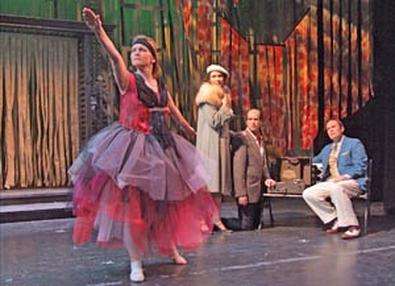 In "Clothes for a Summer Hotel," his last Broadway play, the tortured Tennessee Williams attempts to dissect the dysfunctional marriage of that beautiful and damned couple F. Scott and Zelda Fitzgerald. But he also examines his own life and literary career. This uneven "ghost play" pits the alcoholic, repressed Scott against the intense, overly sensual Zelda. Like Williams in his "stoned age" of substance abuse and commercial failure, Scott is a physical and artistic wreck. Suffering from frequent panic attacks and shortness of breath, the once-glittering author, now a Hollywood hack, has come to visit his mentally ill wife outside the North Carolina asylum where she has been institutionalized. Zelda can be seen as the feminine side of Williams, who also spent time in psychiatric hospitals.
According to Williams, Scott is chronically insecure about his work and his sexuality, leading him to forbid Zelda to pursue her own writing and Zelda to seek love in the arms of a French aviator. The past, present, and future meld as the battling Fitzgeralds spar over regrets and destinies. It seems that they and everyone else in the play are dead, which removes the audience from the action. The characters, who also include Ernest Hemingway and a wealthy "it" couple of the 1920s, Sara and Gerald Murphy, abruptly switch from flashbacks of drunken parties on the Riviera to discussing their unpleasant demises. Williams has them chattering about their unsatisfactory lives rather than playing conflicting actions. It should come as no surprise that the original production, despite the efforts of legendary director José Quintero and star Geraldine Page, closed after 15 performances.
The White Horse Theatre Company, which has mounted productions of other rarely done Williams scripts, courageously attempts this dry curio. Director Cyndy A. Marion gamely injects adrenaline into these spectral figures, but they come to life only fitfully. Kristen Vaughan's Zelda is the most full-blooded of the ghosts. When she first appears, attired in a sadly inappropriate ballet costume, she resembles a clownish version of Blanche DuBois, a once-vibrant beauty grasping at her youth. Vaughan delivers Williams' poetic dialogue a little too rapidly at first, but once she settles down, she clearly conveys Zelda's blighted passions, both literary and amorous.
Peter J. Crosby does his best to vivify Scott's equally intense desperation, but Williams has rendered the character as a pathetic weakling with little will to fight his battle for survival. Montgomery Sutton offers strong, sympathetic support as a solicitous intern and Zelda's French flyer. Their scene at the Murphys' soiree is the only one that really works, because something concrete is happening: She wants to run away with him; he only wants her to be quiet and behave. This simple, playable conflict is what's missing from the rest of this empty "Hotel."
Presented by White Horse Theater Company at the Hudson Guild Theatre, 441 W. 26th St., NYC. Feb. 6–21. Tue.–Sat., 8 p.m.; Sun., 3 p.m. (Additional performance Sat., Feb. 20, 2 p.m.) (212) 868-4444 or www.smarttix.com.