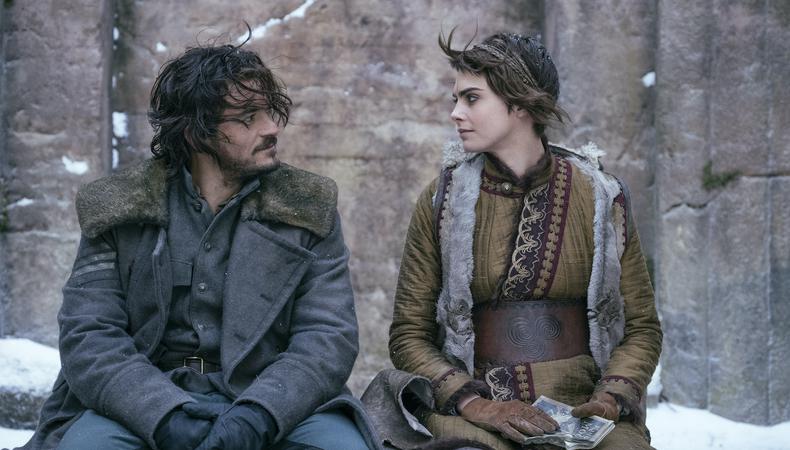 The following is a selection from an interview with costume designer, Joanna Eatwell, as told to Backstage.
A costume designer is a visual storyteller and my job, through costume, is to empower the actor in their performance by exploring character with them and making it real.
I studied theater design in London, which suited me perfectly because it is a character-driven approach to design. I spent my early years working in music videos and was lucky enough to work with some great performers like Diana Ross, Tina Turner, and The Rolling Stones. It was the time when videos were extravaganzas with big crowds, lots of costumes, and very exciting.
I moved into drama and found my niche in period costume, which I love. I have had the opportunity to work on some beautiful projects, such as "Wolf Hall" with Mark Rylance, "Carnival Row," and "Taboo" with Tom Hardy. My most recent project was with Tom Hardy again—"Venom 2"—which is quite a departure from my normal work. Nonetheless, it was a challenging and interesting project, which I am happy to have been involved with.
When it comes to a new job, the starting point is always the script. Then onto research around the period in which it is set: broad research that encompasses trade, class, social history, religion—anything that affects people.
I am always particularly interested in trade because it dictates which fabrics were available and what cultures may be influencing style. Class is important in a historical context and affects dress not just in a simplistic sense of rich and poor, but in a much more hierarchical sense, especially if you are working within the time of sumptuary laws [which were meant to regulate consumption and excessive personal spenditure]. I try to be as true to the period as possible and, as such, embrace "Original Practice" where I can.
Once you have an understanding of the relevant period, you can start to design. As a costume designer, you are responsible for every piece of clothing that appears onscreen and it is really important that the information conveyed by the clothing tells the right story.
"Carnival Row" was a fabulous challenge because we were creating an alternative world that adhered to history as we know it in some cases and in others, it was starting from scratch. We had the human world and the magical world and we needed to create individual cultures for all the inhabitants. We had to believe they had histories and homelands because losing [those histories and homelands] was an important part of the story. We had a great many meetings about the look of the various worlds and I produced many concept drawings for discussion. We also mocked up ideas on mannequins so we could put groups together and see how they worked. We had to believe it was real and gritty, a dangerous world.
We set up an enormous workroom in Prague to be able to make the principal and crowd costumes. It was unusual to make as many costumes as we did but it was necessary in order to service the script. We worked closely with makeup effects because wings, horns, hooves, and giants all had to be considered when the costumes were designed and made. It's always important that all departments interact, but even more so on a project like this.
If a project is episodic, my time is spent working ahead—new scripts, new characters, new actors—so I don't spend a lot of time on the set. For me, the excitement is always in tomorrow and not today. The days are long, particularly on period dramas, but we know that when we sign up.
A costume designer is wholly dependent on a good team and the costume department is made up of many skilled people all with a role to play. It's so important to get the right balance of people because they are going to be spending a lot of time together. It can be a highly pressured job, so people need to be flexible and have pride in what they do.
I would encourage anyone who wants to be a costume designer to follow their dream, it's the best job in the world.
For more on how to get work on a film crew, visit Backstage's crew hub!