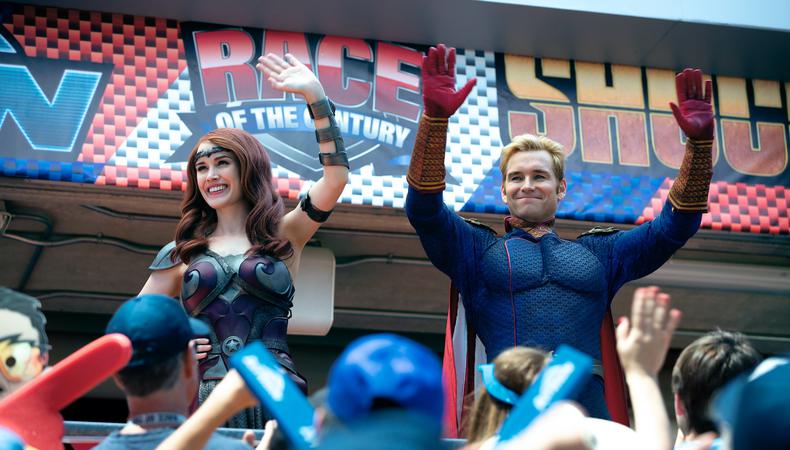 Nona Khodai's first paying editor gig was for a two-week stint on a Hallmark TV movie. It fell into her lap thanks to an email from a friend-of-a-friend. Her next job happened because she followed up with a connection she'd made on that first job. And her latest work, on Amazon's "The Boys," was the result of another professional connection (and years of hard work). So if you're still questioning how valuable your network is, take a page out of Khodai's book: stop questioning, start tapping.
What does an editor do?
A supervising editor basically oversees the entire editorial team. They look at cuts with the other editors and make sure that they're consistent across the series. "The Boys" didn't have a supervising editor, so each editor on the show did their own episodes. We had a very strong and collaborative team, and we would watch each other's work and voice our opinions to each other. We worked a lot but also had a ton of fun.
How did you get into editing?
Editing kind of fell into my lap. I was in my final year of film school at USC and I got an email from a friend asking if I'd be interested in working as an assistant editor on a Hallmark TV movie. A friend of his was needing to replace himself for two weeks during the winter holiday so he could go home for Christmas and since I'm originally from Southern California, I said I'd do it since I wasn't leaving Los Angeles. I got the job and because I had been focusing my schooling on sound design, the editor on the job really liked my sound work and my organizational skills. She told me once my two weeks were done that I should call her when I graduated and she would try to hire me if there was a position open.
I called her in May once I graduated and she made good on her promise and hired me. I worked at that company for almost two years and got my start as an assistant editor. I worked on countless movies-of-the-week for the Hallmark Channel and it was literally the best training I could have imagined because we didn't have a big staff and I learned how to do everything. I was also able to get my union days and joined the Editor's Guild shortly after.
My transition into full-time editing took a bit of time. Due to a string of television shows being canceled as well as hopping from [series] to feature films and vice versa, I worked for about eight or nine years as an assistant editor before moving up. The inconsistency led to a lot of new starts with different editors and not a lot of room for growth.
In 2013, I worked on the J.J. Abrams film "Super 8," and things started to change. The environment on the film and at Bad Robot (J.J. Abrams' production company) felt very collaborative and geared toward mentoring people and when the opportunity came to work on one of their TV shows, I took it. I was hired on "Alcatraz" with an editor who had just gotten the bump up and we really hit it off. "Alcatraz" got canceled after the first season, but the editor took me onto his next show, "Revolution." Similar to many first-season TV shows, the intensity and schedule were rough and because the editors were working around the clock, I volunteered to help cut dailies and would stay late to do whatever the show needed. With the help of the co-producer, associate producer, and other editors, I got an additional editor credit on three episodes. We also had five webisodes and I was able to cut on those. I was super grateful for the opportunity and at the end of the season, one of the editors had to leave early to go onto another show, and instead of hiring a new editor to fill that spot, they bumped me up to cut that one episode. I think I did a pretty good job, because [Eric] Kripke, the creator, hired me to stay as an editor for Season 2. He's been my biggest supporter ever since and when "The Boys" was gearing up, he hired me again.
What kind of training does an aspiring editor need?
The best training, in my opinion, is on-the-job training. As much as I could learn editing in school, I actually didn't learn the ins and outs of the job until I started working as an assistant editor. My best advice to any students or individuals who want to pursue a career in editing would be to learn the Avid Media Composer and other editing software, such as Adobe Premiere. Also know Adobe Photoshop and Adobe After Effects as well. We do a lot of creating in the editing room even if they aren't the final shots. Whatever tool can help tell the story the best we can, we use. It's good to know all of them as you never know when that skill could be useful.
What does a day in the life of an editor look like?
This is difficult to answer because our days are different from when we get dailies to when we're working with a director on the cut to working with the showrunner. But a typical day when we get dailies is:
9 a.m. - 1 p.m.
Arrive at work. Turn on my computer, set up my laptop. Talk to my assistant editor, Matthew Ellena, and ask him how many hours of dailies we got that day. We also do a morning chat of what we need to get done for that day such as doing sound design, or the cut needs to go out to the director or a producer. I get some coffee and if there is a scene prepped for me, I start watching dailies. After I watch the dailies for that particular scene, I start cutting that scene. And move down to the next scene bin and do it all over again until I have finished cutting the scenes for that day.
1 p.m. - 2 p.m.
I take an hour lunch with coworkers.
2 p.m. - 7 p.m. (sometimes 9 p.m.)
After lunch, I continue working on the scenes that came in that day. Sometimes, I speak with the director [about] how the footage looks, especially if I feel like I don't understand something from the footage. I also discuss the scenes with my assistant editor. He's the first person I show any cut footage to, and he'll give me his opinion on if the cut feels right or not.
When we're getting closer to the end of production for a particular episode, I start to build the show and add in sound effects and music to bring it all together.
I interact with everyone on the post side, including the post producer, supervisor, coordinator, and PA, and the VFX department, including the VFX supervisor, VFX producer, VFX coordinators, and VFX editors, and the other picture editors and assistant editors.
If a director is hired to do one episode, I usually spend four days in the cutting room after production ends with that director and then we turn the cut over to the showrunner. If I get the producing director as a director, they are more hands-on, so they'll get their four days but will also be involved until production is complete. If the showrunner directs, they will be involved until they deliver the show to the studio.
How do you hire your crew?
I've been with the same assistant editor for almost four years now, but when I'm looking for someone to hire, I usually try to find someone I enjoy being around. All of us work long hours and if we find people we trust with our work and they respect us back, I think that makes for the best environment for a team.
What advice would you give an aspiring editor?
Live cheaply and save your money for a rainy day. Someone told me that when I first started out and I think it was the best advice I ever got. Pandemics happen, writers' strikes happen, big opportunities happen. Save your money because sometimes tragedies occur, but also big, life-changing projects come around and most of the time, those jobs pay very little. If you're able to financially take those jobs, they could potentially change your career for the better. [Risks] can pay off in a big way. Also, work hard and be nice. I don't know how important just doing those two things are. That will take you far in this business.
What are some of your favorite moments of great editing?
This is a hard question for me to answer. There is so much great editing out there and I'm so inspired by so many talented editors out there, from shows like "Breaking Bad" and "Game of Thrones," to films like "Moulin Rouge" and "Chicago." (I'm a big lover of musicals). And my favorite movies tend to be ones that I don't notice the editing because you're so immersed in the story that you forget you're watching at all.