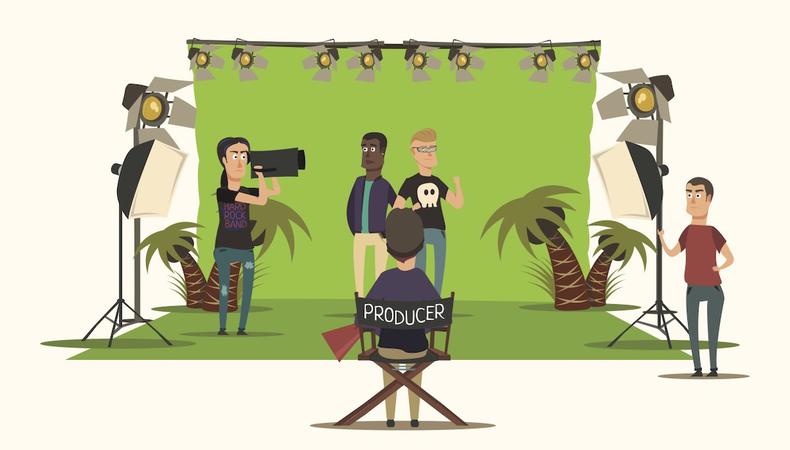 Producer Job Description: What Does a Producer Do?
The producer is the on-set supervisor of a production and works closely with the director to ensure that everything necessary for achieving their vision is available and within budget.
"The producer's primary role is to support the vision of the director," says Emma Tillinger Koskoff ("The Irishman," "Joker"), who also runs Martin Scorsese's production company. "I'm a nuts and bolts, on-set producer. I'm the first on set and the last to leave every day. I work with all of our department heads and make sure the day runs smoothly and that the director and actors can focus on their work without any distractions."
Involved very early on in the process, the producer does everything from find the original material for a production to develop the script, finding financing, and hiring crew. "[The director and I] work together closely on assembling the crew, scouting locations, and the budget, and we continue to work together throughout the shooting process," says Tillinger.
Once production begins, producers are essentially the boss on set, making sure prior decisions are carried out and helping avoid costly mistakes. When a shoot wraps, the producer moves into post-production, overseeing everything from the initial rough cut to the final. They also oversee test screenings and any changes that need to be made as a result. With a finished product in hand, the producer turns to marketing the film.
On smaller projects, the producer's role is roughly the same—though on very low-budget productions, they may also serve as a hybrid producer-director-editor. "The basic elements remain the same whether the budget is large or small," says Bonnie Curtis ("The Lost World: Jurassic Park," "The Chumscrubber"). "On a studio project, there is a political element…. You have to spend quite a bit of your time communicating with the studio about every element of your film [and] there is an approval process tied to that. Independent film is exactly that — independent of those approvals. With independent film, the stress comes from the financing."
Department
Production
Alternate Titles for Producer
N/A
Crew Hierarchy
On a set, producers reign supreme, with every department head reporting to them. On large productions, they often have at least one dedicated assistant. Collaborating closely with the director and writer, the producer reports into the studio, executive producers, and/or financiers.
Producer Salary
Producers can make anywhere from $63,000 to $750,000 a year.
As with any production job, a producer's earnings are based on a variety of factors, including experience, location, scope, and a project's budget. A 2017 report from The Hollywood Reporter found that top-earning producers can make millions of dollars per film, while the average studio producer makes around $750,000 per film, and first-time studio producers earn about $250,000 per film. (These figures are dependent on an individual producer's compensation structure, the intricacies of which are explained here.)
While those figures are undoubtedly appealing, it's important to note that these kinds of earnings are not the norm across the industry, and definitely not the case for low-budget, indie or digital media producers. According to a 2018 report from the U.S. Bureau of Labor Statistics, film and video producers earn an average of $84,770 annually, and TV producers average $63,620 per year.
Producers are not unionized; rather, they can choose to be members of the Producers Guild of America (PGA), a professional association. Since the PGA is not a union,it "does not have an industry-wide Minimum Basic Agreement at this time, so pay rates are subject to negotiation in one's Personal Service Contract."
How to Become a Producer
There is no one path to becoming a producer. Since the producer ultimately oversees every department on a set, it's important that they have first-hand experience of what it's like to work within those crews, across departments, and at multiple levels. Starting out as a PA can lead to a larger job on the crew, from which you can work your up to production coordinator, 2nd AD, 1st AD, production manager, or line producer. Alternatively, consider work as a producer's assistant; working in a producer's office will afford you the experience of reading scripts, film budgeting, and seeing how a project comes together from start to finish. This type of work can then lead to work as a film executive, development executive, or writer, before finally becoming a producer.
(Tillinger worked as Scorsese's assistant within his production company, Sikelia Productions, before being promoted to production president.)
Starting out as an associate or segment producer in TV or low-budget productions is a good way to gain experience handling the day-to-day duties of principal photography or having autonomy over a certain part of the script, respectively. Many producers also start out as assistants or interns as production companies. These types of positions offer a look at the inner workings of production, distribution, and publicity.
(Kathleen Kennedy, longtime producer for both Steven Spielberg and George Lucas, began her career as a camera operator and video editor at a local TV station before Spielberg hired her an assistant.)
Another route is to enter the industry via post-production as an editor. Since a large part of a producer's job happens in post and, specifically, the editor, establishing yourself as a solid editor will not only impart the skills producer's need to bring a project across the finish line, but it's also a great way to network. Tim Dennison, known for his work producing low-budget films, says working in editing gave him "a general understanding of post-production. It was a great way to learn…. They were very informative years."
"No matter your position, you almost always need to do the job you want before you get it," advises Jennifer Coté ("Eyewitness"). "[Take] on any tasks that need doing within the next job [you] aspire toward."
Producer Required Experiences + Skills
While there are higher education programs like the New School and the Hartt School that teach arts administration and management—a great background for working as a producer—"the one and only way to become a movie producer is to produce movies. Plain and simple," says producer/screenwriter Ken Myiyamoto. "You have to be a real mover and shaker. You have to be a true salesman or saleswoman. You have to exude confidence and power.
"The best thing that you can do is go make some movies. It doesn't matter if you have money, either. Money can open doors, but if you don't have what it takes to take a project, package it, and make things happen, all the money in the world won't do you any good as a producer. It's all about content. It's all about trial and error. It's a hard fucking job and I wouldn't wish it on my worst enemy—unless they had that X factor knack for it.
For more on how to get work on a film crew, visit Backstage's crew hub!