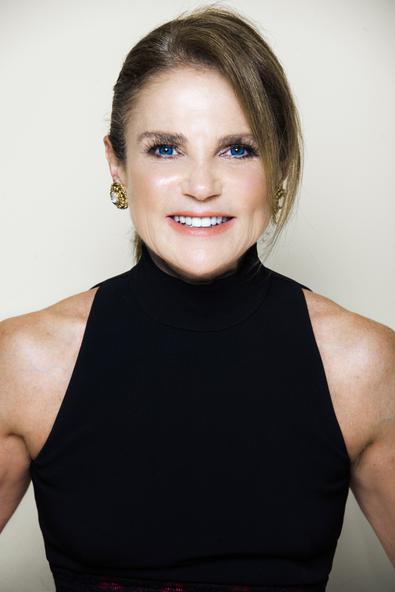 Tell us about working on "The Walking Dead."
I play the head of Alexandria, which is a city that refers to not only Alexandria, Va., but Alexandria, Egypt, where the great, brilliant libraries were contained. [My character] Deanna Monroe brings government, civilization, and civil order back to the horrendous world outside of the walls.
What have you learned while playing Deanna?
What I have learned most from this latest job is about death. [The show] deals with death on a daily basis, so death and life become so proximate, so familiar. And in America, as we know, we love the new and ageless. We push death away from our vision, away from our senses, whereas other cultures, like in Africa and in the Native American culture, they embrace this cycle. I said to myself, "It's going to happen to everybody. You'd better start mastering this so it's a familiar friend when it comes to your turn," and the series is a metaphor for this life's journey. You say to yourself, "Why does everybody watch this?" I think it's because it has to do with the existential struggle of what it means to be alive and what it means to pass out of your body.
Which of your performances has left a lasting mark on you?
Golda. Playing the prime minister of Israel on Broadway for 16 straight months. It became the longest-running one-woman play in the history of Broadway. And then taking it on the road, and still doing it. I'm doing it in Toronto in 2016. I learned from Golda how personal politics should and can be. It prepared me to play Deanna Monroe.
"The Walking Dead" deals with what it means to be alive, while "Aging Is Optional," my upcoming show at 54 Below, deals with what it means to be ageless, timeless. In a way it came out of my preoccupation with my career and this phenomenon that we do leave our bodies. So what does it mean to leave something behind? That's why I wrote it.
What is your worst audition horror story?
I went in to audition for the lead in "Lost in Yonkers," and I was told by [casting director] Jay Binder—who I love very much and who believed in me—to prepare nine pages of a scene for Mr. [Neil] Simon and Gene Saks. I worked very hard. I prepared it, and after half a page, Gene walked down the aisle and said, "I need to stop you because you're never going to get this part." He wasn't mean, he just said, "I don't want to waste your time." But I walked out and I was shaking. And I got a cab to go back to the Upper West Side where I lived and I was sobbing in the cab, really sobbing. I just felt empty. And the cab ahead of us hit a human being and her body came over the taxi. I got out of the cab on Fifth Avenue and I held her head in my lap until help came. It taught me the difference between what's important in life and what isn't. For a person to be wounded, it was a profound experience. I'm happy to say the woman lived.
How do you typically prepare for an audition?
I prepare earlier and earlier these days. One of the things I do, I retype the text large so I have no struggle to see it with or without glasses; I like to audition without glasses. I divide the text so if the line is, "Hello, how are you?," I put each piece on its own line so I see the architecture of the actual language as I'm reading the scene in the audition. I've already sculpted my map for thought and then I go at it over and over. Sometimes when I have time, I hire a line tester. Then I walk in always, always, always, carrying the scene. You don't have to be memorized for an audition, just masterful. You have to listen to what they want in the room and pay attention—is the director shy? Does he have trouble making eye contact? Then back off. I want to make him feel comfortable. I go in to serve the team. I'm a spoke in a wheel.
On whom do you have an acting crush?
You know who I love? I love Eddie Redmayne. Young Eddie Redmayne. Mr. Transformational. Mr. Lead in "Les Miz." Then winning the Oscar for "The Theory of Everything." His ability to transform and his commitment and accuracy in doing so is utterly inspirational. He's like a young Meryl Streep, whom I also deeply admire. I'm also a big fan of Bill Nighy.
What do you wish you'd known before you started acting?
I wish I had known that 80 percent of a career is made from relationships and not from talent; I absolutely did not know that. I felt if you were talented, everything else would follow, and that is not the case. I place great store in my relationships with my colleagues and employers and young actors coming up.
Like this post? Check out more of our Backstage 5 interviews!