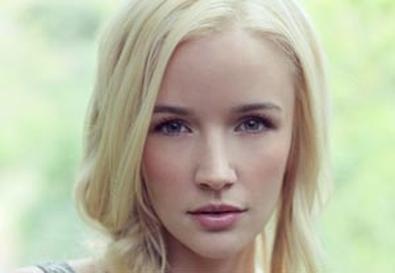 Farris Patton
didn't want to be a movie star. She wanted to be in commercials.
"When I was a kid, my mom would watch soap operas, and I'd be watching the commercials and mimicking every single thing," Patton remembers. "Everything I did was a commercial, from brushing my teeth to taking a drink of soda. There's all these home videos of me doing, like, a Dr Pepper commercial."
Today she's living a "commercial actor's dream" as the spokeswoman for
Orbit
gum in its 10-years-and-running "Dirty mouth?" campaign. In April 2010, Patton replaced Vanessa Branch, who originated the role, as the Orbit Girl, a charming British woman who cleans up dirty mouths with Orbit gum.
The company wanted to find someone very similar to Branch for the part. To prepare for her audition, Patton watched YouTube videos of Branch's work and went to the callback dressed in the character's standard white suit and scarf, copying the look right down to the way she parted her hair.
"When you go to an audition and they say you need to wear something, you better try your hardest to wear that," she says. Patton recently started tweeting tips of the week for other commercial actors (
@FarrisPatton
). "Casting, the directors, and all the clients really want to see how it's supposed to be in the real commercial."
After signing on with Orbit, Patton put a lot of pressure on herself to stay true to the original character. "The Orbit gum campaign is so iconic," she says. "Not a lot of people know who Farris Patton is, but ask anyone and they probably know who the Orbit Girl is."
Even though she's not always given a lot of creative leeway in the commercials, she still brings her own goofy charm to the part. "On the very first one, I did the 'Fabulous' with an eyebrow raise, and then I just kind of kept doing it," she says. "Then on the next one, they were like, 'Wait, we want the eyebrow again.' It's a typical thing for the print ads and everything."
Patton began her career in Las Vegas, modeling and acting in infomercials for some of the "worst things you should never buy," she says. At 23, she moved to Los Angeles with about 30 infomercials under her belt.
Young children and teenagers often spot her as the Orbit Girl, and she hands out packs of gum to anyone who recognizes her—although people are often disappointed to learn she's not actually British. The accent is part of the character.
"Any actor doing an accent in a movie or TV, they think, 'Oh yeah, they're acting,' " Patton says of those who are let down by her unauthentic accent. "People will actually come up to me and say, 'I saw your Orbit commercial. Are you thinking about getting into acting?' And I'm thinking, 'What do you think I'm doing right now?' Just because I'm not winning Oscars. Some people don't take it seriously."
Patton is a prolific commercial actor. She's filmed spots for Comcast and Sierra Mist, and recently she appeared in a public service announcement with actor-comedian Ken Jeong.
"It gets you out there, and that's the number one thing," she says of commercials, adding that playing the Orbit Girl has gotten her some attention for other work. "People knock commercials, but they pay well and you're working. I'd do commercials for the rest of my life."
Watch Farris Patton as the Orbit Girl below:
To watch Patton clean up more dirty mouths, visit
Orbit's YouTube channel
.