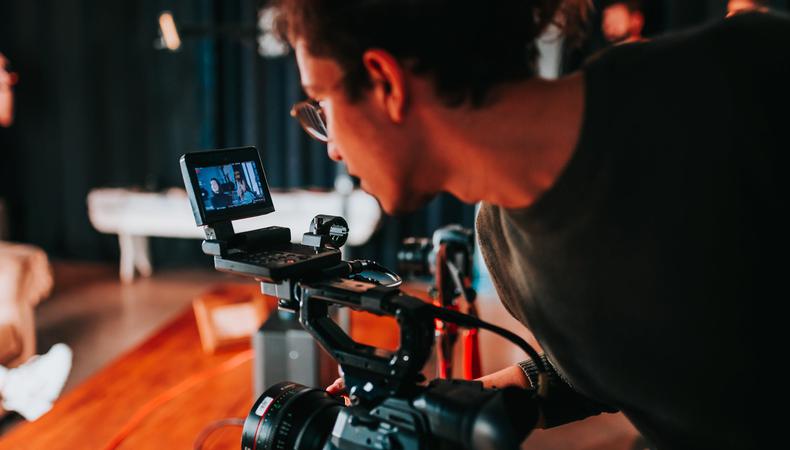 So you want to be a filmmaker. Whether behind the camera or in the writing room, your urge to tell stories in celluloid (or digital) has you researching the schools that will launch your career and inspire your vision. What do admissions officers at the nation's top film programs value most?
"The primary factor I'm looking for is passion," says Paula Amanda, co-chair of the film department at Santa Fe University of Art and Design. In personal statements, which often ask a question as simple as "Why film?," she looks for the hunger that pushes aspiring filmmakers into an admittedly tumultuous field. Her ideal applicant is "the student who's writing to me about the feelings they had when they saw X, Y, Z film: 'I get butterflies in my stomach when I'm out making films with my friends. My life would be everything I imagine it could be if I can get through the program and make a film.' " Experience, she says, doesn't factor nearly as much as enthusiasm.
Andrew Shea, professor and production area head at the University of Texas at Austin's Radio-Television-Film department, agrees. "The elements I'm always looking at when reviewing an applicant are passion for filmmaking and some sort of strong point of view," he says, adding that "evidence of commitment beyond an undergrad film program" in the form of internships or production experience doesn't hurt.
The creative component of an application, which undergraduate and graduate programs alike usually require, is the primary means of understanding that point of view. For UT Austin's directing program, says Shea, "students who don't submit directing samples are at a disadvantage," while screenwriting applicants should include a full-length screenplay. "The thread that runs through all this is storytelling ability," he explains. "I look for a distinct point of view, control, strong visual images."
An application to the University of Southern California's School of Cinematic Arts requires a personal statement, résumé, and either a short film or photo essay. "I like [a photo essay] more only because it really demonstrates the student's ability to want to tell a story," says USC Dean of Students Brian Harke. "Whether or not they can do it in eight frames," he says, reveals a ton of creative potential. "Can they express emotion, whether that's an image or word? If they're writing an essay about themselves, are they expressing emotion or is it a book report? The emotion part is really important, because that's what film is about."
Common mistakes Harke has encountered among USC's portfolios include an apparent lack of research into both the school and the industry in general. "You'd be amazed by how many apply who really haven't looked at the curriculum or faculty," he says. "A lot of our students apply because they think film is neat; they have a camera phone or they've shot some videos they think are film because it's fun. But they don't understand what the business is all about. That lends itself to students with unrealistic expectations of what they're getting into."
Well-roundedness—an obvious interest in visual arts, philosophy, even sciences—makes an application stand out as well. If a prospective student's submission broadcasts nothing but a desire to be the next Steven Spielberg, "we're probably going to look at other people," admits Harke. "That's going to be boring." Applicants with a specific and unusual extracurricular background fit more naturally into a program that values diversity in perspective.
Amanda is quick to acknowledge the massive transition inherent in committing to a film school. "I see a lot of fear in prospects," she says. "Don't be afraid. You're getting ready to step into your new life. That first step is often the hardest! But just take that step, do the best you can, and show your true feelings and passions."