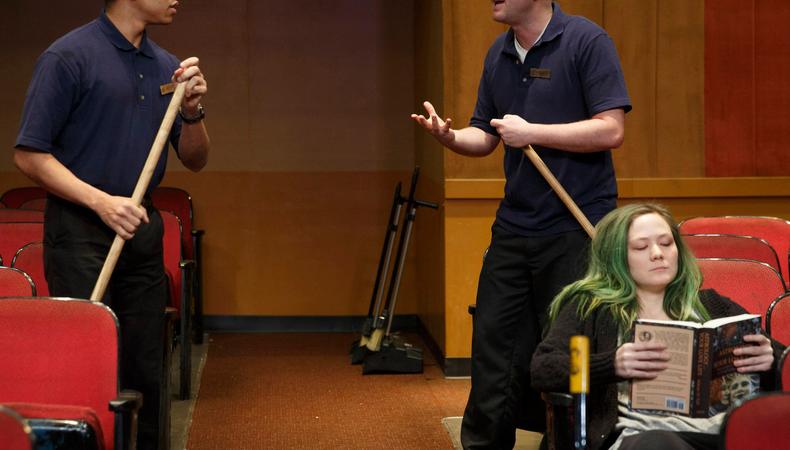 Playwright Annie Baker pushes her deliberately anti-theatrical approach to drama past the breaking point in "The Flick," which spends three hours and 15 minutes detailing the banal everyday existence led by three employees of a rundown Massachusetts cinema. Despite Sam Gold's precise direction and fine performances by Matthew Maher, Aaron Clifton Moten, and Louisa Krause, the artificiality of Baker's attempt to dispense with artifice becomes glaringly apparent, while her characters aren't interesting enough to justify the time spent with them.
As we enter the mainstage theater at Playwrights Horizons we are faced with David Zinn's ultra-realistic movie-theater interior, complete with projection booth in the upstage wall. Once the lights go down, the projector shoots a flickering beam over our heads as we hear a complete track of either opening-title or closing-credits music, sending a clear signal of the "real-time" grammar Baker will employ. What follows are 16 scenes across two acts in which we watch 35-year-old Sam (Maher), 24-year-old Rose (Krause), and 20-year-old Avery (Moten) make small talk (or not), argue about movies, and share intimacies as they clean the theater between showings and set up for the next one. Along the way we glean details about the characters that are intended to bring them into focus. The discontented, none too bright Sam has an older brother with Down syndrome who is getting married, roots for the Boston Red Sox, and has a thing for Rose, which may be why he tells newcomer Avery that she's a lesbian when she's not. The introverted Avery has an encyclopedic knowledge of cinema, hates the digital projection of movies, and is taking a semester off from college, probably because of a suicide attempt made in the wake of his parents' divorce. Projectionist Rose dyes her hair green, loves loud music and hip-hop, is deep in debt due to college loans, and is more interested in Avery than Sam, something she expresses in an unfortunate incident that gives Baker an act break.
It's not that Baker eschews the mechanics of traditional theater. Carefully planted plot seeds sprout as expected in Act 2, and an arc of sorts is provided by Avery, whose arrival begins the play and whose departure ends it. There's a wonderful caffeinated set piece for Sam at the top of Act 2 about some tamales, an affecting cell-phone monologue for Avery, and a charmingly uninhibited improvised hip-hop dance for Rose. But there are also self-consciously extended silences and even wordless scenes whose action we can only glimpse, as they take place in the projection room. And Baker's not above cheating: Her final scene, which involves the carrying of bulky technical equipment, would happen in the lobby, not the auditorium.
Maher, Moten, and Krause are all impressive in their ability to be emotionally in the moment, even the ones that seem to take forever. A fourth actor, Alex Hanna, barely has time to register in two roles: a patron who falls asleep in his seat and a new employee who replaces Avery.
"The Flick" may be a worthy experiment, but not all experiments succeed.
Presented by and at Playwrights Horizons, 416 W. 42nd St., NYC. March 12–April 7. (212) 279-4200, www.ticketcentral.com, or www.playwrightshorizons.org. Casting by Alaine Alldaffer.
Critic's Score: C