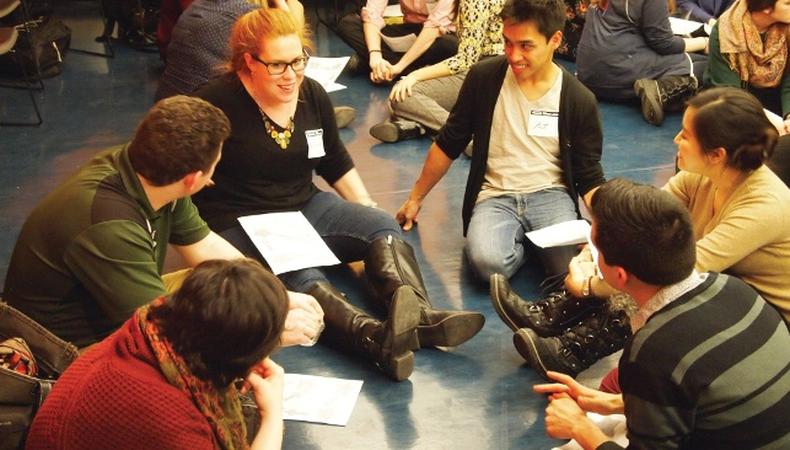 In the NYC theater scene, as in life, it's all about who you know. Although the competitive nature of a city with 8 million residents may make networking seem impossible to a newcomer, an actual community of theater administrators exists in the Big Apple, dedicated to giving aspiring professionals a foot in the proverbial door.
The American Theatre Wing's Theatre Intern Network preps early-career arts administrators for the real world and in real time. Interns and other entry-level theater professionals are welcome to spend an absurdly reasonable membership fee—$10—for an entire year of networking opportunities, career-oriented seminars, and, perhaps most important, free tickets to the city's best shows.
"Basically, the American Theatre Wing's mission is making sure we have the next generation on the stage, behind the scenes, and in the audience," President and CEO Heather Hitchens told Backstage. "The Theatre Intern Network is about the behind-the-scenes." Rather than undergoing an expensive and time-consuming arts administration graduate program, she said, interns working by day at NYC's various theaters and organizations can spend a few evenings every month getting a significant leg up. "TIN is one way to get the networking that graduate school provides, as well as some of the key learning opportunities," she said. "It's a head start."
TIN meetings, which occur one to three times per month, find interns rubbing elbows with seasoned industry pros and encourage personal connection through Q&As, meet and greets, and free pizza. Topics range from goal-setting to résumé-building to specific areas of expertise, such as arts marketing in today's digital age. For newcomers unsure of what facet of theater-making matches their aspirations, these intimate networking events are an eye-opening opportunity.
Hitchens, who has since 2011 been managing the not-for-profit's various professional development programs—not to mention the Tony Awards—remembers feeling frustrated at the beginning of her career. "At an entry-level job you've got a lot of ideas and you've got the education, and you're figuring out how you can contribute and advance," she said. "It's very isolating." TIN was designed to lessen that isolation and provide a road map where there appears to be none.
The "one-two punch of this program," as Hitchens put it, is the chance to see free theater. "One of the things that's really important for people behind the scenes is to make sure they're seeing work all the time. You've got to understand your business and have a real passion for the arts and develop an empathy for the artist," she said. By attending a show and often a talkback with casts or crews, TIN members have their finger on NYC's artistic pulse—without facing the escalating cost of tickets. The ATW, Hitchens said, is well aware of the fact that "rent in the city isn't getting any cheaper."
TIN will sponsor an intern fair March 14, bringing together professional theaters and their potential new employees. "No matter how great your résumé is," said Hitchens, "there's nothing better than being able to meet somebody face-to-face and make an impression." For more information on such increasingly rare in-person opportunities, visit americantheatrewing.org.
Looking to launch your theater career? Check out the American Theatre Wing's SpringboardNYC program!