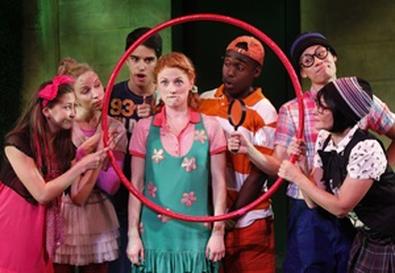 It takes a lot to arrest the attention of a tot. Colors need to dazzle; sounds need to pop. Gary Kupper and Rose Caiola's "Freckleface Strawberry: The Musical" does all of this and then some with ease in a 70-minute, partially interactive sparklefest that delights children, amuses adults, and teaches both groups a li'l something about self-esteem and image.
Based on the best-selling books by actor Julianne Moore, "Freckleface" tells the story of a 7-year-old red-haired girl with freckles (played well by Hayley Podschun) who's self-conscious about her looks, thanks to her friends teasing her about being different. Though the script handles the tension mildly, geeky Jake (Andrew Cristi) stops solving puzzles and spunky Emily (Kimiko Glenn) stops swooning over Danny (Joey Haro) long enough to make fun of their chum. Strawberry is so embarrassed by the spots that won't rub off and the hair color that won't wash out that she even comes to school in a ski mask. But the show doesn't dawdle too long on the downers. Instead, it's "nicety"—half nice, half nasty—in order to give you a taste of what little kids experience as they grow up.
You'll have to suspend your disbelief for these kids—college-age actors play all the roles—but they're so fantastic and energetic that you'll only give it a first thought. You'll be too busy being entertained by the diverse, rich singing voices and catchy songs—Glenn steals the show with "I Like Danny"—to care. After that, the vibrant hues of Fabio Toblini and Holly Cain's costumes and the creativity in Beowulf Boritt's book-shaped scenic design will keep you enthralled. Though the live musicians are too prominent on stage and the plot gets wrapped up in a Stride Rite bow, "Freckleface Strawberry" is loads of fun.



Presented by MMAC Productions at New World Stages, 340 W. 50th St., NYC. Opened Oct. 1 for an open run. Wed., 11 a.m. and 2 p.m.; Thu. and Fri., 7 p.m.; Sat., 11 a.m., 2 and 4:30 p.m.; Sun., noon and 3 p.m. (212) 239-6200, (800) 432-7250, or www.telecharge.com.
Casting by Mark Simon Casting.