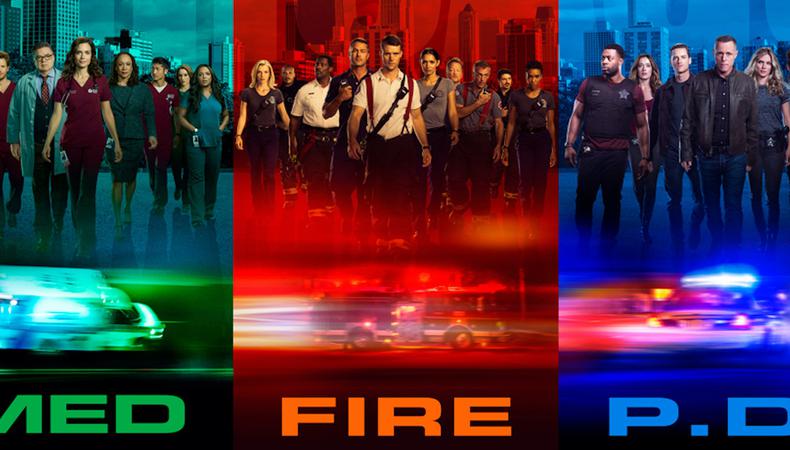 NBC's Chicago franchise—also called One Chicago—consists of three interconnected shows about first responders in the Windy City: "Chicago Fire," "Chicago P.D.", and "Chicago Med." The action-dramas explore the professional and personal lives of the firefighters and paramedics of the Chicago Fire Department, the officers of the Chicago Police Department, and the doctors and nurses of Gaffney Chicago Medical Center.
"Chicago Fire" premiered first in 2012, and "Chicago P.D." came next via a "Chicago Fire" backdoor pilot during Season 2 in 2014. "Chicago Med" aired as another backdoor pilot on "Chicago Fire" during Season 3 in 2015. Molly's a bar owned by three firefighters, serves as the connection point for characters from all three shows.
In early 2020, NBC renewed each show for three more seasons before COVID-19 halted productions across the country. At the time, "Fire" was in its eighth season, "P.D." was in its seventh, and "Med" was in its fifth. Production and air dates have not been announced due to the ongoing precautions taken with COVID-19.
The Chicago franchise was created by Michael Brandt, Derek Haas, and Dick Wolf, the mastermind behind NBC's "Law & Order" franchise. The three also serve as executive producers on the series, which all film in Chicago, Illinois. "Chicago Fire" filmed during pilot season in 2012, and the series premiered on Oct. 10, 2012. "Chicago P.D." began filming in 2013 and premiered on Jan. 8, 2014. "Chicago Med" began filming in spring of 2015 and officially premiered on Nov. 17, 2015.
Throughout its first eight seasons, "Chicago Fire" has starred:
Jesse Spencer as Matthew Casey

Taylor Kinney as Kelly Severide

Christian Stolte as Randall McHolland

Eamonn Walker as Wallace Boden

Randy Flagler as Harold Capp

Joe Minoso as Joe Cruz

David Eigenberg as Christopher Hermann

Yuri Sardarov as Brian Zvonecek

Monica Raymund as Gabriela Dawson

Anthony Ferraris as Tony

Kara Killmer as Sylvie Brett

Miranda Rae Mayo as Stella Kidd

Lauren German as Leslie Shay

Charlie Barnett as Peter Mills

Annie Ilonzeh as Emily Foster

Alberto Rosende as Blake Gallo
Throughout its first seven seasons, "Chicago P.D." has starred:
Jason Beghe as Hank Voight

Jesse Lee Soffer as Jay Halstead

Patrick John Flueger as Adam Ruzek

Marina Squerciati as Kim Burgess

LaRoyce Hawkins as Kevin Atwater

Amy Morton as Trudy Platt

Jon Seda as Antonio Dawson

Elias Koteas as Alvin Olinsky

Sophia Bush as Erin Lindsay

Brian Geraghty as Sean Roman

Tracy Spiridakos as Hailey Upton
Throughout its first five seasons, "Chicago Med" has starred:
Nick Gehlfuss as Will Halstead

Yaya DeCosta as April Sexton

Torey Devitto as Natalie Manning

Brian Tee as Ethan Choi

Marlyne Barrett as Maggie Lockwood

S. Epatha Merkerson as Sharon Goodwin

Oliver Platt as Daniel Charles

Colin Donnell as Connor Rhodes

Rachel DiPillo as Sarah Reese

Dominic Rains as Crockett Marcel
Jonathan Strauss casts all three series in the Chicago franchise. Based in New York City, Strauss is also known for his other work with Dick Wolf, including "Law & Order: Special Victims Unit" and "FBI."
One of the casting directors at Jonathan Strauss Casting, Philip Huffman, shared with Backstage that a typical episode of a procedural show like "Law and Order: SVU" or a show in the Chicago franchise might have up to 20–30 roles outside of the main cast. Although many of the roles are cast for just one episode, there is the potential for some of the characters to return for several episodes throughout the season or even the run of the show.
You can expect a few rounds of auditions if you are called in for a role on one of these shows. You might be pre-screened through an audition with the casting team if you've never auditioned for Strauss's office before or you're trying out a new type of role. If the office thinks you might be a fit, you'll move on to a producer session. In a producer session, you can expect to read in front of an executive producer, the CD, and a writer. Casting happens quickly, so once the top creative team has the casting selects, offers will go out when the shooting schedule is established.
Huffman also notes that having representation isn't a requirement to get called in for one of these roles. In order to be memorable, make sure you're flexible in the audition room and you can make even jargon or seemingly insignificant dialogue sound natural. And remember, these shows are ongoing and full of opportunities, so if you don't get one part, you still have the chance to win another!
It's not just about the physical aspects: "The physicality is important, but it's not the only thing that's important. These characters are defined by their feelings and unspoken emotions. They have to be believable within all the demands: that's the hardest thing to find."
Chemistry is key: "Relationships, back-stories, subtext: these are the things an audience gravitates to. How these people relate to each other is a work in progress that grows as it would in life. Chemistry is very important."
Though there have been no public casting calls for lead roles, that doesn't mean we won't be seeing new faces when these three series return.
Keep in mind that for larger speaking roles—series regular, recurring, guest star, co-star, contract—you'll likely need to go through your agent. Don't have an agent? Here's how to get one.
Should an audition come up, make sure you're prepared:
Chicago-based Joan Philo of Joan Philo Casting is the casting director for background actors on "Chicago Med" and "Chicago Fire," while Amy Vachon is the casting director for background actors on "Chicago P.D." There are currently no open calls for background talent, but be sure to check the "Chicago Med," "Chicago Fire," and "Chicago P.D." extras Facebook pages. Past Backstage casting calls for Chicago franchise background talent have included:
"Chicago Med": Fitness Center Extras
All genders

18+

All ethnicities

Some pay
All genders

20-59

All ethnicities

Pay started at $88 per eight hours with a $35 auto bump, if applicable
"Chicago Fire": Hospital Types
All genders

18+

All ethnicities

$88 per eight hours
All genders

20-60

All ethnicities

Some pay
"Chicago P.D.": Taqueria Extras
All genders

18+

Latino/Hispanic

$96 per eight hours with a $35 auto bump, if applicable
All genders

16-19

All ethnicities

Pay started at $104 per eight hours and a $35 car bump if applicable
Since "Chicago" franchise shoots in Chicago, it's helpful to be local to the area. Because background work often does not include relocation or travel stipends, being a local hire is crucial for getting repeat work as an extra. For more information on what it means to be a local hire, click here.
For more information on how to land work and make a living as a background actor, check out Backstage's guide to working as an extra.