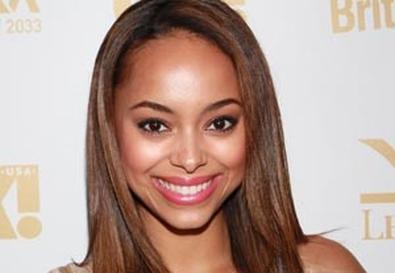 After four years on the ABC Family series "Greek,"
Amber Stevens
was ready for a change. She booked the iconic role of Mimi in a Los Angeles production of the landmark Broadway musical "
Rent
," exercising new acting muscles. Back Stage recently caught up with Stevens and discussed how she landed her role on "Greek," the differences between acting for the stage and TV, and filming the upcoming "Spider-Man" movie.
Back Stage: You were a part of the Fox pilot "Weekends at Bellevue," which didn't picked up to series. How did you land the role and how was it different when you booked "Greek"?
Amber Stevens: "Greek" was a much longer process, actually. It wasn't during pilot season when it was going. It wasn't during that hectic time where all the actors are going crazy pulling out their hair trying to work. For "Greek," it was a regular audition and then a callback for producers and then a callback to meet the director and then I think another callback before finally reading for the network. It was a longer process, so when I did finally get the part, it was, "Yay!" The hard work paid off.
This time around, it was in the middle of pilot season and it was super hectic. I was testing for other shows and reading for things constantly, but for "Bellevue," I went straight in for producers immediately. Everybody had met me immediately and they called the same day since they really liked me, and a few days later I put myself on tape in their office to send to the network. I got a call, I think the next day, that I got the part. It was a super quick and easy process. I don't know if that'll ever happen again. It was a wonderful work experience, so it's kind of a bummer that it's not going.
Back Stage: How has being on a series for numerous seasons shaped the way you approach roles or projects now? Has it changed the way you look at scripts?
Stevens: I was doing small parts here and there and then "Greek" just came, and it went for much longer than I ever anticipated. I didn't really have much to compare it to, so I definitely am not too picky with the characters I could play in the future. Ideally, I'd love to do a comedy just because work-wise, it'd be a lot of fun. But I'm definitely not ruling out anything else. I think any and all experience will help me grow and be a better actress. I'll take almost anything. [Laughs]
Back Stage: Do you have a method or philosophy behind the way you build characters?
Stevens: No, I don't really have much of a philosophy. Everything that you need, I find, is on the paper. Sometimes it can help to create a backstory if you need it, depending on the project, but really, the audience is only going to hear what you hear. They don't know what you've made up in your mind. You just need to get across what you're supposed to say that's in the script. That's what I try to focus on, to make whatever I have to say clear and honest in the moment. Obviously, it helps to read an entire script before you do something because then you know where you're headed and what your goals can be for each scene. I don't tend to make it more complicated than that because I'll just drive myself crazy.
Back Stage: Now you're venturing into theater with "Rent." How did this come about and how did you get the role of Mimi?
Stevens: My manager called me and said that he found out that they were having auditions and it's a non-Equity show—which was great because I've never done theater so I'm not in a union—and just asked if I was interested. Without hesitation, I screamed yes. I've loved Mimi for years, ever since I first saw the show, and I've always wanted to play her. I've always sang, and this was an opportunity to put the two together. I still auditioned, just like everyone else. It's been quite an experience. I've learned a lot in theater etiquette, how the whole rehearsal process works, because it's quite different than what I'm used to. I'll probably want to do more musicals after this.
Back Stage: Going from having a TV mindset to performing live onstage every night, what was the biggest challenge in doing that?
Stevens: In theater, you really work out the kinks and figure out exactly what you want to do and what we want to say, so by the time we have an audience, we're really prepared. With TV, you have a day…. Sometimes, just a few hours. Before the cameras start rolling, you might go through [the script] one time. You have a schedule that you really have to stick to with TV and make sure that you are producing enough film for the network to edit through and air quickly. I like that process, I think it's exciting because it's something new every day to work on, but also to dive into characters and figure out exactly what you want the show to look like—that's what I'm enjoying about theater.
Back Stage: What's coming up next for you?
Stevens: I did a small part in the new "Spider-Man" movie, so that's something to look forward to. I think Andrew Garfield is extremely talented and Emma Stone's adorable and I think their chemistry is going to be great. The movie takes place in high school, so I go to school with the two of them and I'm the head cheerleader who has a bad attitude and has a thing for Peter Parker.
Back Stage: Any advice for aspiring actors?
Stevens: The cliché and most honest one is to not give up. You have to work hard at it and it's not going to come easily. Even if you're working a day-to-day job in the meantime to support your creative endeavors, you shouldn't give up, and make sure you don't lose focus. It's easy to get used to not working, but if you continue to work hard and set a goal for yourself, you're guaranteed to accomplish it. "Good enough is good enough"—that's never been acceptable for me. If you really want to do something, go and do it, don't just talk about it.