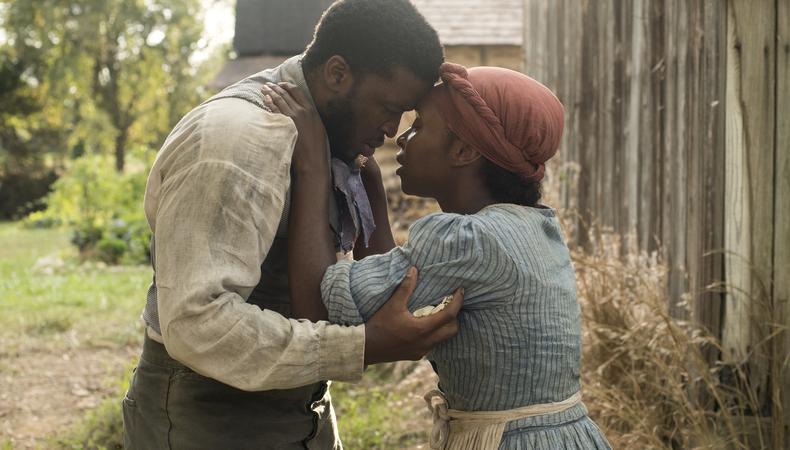 With this Year in Review, we at Backstage have picked through the weeds and found 2019's true gems of the best big- and small-screen ensemble work. And don't worry: We've got you covered with everything else you need to know this awards season right here.
Distributed by: Focus Features
Directed by: Kasi Lemmons
Written by: Gregory Allen Howard, Kasi Lemmons
Casting by: Kim Coleman
Cast: Joe Alwyn, Cynthia Erivo, Janelle Monáe, Leslie Odom Jr.
How did it take until 2019 to give Harriet Tubman—escaped slave, abolitionist, suffragette, and all-around American legend—the Hollywood treatment? Big-budget, big-screen biographies have long been instrumental in bringing history's most important and compelling figures to the masses, informing us of their accomplishments and giving them flesh-and-blood humanity. Who and what the makers of biopics decide to highlight, teaching or reminding us of fascinating, pivotal moments that rippled through time and still resonate today, is part of the genre's fun; Hollywood biopics are history writ large.
READ: Cynthia Erivo: An Education
Tubman's life is chock-full of those fascinating, pivotal moments. Born into slavery in 1822 Maryland, Araminta "Minty" Ross, as she was called at first, escaped to freedom in Philadelphia—a journey made, inconceivably, solo—before returning over a dozen times to rescue friends, family, and other enslaved people north via the Underground Railroad. She later served as a scout for the Union army and became the first woman in the history of the United States to lead an armed expedition. Throughout her long life, Tubman also experienced fevered visions, the result of a childhood head wound, which she insisted were premonitions directly from God.
If those kinds of details don't make a riveting feature film, what does? With writer-director Kasi Lemmons' new biopic "Harriet," Tubman finally gets the rendering she has long deserved. Her life had elements of a gripping thriller, heartrending drama, and even a superhero origin story (visions from the future!). Thanks to a script from Lemmons and Gregory Allen Howard and a cast of heavyweight talent orbiting around Cynthia Erivo's magnificent Tubman, movie-going audiences can now shed a tear or pump their fists in triumph watching her story—or both, as is often the case.
Much of the film's narrative weight falls on Erivo's shoulders in the titular role. A rising star from England who won the 2016 Tony Award as Celie in "The Color Purple" and stole the show in last year's "Widows" and "Bad Times at the El Royale," the actor-singer has an innate charisma no matter what she's doing. There's something about her use of stillness; in "Harriet," Erivo often plays guarded and watchful, making us wonder what her wide eyes are seeing. The extraordinary circumstances of Tubman's life could invite a lesser actor to go big and broad. Instead, Erivo defaults to a mesmerizing restraint, making a rousing speech later in the film land with explosive effect.
Surrounding Erivo and helping her shine even brighter is an ensemble cast that has embraced the movie's inspiring, even adventurous spirit. As anti-slavery activist and Underground Railroad conductor William Still, Leslie Odom Jr. (a Tony-winning star for "Hamilton") plays fastidious to comedic effect; there's a montage of Tubman returning from missions with more and more freed slaves that lets Odom Jr. earn the film's biggest laugh. Musician Janelle Monáe, having already proven her bona fides as an actor of utmost subtlety in "Moonlight" and "Hidden Figures," plays proprietor Marie Buchanon with equal parts regality and gentle empathy.
Clarke Peters, Vanessa Bell Calloway, Zackary Momoh, Deborah Ayorinde, and more heighten the story's emotional stakes as Tubman's family. And Joe Alwyn's Gideon serves as the soulless villain of "Harriet," its reprehensible representative of white slaveowners; in increasingly tense scenes opposite Erivo, the actor doesn't shy away from degrading and even humiliating the character. Tubman, after all, is the rightful hero and centerpiece of this blockbuster—at long last.
This story originally appeared in the Nov. 13 issue of Backstage Magazine. Subscribe here.
Want more? Stay in the loop with everything you need to know this awards season right here!