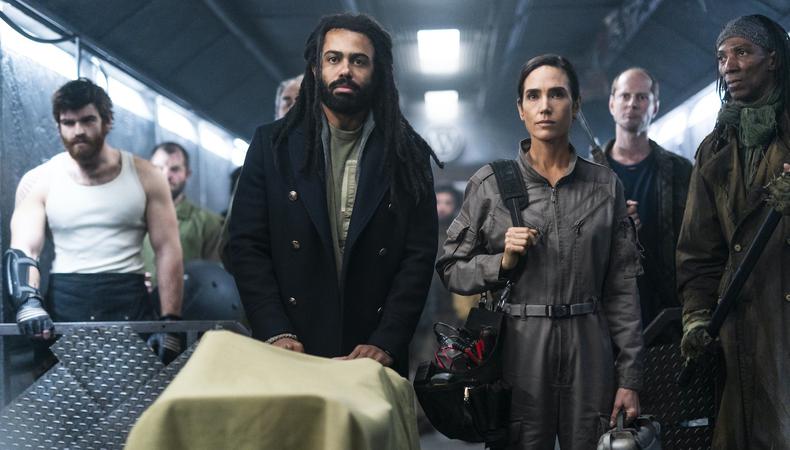 In the post-climate, frozen wasteland apocalypse of TNT's "Snowpiercer," an unstoppable train carrying the last of humanity barrels its way around the globe—all the while separating the passengers by social ladder. Tackling issues like class struggle, social injustices, climate change, the politics of survival, and contemporary social conversations, the series has built momentum and tension over the course of two seasons now, with a third one around the corner.
Production on Season 3 started in March 2021 and will continue through July. Producers already have ideas for future seasons as well: "We always have multiple seasons of ideas," says Executive Producer Becky Clements. "We definitely a Season 4 in mind, and we could go on and on. It just comes down to the networks." With fans glued to their screen for this edge-of-your-seat, twisting-and-turning thrill ride, there's no better time to hop on the train. In this in-depth guide to getting cast on TNT's "Snowpiercer," we'll share audition tips from cast members and casting information so you don't miss the next train.
In Season 1, it's been seven years since the planet has been frozen by scientists who were attempting to solve climate change. What's left of humanity has populated a perpetually moving train—Snowpiercer—that circles the globe in an attempt to provide energy and keep passengers from freezing. The train's authoritative engineer, Melanie Cavill, organizes passengers by class across "an impenetrable caste system." A revolution brews among those in the back of the train, led by Andre Layton, a former detective who seeks to rebel against the power-hungry First Class and better the harsh living and labor conditions.
In Season 2, there's a power struggle between Andre and Mr. Wilford, an engineer who built Snowpiercer. While Andre tries to keep the initial revolution intact, Melanie makes a shocking discovery and decision that could change the game for humanity going forward.
Based on the concepts and themes of Bong Joon-ho's 2013 film of the same name (which was based on a French graphic novel "Le Transperceneige" by Jacques Lob and Jean-Marc Rochette), "Snowpiercer" was developed for TV by Josh Friedman and Graeme Manson, the latter serving as showrunner. It is executive produced by Manson, Scott Derrickson, Joon-ho, Park Chan-wook, Marty Adelstein, James Hawes, Ben Rosenblatt, and Lee Tae-hun, among several others, with additional producing credits to Bill Balas, Holly Redford, Mackenzie Donaldson, Jiwon Park, and Alissa Bachner. It's filmed on location in Canada and premiered on TNT in May 2020. It is also available for streaming on Netflix outside of the U.S. and Canada, with Huanxi Media Group broadcasting the show in China.
In Jan. 2021, ahead of its second-season premiere, "Snowpiercer" was renewed for a third season, with production beginning on March 2 in Vancouver, Canada. According to Film & Television Industry Alliance, Season 3 is slated to wrap shooting on July 30. Although there has yet to be an official release date, based on the relatively quick turnaround of the first two seasons—dropping in May 2020 and January 2021, respectively, despite the pandemic delaying Season 2's production—it can be expected that the third could be on TVs either later this year or early 2022.
Because Season 3 of "Snowpiercer" is currently being filmed in Canada, there are no active casting calls or auditions for the series. But be sure to check out our list of projects similar to "Snowpiercer" that are currently casting—and keep your eye on Backstage for future opportunities.
According to former "Snowpiercer" casting executive Mike Page, there has not been a single live network test since Kevin Reilly, former president of TNT and TBS, and former chief creative officer of Turner Entertainment, took the reins in 2014. All auditions and casting calls are done on tape (which has proven to be ideal in the wake of the pandemic) as opposed to the previous process of performing in front of network "suits" in a small theater. The more organic process lends itself to a better experience for the actors and allows for the executives, producers, directors, and writers to have more collaborative discussions about the performer "onscreen." Plus, Page noted, this approach has "actually allowed us to hire multiple series regulars off of self-tapes."
Page advised the following that may help those of you hoping to get in on the "Snowpiercer" action:
"You don't have to be in Los Angeles to post your series regular [audition]. There have been people that just nailed their very first audition with self-tape, and that is what we end up presenting to Kevin Reilly, and [then we hire] the person. It can be expedited that way, and other times it can just be a lot less of the pressure, whereas traditionally it could be a series of three, four, five—I've even seen it up to 10 different auditions before you finally get to the network test. This way, I think we've cut out a lot of the stress and unnecessary pressure of the testing process."

"It seems obvious, but I want to see the character more than anything else. Yes, when I read a script, I get ideas in my head, but when I walk into a casting session, I honestly don't know what I want. I want to see it, I want to discover it. I want to see an audition that gives me something I didn't see coming, and that can transform me. Whether I've seen the scene just one time or if I've seen it 2,500 times—which has happened—somebody can make interesting and unique choices that make sense."

"The casting of and the performance of a co-star role is some of the hardest work you can do, to present an entire character in one word or one line. It's somebody who is still a three-dimensional person, and I think it's such a challenge."
It's worth noting that even though this series is confined to a train and the last remnants of humanity, the train itself contains 1,001 carriages and new characters are introduced throughout the run of the series. And within that, it's a show that consists of extremely diverse actors and is often subversive in terms of narrative/character expectations, especially when compared to the film: for starters, instead of Chris Evans as the hero of the movie, Daveed Diggs ("Hamilton") is the lead here.
As expected, Season 3 (and beyond) will also feature new faces in lead and smaller roles, as well as background actors―which bodes well for future opportunities on the series. Says Clements, "We have a big, new character in Season 3, and a couple of smaller characters, which will bring new information into our world."
As we enter Season 3, the primary cast of "Snowpiercer" consists of:
Daveed Diggs as Andre Layton

Sean Bean as Mr. Wilford

Rowan Blanchard as Alexandra "Alex" Cavill

Alison Wright as Ruth Wardell

Lena Hall as Miss Audrey

Mickey Sumner as Bess Till

Sam Otto as John "Oz" Osweiller

Annalise Basso as Lilah "LJ" Folger Jr.

Steven Ogg as Pike

Chelsea Harris as Sykes

Archie Paniabi as Asha

Jennifer Connelly as Melanie Cavill
The principal casting director for "Snowpiercer" is Wittney Horton, whose eye for talent began as a casting associate for CD Carmen Cuba ("Stranger Things"). Honing her craft on that hit Netflix series, as well as "Sense8," "Narcos," and "The Knick," she has since built a name for herself as a CD on "The Girlfriend Experience" and "Snowpiercer." After discussing the vision of the show with producers and writers, she "thought it was an opportunity to create a really diverse and inclusive world that represents the world that we live in; that was important to me."
When it came to the casting process for "Snowpiercer," Horton says that the dynamic themes of the series demanded actors with range and dimension: "The sides that we gave [the auditioning actors] were scenes where even in a short period of time, they had to do different things. One scene may be trying to show that they're really competent at their job or one aspect of the character and the next scene would be more emotional or would have to show them in some sort of a crisis potentially, or just some other more emotional kind of aspect of their character so we knew they could kind of tackle anything that was thrown their way."
Through the sides, she and the producers/showrunner were looking for a variety of range from the actors, which is something, she noted, that those trying out for a part should be aware of. "I think sometimes when actors come in and they've made choices about a character, they end up trying to play the same thing in scenes. In my experience, the showrunners are looking for different aspects of a character in scenes. They want to see that the character can go on a journey and last 60 episodes or whatever they're hoping the show will be."
In addition, Horton relied on her "Stranger Things" experience when it came to casting the young characters on the series, of which there are many (most of whom struggle to survive in the tail of the train, among the group known as "Tailies"). Her approach has been to find naturalism in young actors, as opposed to "Disney-fied" kids who come in exploding with energy and showbiz charisma—which most creatives are not interested in, she says. "They look for the kids who are a little quieter or introspective, who can still have a conversation with adults and who aren't intimidated by it, but just who aren't big and in your face. We do scenes with them. We also do interviews with them. We do improv with them, games."
When casting for the role of Miles, a Tailie child seen throughout Season 1 and as a guest on Season 2, one of the show's directors James Hawes wanted to personally read with the young actor. Says Horton, "We saw a ton of kids; you always have to cast a wide net. Kids casting is one of the most challenging things, because it's a lot of weight to put on a kid's shoulders as a series regular on a show like this."
Jaylin Fletcher, who ended up getting the part of Miles at 13, says of his experience, "The casting process for 'Snowpiercer' wasn't as long as most. I did a self-tape for it, then got called in to come to the office, auditioned again, then got a callback, did an audition in front of the director and producer, then got the call that changed my life that I got the job!"
When it comes to non-established actors, Page says a strong social media presence helps TNT find talent—but you'll need more than that. "If you have 1 million followers on Twitter, YouTube, Snapchat, or whatever, that'll probably help you get into the room," he says. "It is interesting, all of our ears are going to perk up—but at the end of the day, we need the chops for acting. That's what's going to push you through. So yeah, you might be able to get into the door based on that; that might get you an audition, but it's not going to get you any further. We need the quality, we need the goods."
Just last year, TNT posted a broad casting call for its shows. This listing alerts readers that CDs and producers for the network are "always seeking child, teen, and adult actors to appear on their series...extra work, as well as lead role auditions, can be found here."
For potential postings about future opportunities, keep an eye on Wittney Horton's social media, as well as TNT's.
Hoping for pieces of advice on how to audition for the next season of "Snowpiercer"? Check out these tips from cast members and CDs to ensure you go in as prepared as possible as you ascend from the bottom to the top of the callsheet!
"Even if you read a script or a project and you don't really think you're right for the part but it's a casting director who you've been wanting to get in front of or who you know and like, go in anyways because if you go and impress that person, they are going to remember you for next time."
Really know your lines: Horton stressed the importance of knowing your dialogue thoroughly, backward and forward. "You'd be shocked how many times people come into an audition room and they don't know their lines," she says. "It's really hard to give a note and adjust somebody when they don't really have a command of the language. That's sort of the baseline for me...I'm [then] able to give them different directions and help them get closer to what it is the team is looking for..."
She continued, "It's not about them getting them perfectly, but it's about at least knowing it well enough that they can do the scene from start to finish and not get tripped up. Even if they don't know the language exactly, they should know the intention of the line enough that whatever they're saying still makes sense within the context of the scene."
Auditions are often auditions for future auditions: When an actor is well prepared, knows their lines, and makes interesting choices, Horton always remembers them. "I take notes and I look back at my notes. I keep track of people who I really like even if they're not right for this project. Even if you read a script or a project and you don't really think you're right for the part but it's a casting director who you've been wanting to get in front of or who you know and like, go in anyways because if you go and impress that person, they are going to remember you for next time." She added, "If you go in and you do a good job for the smaller projects you might not be as excited to come in for, we're going to remember you for the big ones."
Learn to conquer self-tapes. When it comes to auditioning, Page and other head honchos at TNT are beyond happy to rely on self-tapes to be able to experience actors through a screen, as the audience will. He says, "I am very happy to relieve actors of the process of waiting in a room with their competition for the job that could change their career. The fact is that we're television networks and this is going to be a product for the screen, so let's see what you can do on the screen. Let's have you meet with the directors, with the casting director, or the writer in your room, do multiple takes, get the best that you can, and we'll take a look and see it in the actual format it's intended for."
Casting directors want you to do well: Page says, "The audition is casting telling you, 'We think you might be right.' Nerves are natural and are going to happen, but every actor should know before they walk in the room that they are there for a reason. They are there because casting believes in you. There are so many thousands of other actors that could be there at that very moment...When we're watching these auditions, No. 1, we try to make sure there's quality. Is the actor strong enough for the role? And No. 2, is it interesting? Have I seen this 1,000 times before? If so, can we do better? Can we do something else?"
Present yourself well (especially on a self-tape): Combining Horton's and Page's tips, actor Mickey Sumner—whose tough-as-nails but empathetic Bess Till on "Snowpiercer" is a crucial player in the heroes' revolution—says preparation and presenting yourself well are key to success. "If I get a script, I read the script and try to understand what the scene is about. Learning the lines so you're not looking down, especially in self-tapes when there's no one else in the room and they can't see your scene. If your face is down in the script, you're really not helping yourself. I think about what I'm going to wear and hair and makeup. I love lighting and setting up the ring light."