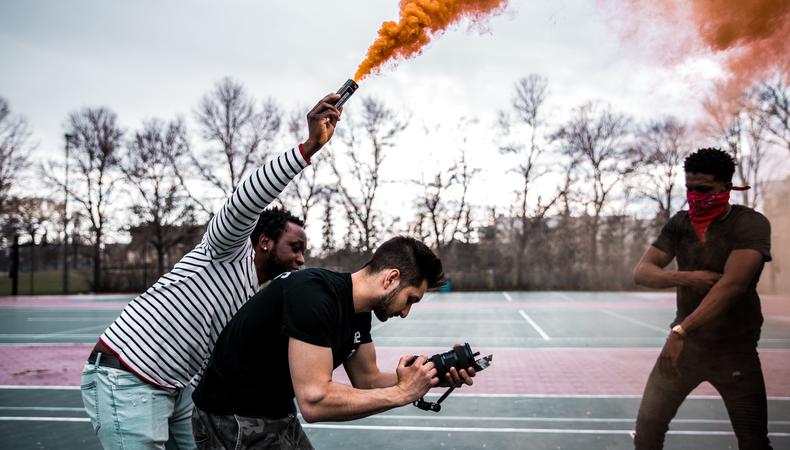 MTV made them famous, YouTube made musicians famous for them, and TikTok revolutionized and democratized the process. Music videos continue to be an ever-evolving and uniquely fascinating genre of filmmaking. Learn how to direct a music video, shoot and edit it to perfection, and just maybe join the ranks of the most iconic music video filmmakers here.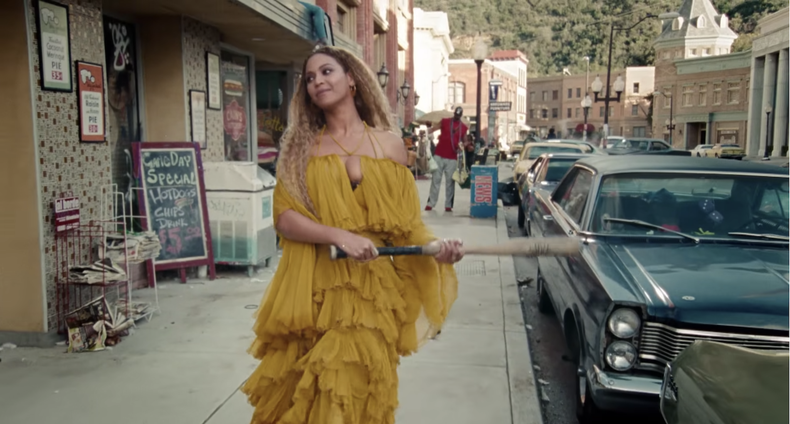 Beyoncé - "Hold Up" (Video) Courtesy Youtube
A music video is a short film set to music in a way that enhances the composition's aesthetic value and provides meaning. It lends a visual story to a piece of music, most often a lyrical song. In most cases, a band or vocal artist is the centerpiece, and a narrative story or vignette plays out around them.
Throughout the years, music videos have run the gamut from bands simply playing on a stage to complex animations. In many renowned music videos, the visual story that unfolds in the video is a direct representation of the song, but other times it is more abstract. It might depict choreographed dance numbers, such as *NSYNC's hand-snapping video for "Bye Bye Bye," or explore a comprehensive narrative, such as Beyoncé's "Lemonade" film. As a music video filmmaker, you have an almost unlimited creative license—in fact, the more you distinguish your music video from others that have come before it, the more impressive it can be.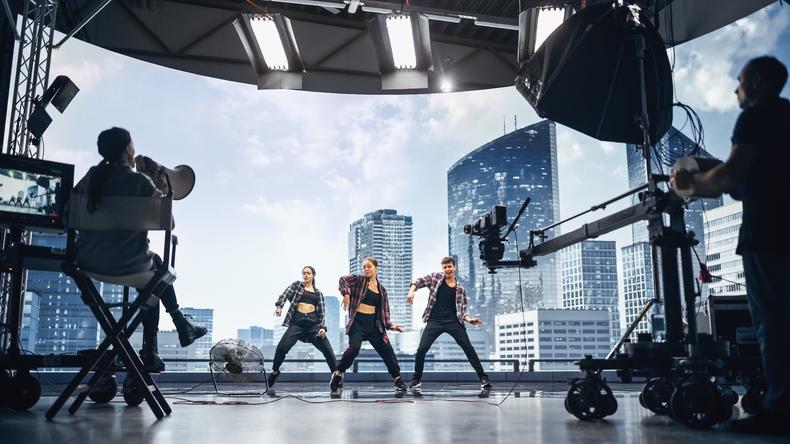 Gorodenkoff/Shutterstock
Follow these steps to produce a music video that's catchy, compelling, and cohesive.
1. Brainstorm: The music video should be a conceptual match with the artist's vision. Spend time brainstorming different ideas, aesthetics, and narratives. "There are a lot of difficult scenarios that come up when directing or creating music videos," says Andrew Hines, who directed music videos including Big Sean's "One Man Can Change the World" and Lizzo's "Tempo." "What's most important is that you understand that yes, you're hired to write a project and create a treatment and conceive a project, but you're also often being hired to create and bring ideas to life that are directly from an artist."
2. Think creatively: While some music videos perfectly match the song's lyrics, like the one for Gwen Stefani's "Cool," others take a more creative route, like Britney Spears' space travel video for "Oops!...I Did It Again." Play around with different ideas to find the one that best suits your song.
3. Establish a budget: The $7 million allocated to the music video for Michael Jackson and Janet Jackson's "Scream" may be aspirational, but you'll likely want to start with a significantly lower budget. Factor the number of cast and crew and types of equipment into your expected budget and work from there. And if you're wondering, "How much will it cost to shoot a music video?" The answer is… it varies. Most professional music videos cost at least $2,000, with an average price of around $10,000. Studio-level music videos usually cost more than $50,000 to shoot.
4. Find a location: Before picking up a camera, figure out where you'll be shooting. The location should be relevant to the concept—it wouldn't make sense for the video for Brooks & Dunn's "Red Dirt Road" to be shot in urban Tokyo. Once you've finagled a spot, talk with owners and check local ordinances to ensure it's available for shooting.
5. Storyboard: Create storyboards matching the concept more explicitly with lyrics. Consider any visual effects, actor blocking, timing, and scene transitions while planning out the shoot.
6. Assemble your music video team: Depending on your budget and the scope of your project, you might be shooting the video solo. Or, you could have a full team including gaffers, grips, cinematographers, choreographers, makeup, costuming, and more—not to mention any actors and other performers you may need for the shoot. Spend the time to find the right fit for the video. Green Day's recording for "Wake Me Up When September Ends" likely wouldn't have the same oomph without Evan Rachel Wood's cameo, and music videos by Weezer and Beastie Boys would lack their rawness if directed by anyone but Spike Jonze.
7. Ready: Once the actors know their scenes down to a T, it's time to prepare to shoot. Compile your shot list, rig the lighting, set up your camera(s), and place the actors.
8. Set: When you shoot a music video, you should play the song so that performers know when and how to do their thing—whether that's twerking to the right note like in Cardi B and Megan Thee Stallion's video for "WAP" or running into the street to gaze longingly at a departing limousine in the video for Taylor Swift's "Wildest Dreams." It doesn't have to be the final, digitally mastered recording, but be sure you have something close to the final version to play in tandem with filming. How you play it while shooting is up to you, but an easy, inexpensive method could be loading it on your smartphone or other mobile device for replay on set, and maybe a set of smartphone-compatible speakers. If your music video features actors who sing on camera, make sure they know the song from memory and encourage them to sing it out loud during filming. There's little more distracting to a viewer than mismatched lip-synching.
9. Shoot: Upon hearing "action," the actors should perform the scene as practiced. Rinse and repeat for every scene of the music video.
10. And reshoot: You'll likely need to play the song at least three or four times to capture different angles and actions choreographed to the music. It's nearly impossible to put together a decent music video without hitting replay multiple times, as you'll have no fallback if a shot fails or falls short of expectations while editing.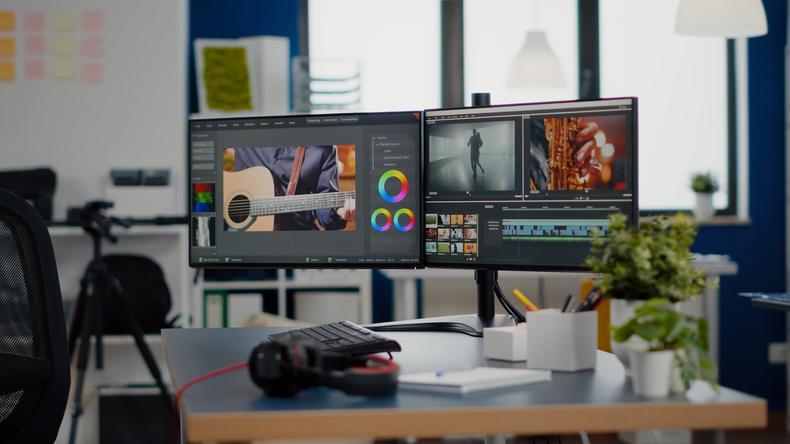 DC Studio/Shutterstock
A good music video relies on accurate syncing, which takes place when you tweak it to perfection in postproduction.
1. Upload to your video editing software of choice: Make sure you use a program that includes advanced audio options.
2. Choose the best scenes: The scenes should match up with the audio, but you'll be overlaying new audio onto the final cut.
3. Transition: Use transition techniques to connect shots to each other and add to the video's sense of continuity.
4. Add audio: Lay the final version of the song over the chosen scenes, making small adjustments as needed for timing and effect.
5. Finalize: Once the revised video is complete, add in any credits and the video title.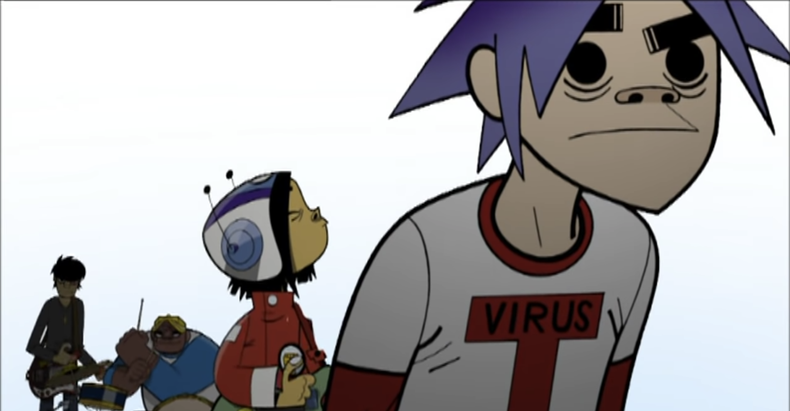 Gorillaz - "Clint Eastwood" Courtesy Youtube

Whether highly stylized storytelling or stark close-ups, the aesthetics and narratives of these music videos left an indelible mark on the industry.
"Life on Mars?," David Bowie

"Thriller," Michael Jackson

"When Doves Cry," Prince

"I Wanna Dance With Somebody," Whitney Houston

"Like a Prayer," Madonna

"U Can't Touch This," M.C. Hammer

"Nothing Compares 2 U," Sinéad O'Connor

"Smells Like Teen Spirit," Nirvana

"Waterfalls," TLC

"My Name Is," Eminem

"Bye Bye Bye," *NSYNC

"Clint Eastwood," Gorillaz

"Seven Nation Army," The White Stripes

"Here It Goes Again," OK Go

"Single Ladies (Put a Ring on It)," Beyoncé

"Lemonade," Beyoncé

"Work It," Missy Elliott

"Oops!…I Did It Again," Britney Spears

"California Gurls," Katy Perry

"Chandelier," Sia

"Physical," Olivia Newton-John

"This Is America," Childish Gambino

"Straight Outta Compton," N.W.A

"HUMBLE.," Kendrick Lamar

"Juice," Lizzo

"MONTERO (Call Me by Your Name)," Lil Nas X