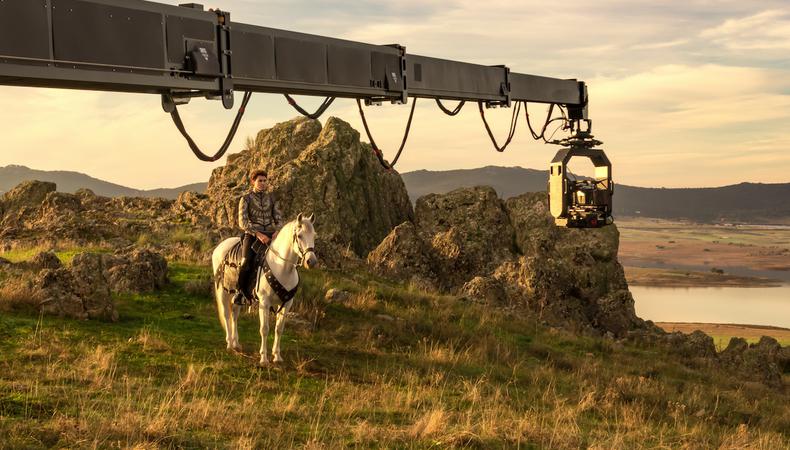 Grips working on a professional film or TV set most commonly start as production assistants or trainees, loading and unloading trucks filled with gear, shadowing the professional grips, and learning the trade firsthand. While the career path can be unpredictable, with experience and knowledge, a grip can expect to work a lot on set, eventually advancing to best boy grip or key grip.
If you're looking to become a grip for film or TV—or on any set—you've come to the right place. Here, we will answer all your questions, from how to get a job as a grip to what equipment you'll need, what salary to expect, and more.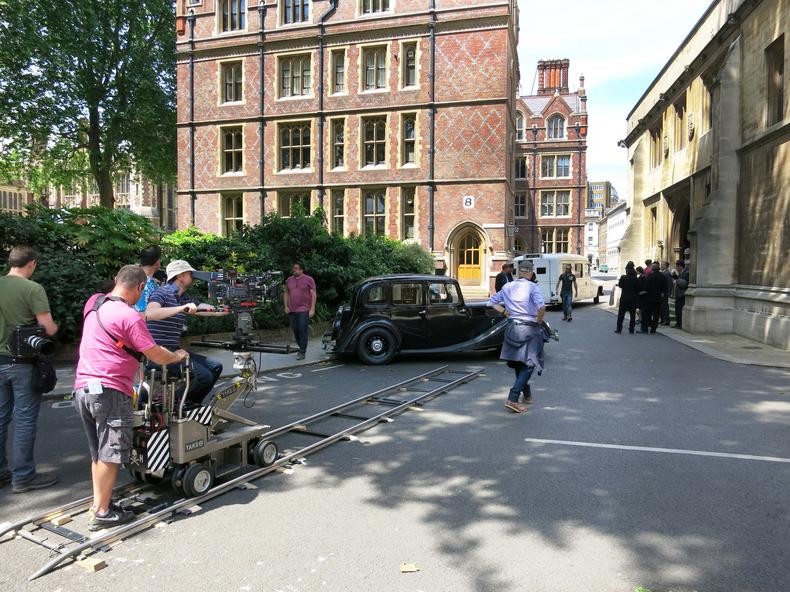 Richard Walker Media/Shutterstock
A grip is a technician who sets up, operates, and maintains the rigging and equipment that supports the camera (i.e., dollies, cranes, tracks, jibs, tripods, process trailers, etc.) and lighting (stands, diffusers, nets, etc.) to achieve the director and cinematographer's desired shot. Under the direction of the best boy electric (who reports to the key grip), a grip builds, lifts, moves, and adjusts the production gear that helps a scene feel alive.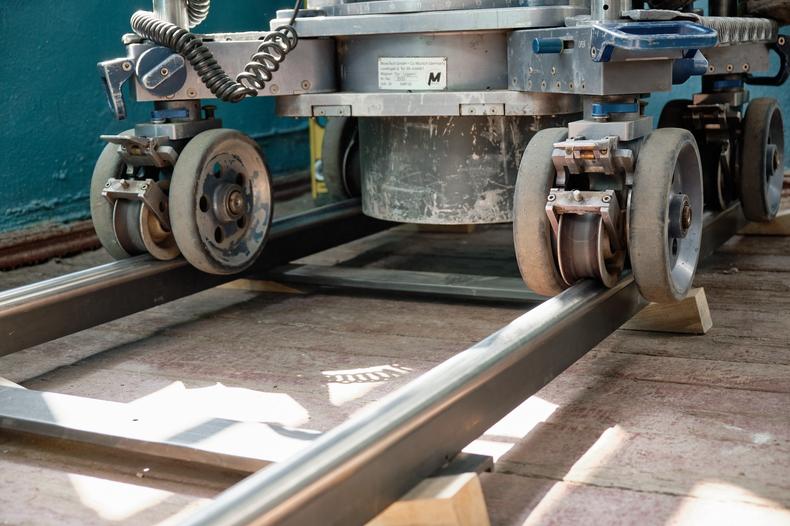 Sergey Nepsha/Shutterstock
On large film sets, there are three different types of grips who perform different tasks:
The company grip, sometimes known as the third grip, works on set and is guided by the key grip.
The construction grip builds and dismantles sets, clears obstacles that may get in the way of shooting, adjusts set pieces to make room for cameras or lights, and builds platforms for cameras that need to be in specific spots.
The dolly grip is the technician who sets up and operates the camera dolly, a wheeled platform on tracks that creates smooth horizontal movements onscreen.
On smaller productions, producers often roll the work of grip and gaffer into one position who reports to the director of photography without any support staff. On very small productions, all three of these jobs—grip, gaffer, and DP—may fall under the job description of the DP, meaning they'll be setting up lights and gear while also working the camera themselves.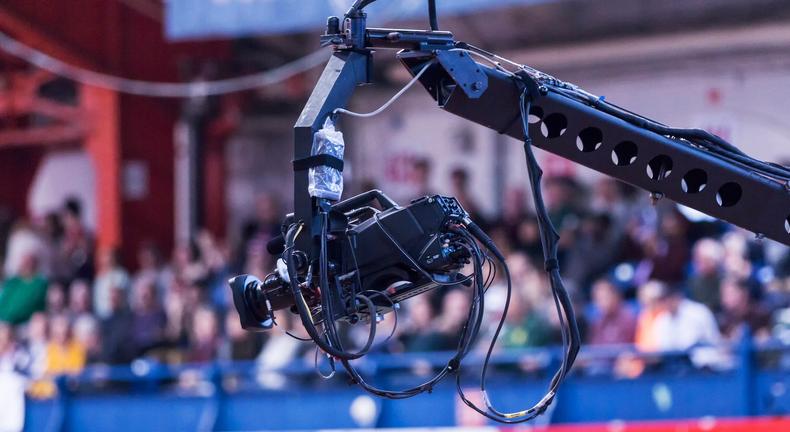 WoodysPhotos/Shutterstock
While a film grip's salary is dependent on experience and working conditions (budget, location, hours of work, union status), a 2019 report from Career Trend found that an average salary for grips is $30,000, while dolly grips earn between $200 and $300 per shooting day, according to Saddleback University.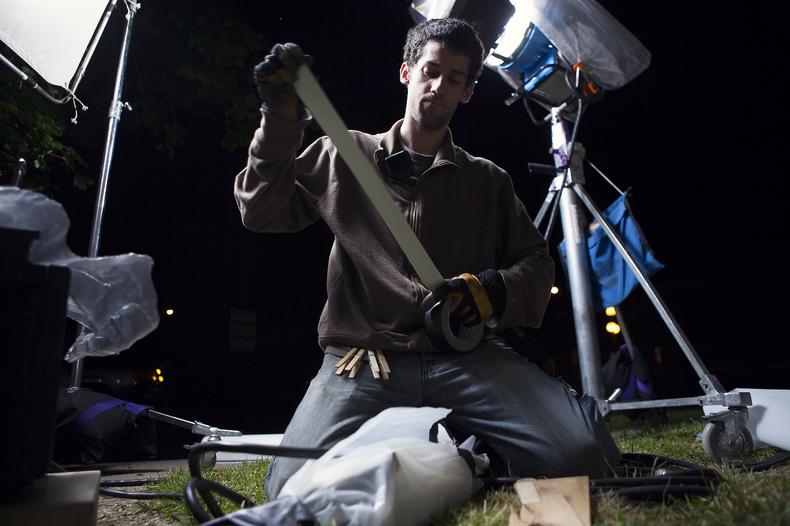 9387388673/Shutterstock
A professional grip should have knowledge of camera and lighting equipment, construction, carpentry, mechanics, electrical systems, and wiring, and be generally technical-minded. It's also important to be in good physical condition; a large part of the work day will be spent lugging heavy equipment and climbing ladders. The best education is on a set, but a degree and/or background in the different elements of the job would be beneficial before starting.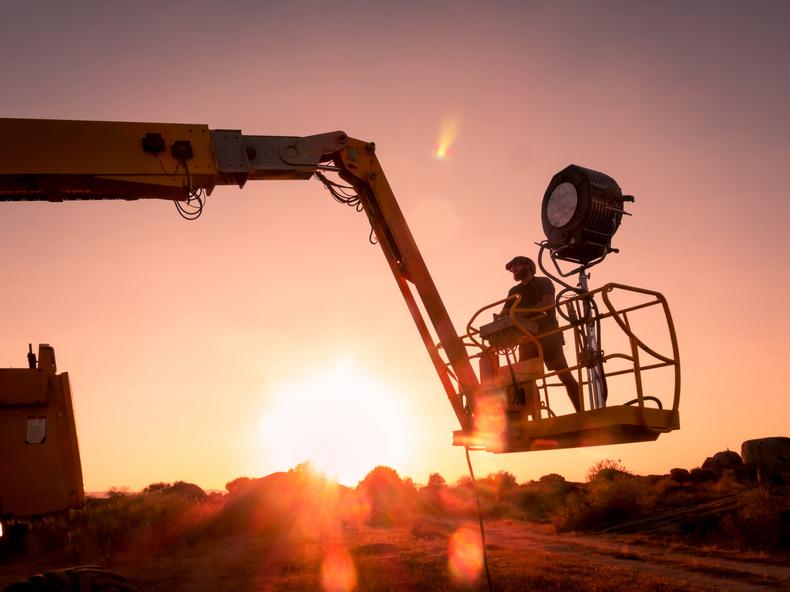 cineuno/Shutterstock
Having industry-standard equipment on film and TV sets is important for grips at all stages of their careers. Not only will the equipment they use make them better at their job, it also helps keep them safe while working. Below is a list of some of the most important film set equipment and personal gear professional grips should have:
Gloves: Grips need a pair of durable work gloves that will protect their hands when touching hot lights, maneuvering potentially sharp objects, and setting up the camera rig, among other duties. Leather work gloves are a good all-purpose choice. However, if shooting outdoors in cold weather, there are warm, fleece-lined options that will still protect your hands.

Wrenches: A wrench is a grip's best friend. It is the tool you will be using most often to fasten and break down equipment. There are, obviously, many wrenches out there, and you will likely work regularly with more than one. A crescent wrench is one of the most commonly used by grips, especially for setting up and rigging lighting.

Gaffer tape: Gaffer tape serves the same purpose as regular tape, but it's made of cloth. Its capabilities and function on a set are endless: It can be used to secure cables and long cords to prevent tripping; it can be used to temporarily fix an equipment break; it can be used for blocking a scene by placing it temporarily on the actors' marks; and so on. Better yet, when you're done, gaffer tape can be removed from any surface without leaving sticky residue.

Sharp knife: A high-grade, sharp knife is essential to the work of a grip. It will be needed for cutting through gels, plastic, rope, cords, wires, and more. Because the grip's knife needs are multipurpose, it's a good idea to have two different kinds: a normal utility knife, along with a multitool knife that is more versatile.

LED flashlight: Grips should always have a flashlight on hand—not just for night shoots. Grips will often need to set up wiring or other equipment in dark spaces, for example. The best grips have LED flashlights, which emit a more focused, direct beam of light. Depending on what kind of space you're working in, you may also want to get a light that can clip to a headpiece.

Belt: A grip should have a belt that can fasten around their body and hold all of their tools secure and ready for easy access. Not only does this make it easier to do their job, it also helps identify them on set. The grip is one of the most important people on set when it comes to ensuring the safety of every single person working. When they're wearing a properly stocked tool belt, the creative team, actors, and rest of the crew can see that the grip is ready to work at all times. Grips are the first line of defense should anything go awry.

Tape measure: As a grip, you need to be able to take exact measurements down to the centimeter to ensure all equipment functions properly and everybody stays safe. As such, grips should have a flexible and durable tape measure with them while working on set. An app on your phone or tablet to measure a space is definitely handy, but a manual tape measure is a classic because there is very little room for error.

Chalk and permanent markers: You never know what you'll need to mark as a grip, either temporarily or permanently. This could be marks on the floor, marks on equipment, marks on the gaffer tape—even marks on a water bottle.

Clothespins and Pony spring "A" clamps: The grip should have both basic clothespins as well as Pony spring clamps at the ready. They can be used to secure a set piece that isn't staying, or just hold a piece of equipment in place while your two hands hold something else. Either way, don't be caught dead on set without them!
For more on how to get work on a film crew, visit Backstage's crew hub!