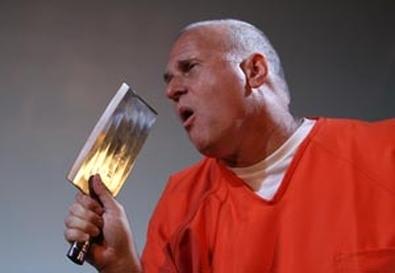 Necrophilia, cannibalism, and amateur lobotomy don't make for an appetizing stew, but they keep the audience listening at "Jeffrey Dahmer Live," the one-man musical written and performed by Avner Kam. As Joseph Conrad put it, it's "the fascination of the abomination."
The concept here is that serial killer Dahmer is putting on a show in prison, recounting his life story from early childhood to a foretelling of his violent end in prison in 1994. Commenting on the story are some clanking original songs in Brechtian style performed to prerecorded accompaniment and an array of video images. As there have been endless books and even movies about Dahmer, it's hard to say what Kam brings new to the exploitation table other than his quirky, somewhat humorous persona as a performer, his Israeli accent adding to the off-kilter aura.
The show is well staged for dramatic effect by director Jonathan Warman, and the narrative attempts to burrow into Dahmer's psyche to reveal the human being inside the monster. But it's his gruesome deeds that still make up the meat of this meal. Grisly details are served generously.
Self-presented as part of the New York International Fringe Festival at the Bowery Poetry Club, 308 Broadway, NYC. Aug. 16–23. Remaining performances: Thu., Aug. 18, 5 p.m.; Sat., Aug. 20, 2:15 p.m.; Sun., Aug. 21, 7:30 p.m.; Tue., Aug. 23, 9:30 p.m. (866) 468-7619 or www.fringenyc.org.