With an arm stretched across the table, Jessie Mueller holds up a steaming teacup. "Here, stick your nose in there," she offers as the aroma seeps over the lip of the mug. "Can you smell that? That's the toasted rice." She's become a bit infatuated with green tea since a recent trip to Tokyo, taken during a break from Broadway that allowed her to "get some time and space away and, in a wonderful way, laugh about and appreciate how strange it is."
And just like that, thanks to her grain-infused beverage, Mueller immediately nullifies two perceptions that could, in theory, readily circulate about a notoriously private (and social media–free) Tony Award winner: that she's in any way frigid or withholding in her demeanor, and that her successes in theater have numbed her to its precarity.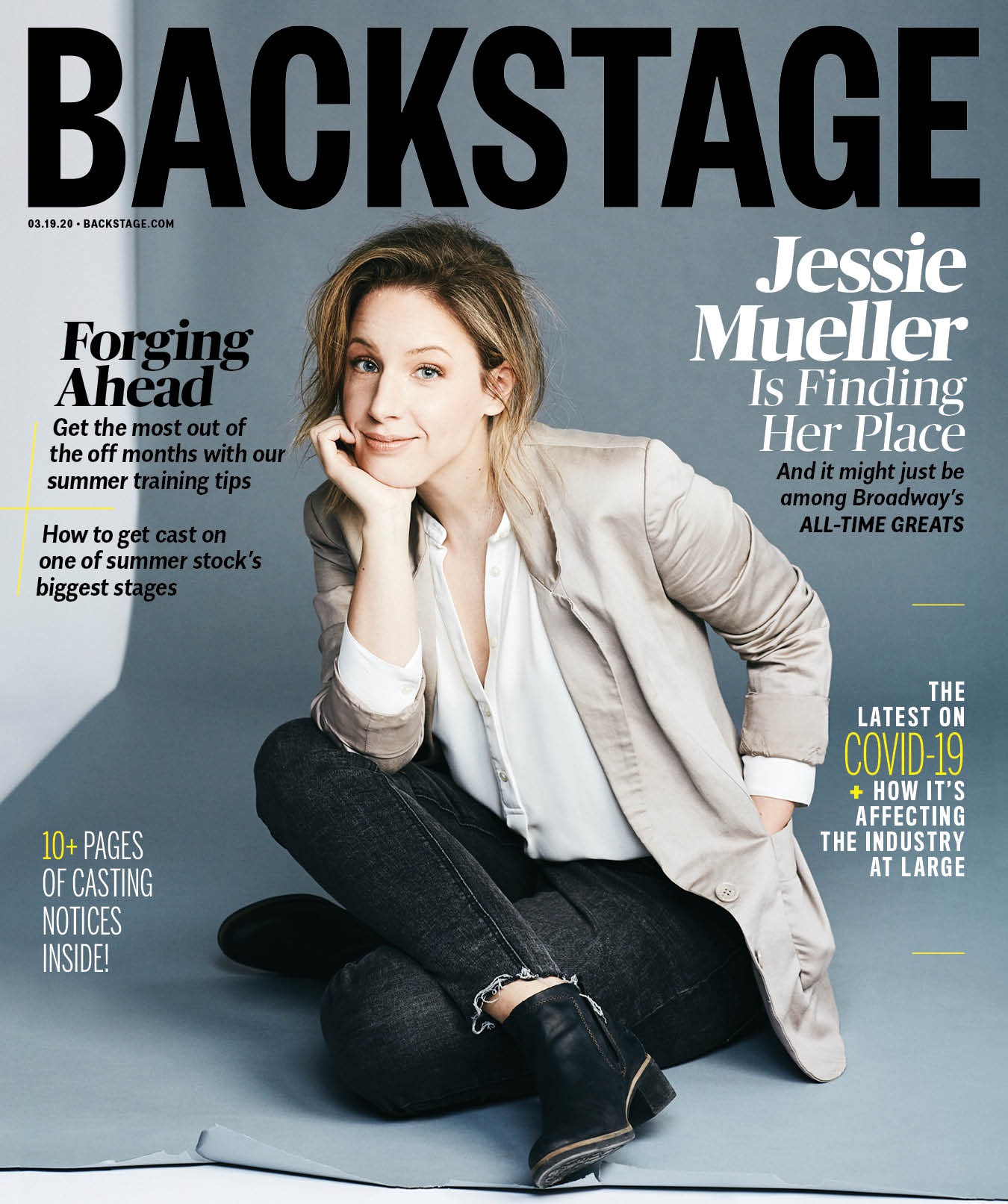 But oh, those successes. With her Broadway debut opposite Harry Connick Jr. in the 2011 revival of "On a Clear Day You Can See Forever," Mueller nabbed her first Tony nomination, setting somewhat of a precedent for the ensuing decade: She would go on to star in an additional five Broadway shows, earning Tony nominations for three and, of course, winning a Tony for one, as the titular songstress in "Beautiful: The Carole King Musical."
Yet on a February morning at a rooftop eatery in Manhattan—the location of which will not be disclosed here, as she plans to co-opt it for postperformance socializing—Mueller is far less intimidating than her pedigree would have you believe. And that's despite the fact that she's been exceptional even before her days on the New York stage. For proof, just look to her first professional job, booked through an Equity Chorus Call (a "cattle call," more crudely) before she even was Equity.
"I brought my headshot and my résumé and went in and did my thing. I felt like Syracuse [University] prepared me, and I had my little audition book ready and I knew my cut that I wanted to sing," she remembers. "And I was really lucky and I got a job in the chorus of a show in an Equity theater." That was in Chicago, where Mueller grew up in an acting family and where she would later spend the seminal period between graduating with a theater degree and moving to New York.
READ: Tracy Letts Is Making It up as He Goes—and It's Working
During those years, Mueller could "just show up for the job and do the work"; vitally, they allowed her to grow outside the pressures of commercial theater. "It wasn't until I got here that I learned more about the rest of the machine. That's the stuff that, even now, I still find kind of distracting and hard to come to terms with," she admits. "I was really fortunate that, especially when I was just starting out, I didn't have to negotiate all that. I could just learn, I could try stuff, I could make mistakes without having a lot of important eyes on me. I could just jump in the pool and learn to swim."
Career introspection aside, Chicago is top of mind for Mueller this morning for another reason: She is going straight from this interview to her first day of tech rehearsals for "The Minutes," the new Broadway show that's as much a product of the Windy City as deep-dish pizza. The drama—which, at press time, is slated to eventually reopen at the Cort Theatre after getting postponed in previews due to the COVID-19 pandemic—originated at the famed Steppenwolf Theatre and is written by its star ensemble member Tracy Letts. Starring Letts as well as Armie Hammer and Blair Brown, the production marks another career milestone for Mueller: her first straight play in New York.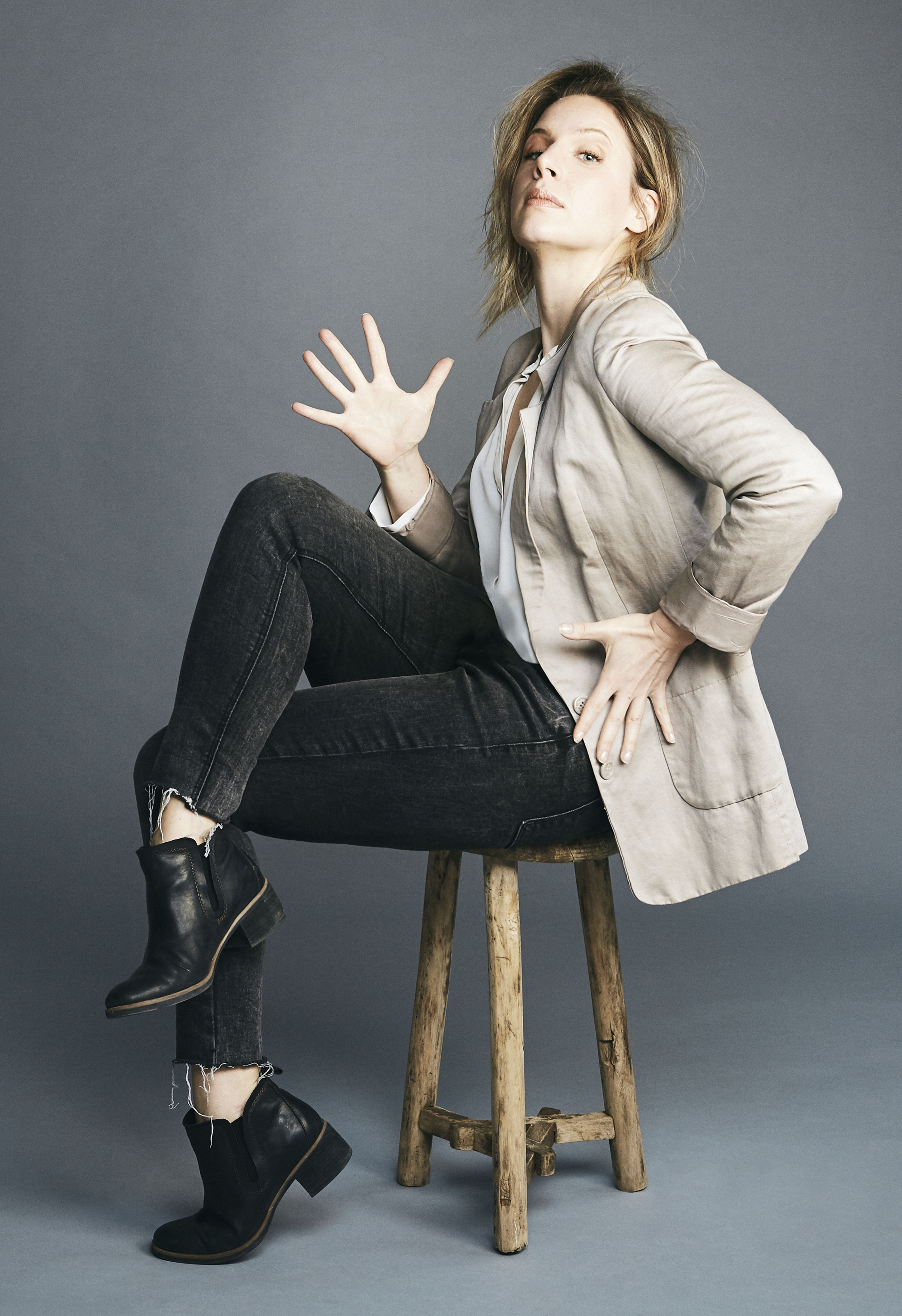 That also means it's her first Broadway outing in years in which she doesn't have to carry a two-and-a-half-hour musical on her back. So, yes, as one could imagine, "I'm thoroughly enjoying it right now," she chirps. "I don't have to do the 3 a.m. check of—" she presses a couple of fingers to her throat to make a high-pitched coo. "Like, is she there? And it's funny, because people have asked me, Do you miss singing? I'm like, I sing all the time. I do find I want to listen to music more and I want to sing, but it's nice because it's just because I want to and not because I have to."
In addition to the mitigated tax on her vocal cords, she's relishing the straight play experience for what she's learning (or, perhaps, relearning) about delving into a text, and the bull's-eye of precision behind every sentence and syllable.
READ: Kelli O'Hara Reintroduces Herself
"There's a heightened nature to it, with such an emphasis on the words and word choice," she says. "What [Letts] has written is so specific; it's not mumbly. There are not any extra 'ums' or 'ohs.' He's written all those in and written them for a reason." In discussing text analysis, Mueller also indirectly confronts the stigma actors known for musical theater so often face when performing dramatic works. "For me, too, I thought, Don't get too jazz hand-y, it's not a musical. You're going to have to keep everything really small and [focused on] behavior."
While she has had to fight some of the "five-six-seven-eight" muscle memory she's built as one of musical theater's most consistent performers, Mueller in "The Minutes" proves that the difference between creating a character for a musical versus a drama is rather minute—the means for doing either simply exist within different crevices of the material.
"With a play, all your information is right there on the page. If it's a musical, I really do need to hear the music," she explains. "If I'm sent a script for a musical, I will definitely look at the lyrics on a page, because I want to know what's happening lyrically, but I also want to know what's happening musically. I find that I have a pretty immediate reaction as to whether I connect with the music. With a play, it's a little different, because you just have the words. But oftentimes, with a musical, to me, that's a huge part of the character because you're getting so much of the emotional life in the music."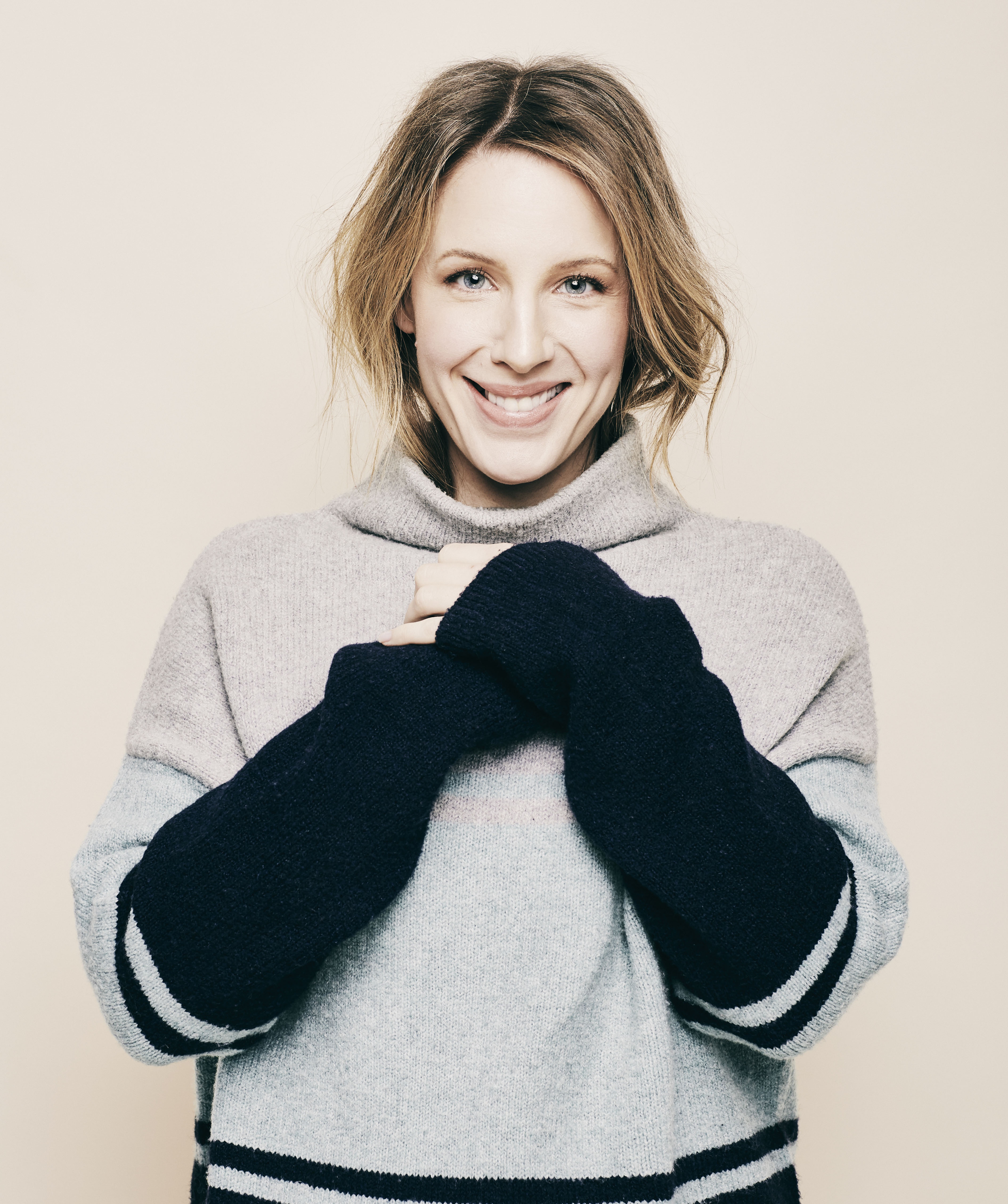 That Mueller extracts her characters' interiors from the music she sings is unsurprising. In addition to "Beautiful"—whose music is frequently diegetic to the plot, not to mention an indelible piece of the American songbook—her other Broadway originations include "Waitress," where she crooned the tinkering, often mournful jazz of Sara Bareilles (with an Everytown, USA, twang on top), and the 2018 revival of Rodgers + Hammerstein's "Carousel," stepping into one of the canon's most emblematic soprano roles, Julie Jordan. And now with Letts' play, Mueller adds yet another layer of versatility and further sidesteps the perils of typecasting.
READ: Laura Benanti Has it All, And Is Still Taking It to New Heights
Of course, ask if she arrived in this town with an attack plan for genre and stylistic variation and she guffaws, joking that she came to New York "with just a tube of ChapStick, like Guffman." In reality, the illustrious Mueller, whose name today can help get a new musical off the ground, is quick to confess she came here as so many do: overwhelmed.
"You don't want to walk around thinking you're hot shit. But you also have to say, 'I have a right to be here and my point of view is unique.' "
"There was so much I didn't feel ready for or equipped for, but as far as being able to get on a stage and do my job, I thought, Well, I can do that," she says. "When you start out, you go from job to job to job. And you double up on things because you've got to pay your rent, so you take this gig and you take that gig. Sometimes I think actors are fighting between 'What is my worth?' and 'I know 150 people want my job. I'm expendable but I'm not.' And where does that leave you? I don't know, I'm still trying to figure it out.
"You don't want to walk around thinking you're hot shit," she continues. "But you also have to say, 'I have a right to be here and my point of view is unique.' "
Just as whoever reads this may (ideally) find solace in knowing Mueller is still maneuvering her worth in an industry that readily quantifies merit based on follower count, she herself finds solace in knowing her heroes have to stare down those same nagging suspicions that maybe they aren't any good. But she also wonders if that very ambiguity makes actors delve deeper in their approach, or even whether it's what makes them good.
READ: Cynthia Erivo: An Education
"Even the people who have been doing it a long time, that I respect so much and that I've gotten to work with, I've had wonderful moments with them where they're just like, 'I don't know what I'm doing; I'm going to get fired tomorrow; I feel so nervous being here,' "
she says. "If you have some of that self-awareness, it means that you can do your job, that you can dig deep." She also has a hunch that ingrained skepticism is what draws actors not only to the parts they play, but to the trade in the first place.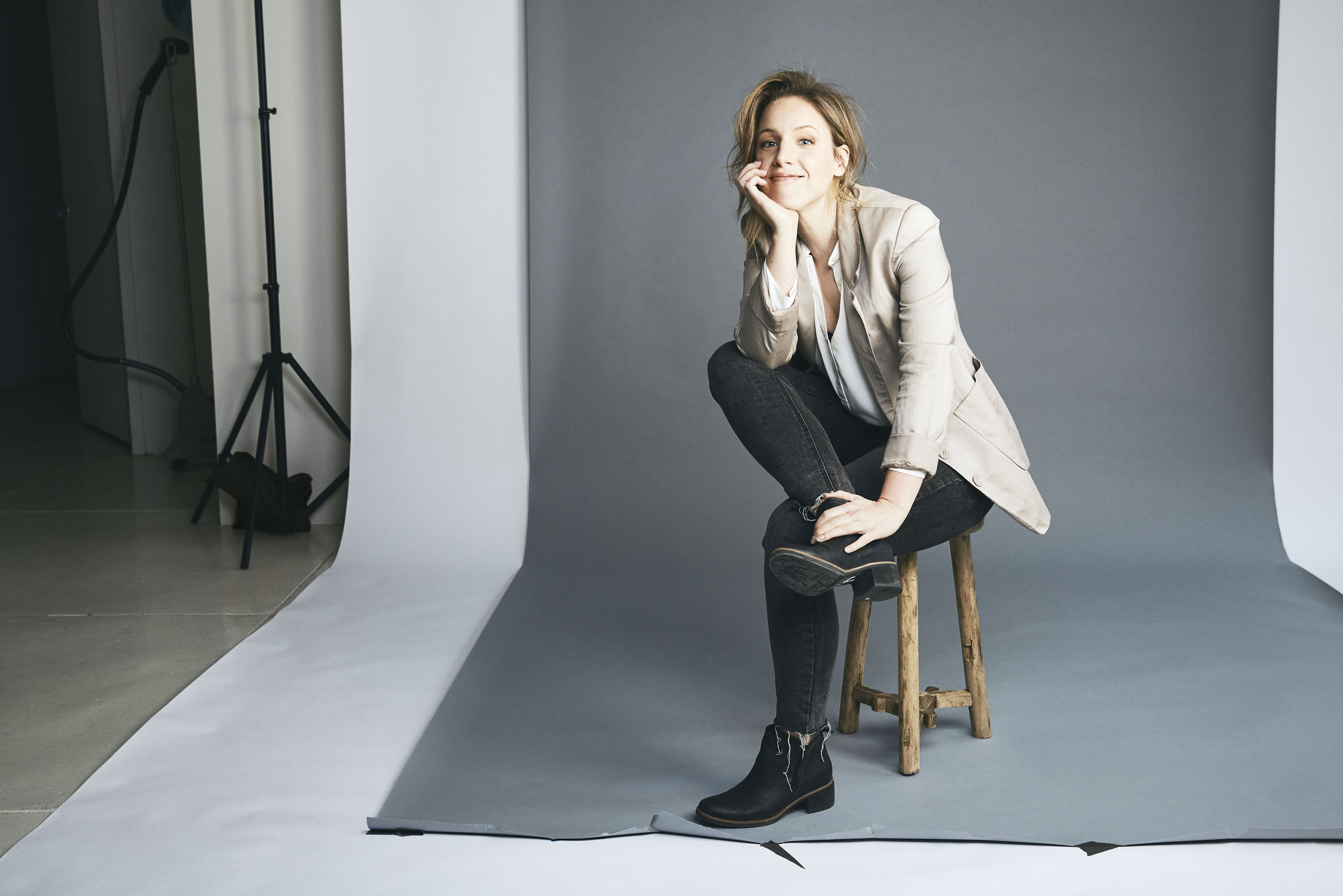 "If you're an actor, it's rare that you'll ever play someone who's so self-assured and fabulous—that's boring to watch, where's the drama in that?" she presses. "I get the most interested by people who are complex and interesting and flawed. That's what the audience relates to and that's what the actor playing the part relates to. It's not really our fabulousness that unites us. I often think it's more those creepy parts we don't want to admit to where we have more in common."
To acknowledge those "creepy parts" is to acknowledge the contradictory ethos of being an actor: "I'm important; I deserve to be buried in a hole," as Mueller describes it. What you can do is have the resolve to let those truths exist in tandem and then, hopefully, laugh off some of the by-nature silliness of the business along the way. She, suffice to say, certainly has at least that last bit down pat.
Of the impending spring theater season—and the press circuit Mueller is now quite familiar with—she suggests, "Let's do a pajama press party where everybody shows up in pajamas; no hair and makeup, just really bright lighting." She laughs, and then offers a crucial addendum: "After a really good night of sleep." She winks, reaches for a hug, and then heads out onto the street and toward the theater. She has a rehearsal to get to.
This story originally appeared in the March 19 issue of Backstage Magazine. Subscribe here.
Photographed by Stephanie Diani on Feb. 18th; Make-up by Rebecca Restrepo; Hair by David Cruz