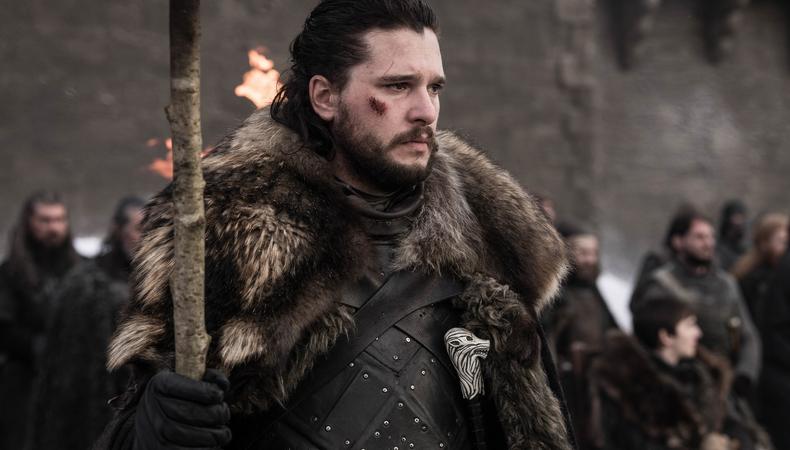 Greenlit means a project is officially a go, so all you have to do is follow these leads to stay up to date. You never know where you'll find an opportunity to land an audition.
Despite six other "Game of Thrones" spinoffs in the works—not to mention the upcoming "House of the Dragon" prequel series—HBO is reportedly working on another one. The new spinoff is said to follow the popular Jon Snow. And if you know nothing about this new project, we've got you covered.
A "Game of Thrones" Jon Snow Spinoff Is in Development
HBO is exactly two months away from the premiere of its first "Game of Thrones" spinoff series, "House of the Dragon," but the cabler is jonesing for even more. The Hollywood Reporter wrote that a potential "Thrones" spinoff focused on Jon Snow is also in early development. Two-time Emmy nominee Kit Harington is attached to the new project—if it goes forward to series.
The series would likely follow Jon after the events of "Game of Thrones," where, in the eighth and final season, Snow was exiled from the Seven Kingdoms and left his old life behind to head north of the Wall. (This also followed the events that led Snow to discover his real name: Aegon Targaryen, the son of Lyanna Stark and Rhaegar Targaryen.) As the Hollywood Reported noted, the spinoff could lead the way for stories of other "Thrones" survivors, such as Arya Stark (Maisie Williams), Sansa Stark (Sophie Turner), King Bran I the Broken (Isaac Hempstead Wright), Tyrion Lannister (Peter Dinklage), and Brienne of Tarth (Gwendoline Christie).
HBO's other live-action prequels in various stages of development are "10,000 Ships," "9 Voyages," "Tales of Dunk and Egg," and three animated projects.
The upcoming "House of the Dragon," set 200 years before the events of "Game of Thrones," will follow the Targaryens. The prequel series stars Paddy Considine, Matt Smith, Emma D'Arcy, Olivia Cooke, Steve Toussaint, and Eve Best. After wrapping up filming in the U.K., "House of the Dragon" is now in postproduction and is set to premiere on HBO on Aug. 21. Kate Rhodes James is the casting director. You can learn more about the project here—including how to potentially get cast in future seasons.