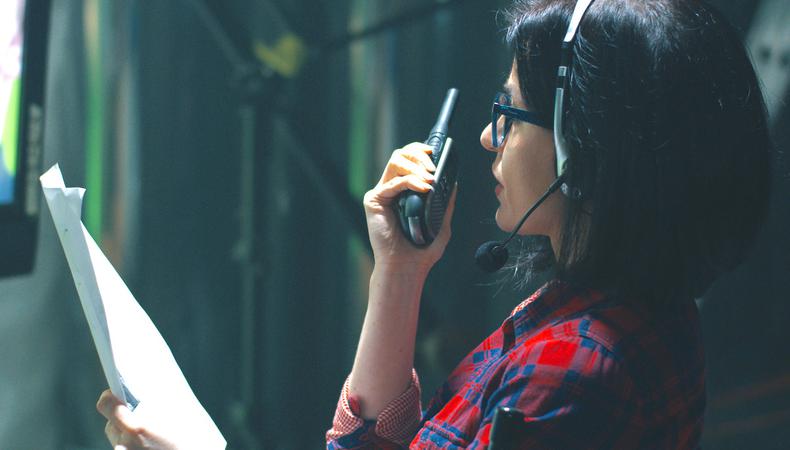 Key PA Job Description: What Does a Key PA Do?
The key production assistant is responsible for all the production assistants on set and making sure they fulfill their designated tasks. Generally a former PA with a lot of experience, he or she acts as the 1st AD's right-hand man/woman and leads a team of PAs through various duties during production, providing help to any and all departments that need it. It's on the key PA to know their crew and understand everybody's strengths in order to assign the right person to each job, as well as thoroughly convey the (often) hectic amount of information needed at the start of each production day; this may include what's being shot, which departments need what, when the actors will be needed on set, where each person should be, etc.
Among the key PA's laundry list of duties is being in charge of the walkies—which are distributed at the start of each shooting day to all crew members—coordinating the talent from their trailers to hair and makeup to set, tending to the talent, helping to manage background actors, and monitoring the "lockdown" of the set, which usually consists of having PAs located at different areas to ensure there are no interruptions once "Action!" is called. Additionally, the moment a PA is needed, it's up to the key PA to send one.
Rorie Dirk Van Klaveren, a producer, production coordinator, and PA ("Rizzoli & Isles," "Nip/Tuck," "SLC Punk!") added, "You take charge of the team providing general assistance to all departments and cast, ensuring people have coffee and food, coordinating wardrobe and locking down the set by shouting, 'Quiet please!' and, 'Picture's up!'...The KPA is the point person on the walkie-talkie for all set PAs and they liaise all day with the production coordinator, taking on errands and solving problems for all departments."
Department
Production
Alternate Titles for Key PA
KPA, lead PA, lead production assistant
Crew Hierarchy
Key PAs act as supervisors to PAs but report directly to the 1st AD. They generally work alongside the 1st AD so they can jump on whatever he or she might need at any given moment. The Key PA also reports to the 2nd AD, 2nd 2nd AD (3rd AD outside of US), production manager, and basically anybody on set who isn't a PA.
Key PA Salary
The median salary for a key PA is $59,200, with a range between $42,000 and $81,000.
As with any crew position, salary is not fixed and depends on the number of hours worked and the size and budget of a project. Like PAs, the Key PA is a freelance, non-union gig, and income operates on a job-to-job basis, even if you're working on a big-budget studio blockbuster.
However, there can be financial upsides to the work. "You do get paid legitimate, healthy overtime. After eight hours, it's time and a half, and that happens a lot. After five days, any work beyond that is double time," says Klaveren. "You get production health insurance at a great rate, three square meals a day, and lots of swag... Plus, when you work so much, you don't spend any money."
How to Become a Key PA
It should come as no surprise that the way to become a key PA is to prove yourself as a hard-working, reliable, and passionate PA—one who's alright putting in long hours and being on your feet all day, bouncing from job to job and department to department, for low pay. In addition, PAs know the set better than anyone and are able to gauge what's expected of every crew member; not only can they be led by the key PA, but they can shadow and learn from them, and know what to expect if they strive to advance up the chain of command.
As a key PA, it must be understood that the job seemingly never ends; you tend to be the first to arrive and the last to leave, and there's always some task to do or be on top. It's strenuous and requires lots of physical and mental stamina, long hours, and focus. But for those who are up to the task, prove to be good at the job, and network, advancement is in the cards. It's common for ADs to hire key PAs they enjoy working with, so like everything in the industry, making a good impression goes a long way. And, similar to the PA, as a key PA, you have a front-row seat to everything the AD does and needs. The logical promotion for a key PA is a job within the AD's department, either as an AD trainee, 2nd AD, or 2nd 2nd AD.
Key PA Required Experiences + Skills
In order to be a successful key PA, it's essential to have strong organization, leadership, logistics, communication, time management, interpersonal, and office skills. You must be positive, passionate, trustworthy, reliable, quick on your feet, have a thorough understanding of your own and other PA tasks, and be able to work under immense pressure and tight schedules. While key PAs and PAs who have degrees and backgrounds in film and production are at an advantage, the best possible education is working on a set.
For more on how to get work on a film crew, visit Backstage's crew hub!