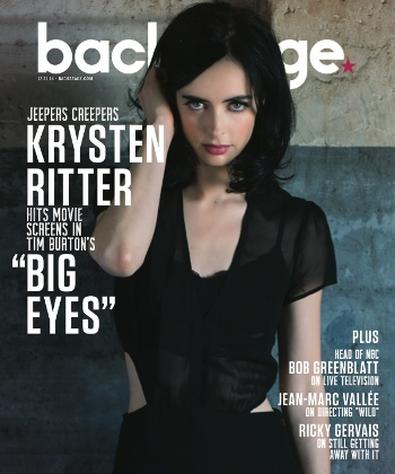 The release is less than two months away, but Krysten Ritter hasn't yet seen the movie she's met with Backstage to discuss.
"I saw the trailer for 'Big Eyes,' and I know my publicist saw [the movie]," says Ritter, relaxing in an East Los Angeles studio. "We had a screening scheduled, but Tim [Burton] wanted me to see a different cut—I think it's on the books for me to see it next week. How is it?"
Quite good. Burton's "Big Eyes," which examines the strange relationship between midcentury artist Margaret Keane and her husband Walter—who took credit for her massively popular paintings of big-eyed children—is the director's most humane and incisive film since "Ed Wood." Ritter plays DeeAnn, the best friend of Margaret, who's portrayed by Amy Adams. But while Ritter is looking forward to seeing "Big Eyes," the movie itself is beside the point.
"I was thrilled to work with Tim Burton and Amy Adams, so for me, it just feels like this really cool thing," the actor explains. "I'm not always the first person to run out and see something I'm in. I don't know; for me, that's not why I did it. I did it because I wanted to act. I don't really think about the end result. I don't feel like I have to see it—for me, it already happened. Even when I started acting, I never really put it together that what I was doing would eventually be seen by other people. I remember early on in my career when people started coming up to me for 'Veronica Mars' in Union Square and being like, 'Krysten?' I was like, 'Do I know you?' I realized, Oh my God, right: It's not just me and my friends and my family watching. Other people can see it. That's just a surreal thing."
Such a pronouncement might sound like false modesty, but the way Ritter delivers it—almost quizzically—she seems genuinely baffled herself. At this stage in her career, it's hard to imagine her perspective changing. Soon to turn 33, Ritter has now been acting and modeling for roughly half her life. The star of ABC's short-lived "Don't Trust the B---- in Apartment 23" and one of the most riveting supporting players on "Breaking Bad" as Jesse's drug-addicted girlfriend, she has handled comedy and drama equally well. (And don't forget her memorable turns in movies like this year's caustic indie "Listen Up Philip.")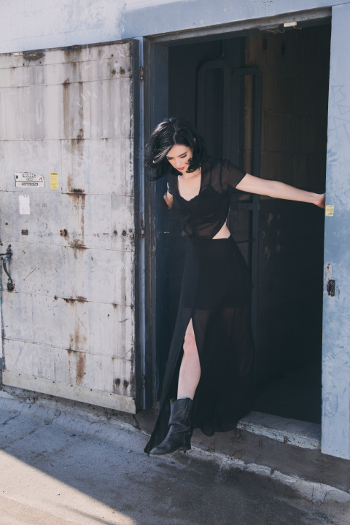 Her role as DeeAnn in "Big Eyes" is not a large one—the film is dominated by Adams and co-star Christoph Waltz—but Ritter felt an affinity for her straight-shooting character who questions Margaret's blind devotion to her conniving husband.
"The character was kind of close to who I am," says Ritter, a lock of jet-black hair obstinately falling over her right eye, forcing her to brush it back behind her ear yet again. "She is no wallflower. She calls it like she sees it. She's a beatnik in the '60s. Obviously I'm not in the '60s, but it wasn't a huge stretch. I just wanted to go in and do my thing—do what only I can do—'cause that's all you can control. There's only one person for every job. You can try all you want, but if you're not right for it, you're not gonna get it."
That said, she really wanted this job. A longtime Burton devotee—she went as Beetlejuice for Halloween as a kid—she almost didn't land the "Big Eyes" role because of a potential TV show conflict. But it all worked out.
"He's so up my alley in terms of my taste as an audience member," she says, laughing. "I look like I belong in 'The Nightmare Before Christmas' as Sally."
She has a point. With her pale skin and prominent, expressive eyes—piercing but also vulnerable—she seems like a real-life Burton concoction. "He's created a whole world and a whole language and you can spot him a mile away," she says. "I am a huge fan and wished to be in a movie of his. It took a very long time." Ritter laughs again. "Every year my agent would bug them: 'Why hasn't [she] been in a Tim Burton movie yet?' "
Her serene attitude about seeing her own work extends to most areas of Ritter's life. Although she likes to stay busy—she has a first-look deal at Universal and also writes and directs, not to mention her just-announced starring role on Marvel's "Jessica Jones" for Netflix—she has faith that things play out the way they're supposed to. "I've always been very positive and very resilient," she says. That demeanor started early: She grew up on a Pennsylvania farm in a family where no one did anything in the arts. Her father wasn't keen on her pursuing a modeling career—he thought she should go into the service, like he had—but eventually he got used to the idea. "I just sort of choose to see the good in things," Ritter says, "and I choose to, I don't know, look on the bright side, as cheesy as it sounds."
That no-big-whoop positive outlook might be a surprise, considering the tart characters she often plays. Ritter still displays an edge in person, and hearing her explain her positivity, one senses she can, understandably, grow tired of discussing her upbeat nature as if she's some fantastical creature, like a unicorn, that can't quite be believed. But she backs it up with a winningly self-deprecating manner. Asked when she discovered she was funny, she responds, "I think I'm just weird…my natural state is 'odd.' " How would she describe herself? "I guess I would say that I'm a little offbeat and lanky."
Very little seems to trouble her, and she focuses her energy on staying in the present, not dwelling on what might be coming next. This is probably a wise strategy for someone who has worked on plenty of projects over the years and had to accept that some will never come to fruition. Even with "Don't Trust the B----," she opts to detail what she loved about the show.
"I cried my fucking eyes out," she admits, referring to when she heard the news of its cancellation. "I found out before the rest of the world did. [Show creator] Nahnatchka Khan called me, and I knew why she was calling. And that was a bummer, only because we all had a great time and the show was funny. For me, that is still a huge success: I did two seasons of a fucking rad show and I loved it and I'm proud of it and it opened a lot of doors for me."
Whatever happens next happens. In fact, the only time she betrays even the tiniest bit of concern is when she mentions that she's going on "Conan" tonight. "We have a good rapport; Conan's really funny," she says, then adds, "Talk shows are not my favorite thing. They're so nerve-racking. I get so fucking nervous." Told that she definitely doesn't seem nervous on her talk show appearances, she's grateful. Still, she can't quite explain her anxiety.
"It's my least favorite thing…. I don't know," she says. "It's just…it's a lot of pressure."
At least it's not a live show, right? That would really be stressful.
"It feels live," she says. "I guess that's the thing." She shakes her head. "It's a bad attitude to have: I need to just stop and not be nervous and be excited about it, but yeah, it feels live. You're right—it's not live, who cares? If something goes wrong they'll edit it out. I'm always afraid I'm gonna throw up or trip or faint. Those are the three things, and then I'll start thinking about that. [Afterward] I always say, 'OK, I didn't trip or faint or throw up.' " She pauses. "Oh, God, but what if I do now?"
Fear not: Later that night she appears on "Conan," successfully refraining from tripping, fainting, or throwing up. She does show Conan O'Brien how she used to line dance back in Pennsylvania, charming and awkward in the most adorable way. And it brings to mind a comment she had made earlier in the day.
"I get nervous for most things that I do, but it's because I care," she confided. "When I'm on set I'm the most me that I could ever be. But auditions, sometimes I'm very nervous. I think I use it—it fuels me. When I'm nervous, people are like, 'Oh, don't be nervous.' I'm like, 'No, it's fine, it's my thing.' It totally gives you an edge."
Want to read more? Check out our Backstage covers here!