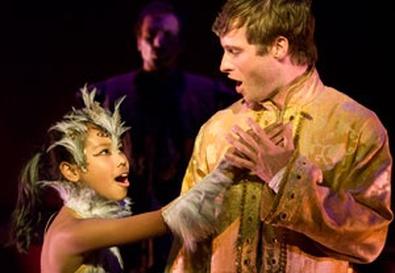 San Diego's La Jolla Playhouse became the target of an online backlash last week in response to the casting of "The Nightingale," which began performances at the theater July 10. Part of the playhouse's Page to Stage, a program dedicated to the development of new work in which the director and producers make changes based on audience reaction, the new musical is based on Hans Christian Andersen's classic fable of the same name and is set in China, but with a mostly non-Asian cast.

Asian-Americans as well as actors and audiences of all ethnicities have taken to Facebook, Twitter, and personal blogs to share their disappointment, confusion, and outrage at the creative team's decision to stage the still-in-development piece with a multicultural cast rather than a predominantly Asian one. Yet "Nightingale" composer Duncan Sheik and writer-lyricist Steven Sater, recipients of Grammy and Tony awards for their hit musical "Spring Awakening" (which originated at La Jolla before moving to Broadway), argued that the project is not really about China or its history but rather the influence of Eastern culture in the West at the time of Andersen's writing.

"There's no question that the original Hans Christian Andersen tale was written without a deep cultural awareness of what China is," La Jolla Artistic Director Christopher Ashley told Back Stage. "So when you're reinterpreting this tale, you can't depend on Hans Christian Andersen for cultural accuracy about China. The creative team's interest was primarily in finding out, How is a kernel of that story really resonant for the world today? They were interested in trying to create a world that wasn't specifically and only Chinese but that was an invented world of East and West, past and present, and that was where the idea of a truly multicultural cast came from."

Local newcomer Nikki Castillo stars in the title role. The cast also features Broadway veterans Corbin Reid ("Sister Act"), Obie Award winner Eisa Davis ("Passing Strange"), Bobby Steggert ("110 in the Shade"), and Tony nominee Charlayne Woodard ("Ain't Misbehavin' "). The production is directed by Moisés Kaufman.

Auditions were held in the spring in New York City and San Diego. The casting breakdown that was released to agents and Equity members stated that "actors of all ethnicities are encouraged to submit." "That certainly included a strong push to include Asian-American actors," Ashley said.

Ashley said that he welcomes the debate, though, and emphasized the importance of audience reaction and feedback for this and all Page to Stage productions. The theater already hosts an audience talkback after each performance of "The Nightingale."

"It's really for and about pieces which are still in the process of discovering themselves, so 'Nightingale' is kind of the perfect example of what's great about our Page to Stage process," Ashley said. "It's for discovery, for finding out what the piece is, for trial and error, for rewrites every day. And some of the questions that are being asked about the casting of 'The Nightingale' are exactly what Page to Stage is for, so we really are inviting the conversation."

In response to the controversy, the theater will host a public forum following the July 22 matinee performance of "The Nightingale." Ticket purchase is not required to attend. Participants will include Ashley, Cindy Cheung and Christine Toy Johnson of the Asian American Performers Action Coalition, and Tara Rubin, the production's New York-based casting director.

Rubin said she witnessed a similar public outcry early in her career, when she was an assistant at Johnson-Liff Casting. The office came under fire for casting Jonathan Pryce as a Eurasian in "Miss Saigon" more than 20 years ago.

"I've always felt sort of grateful for that experience because it really did remind me, early in my career, of the importance of this kind of dialogue," Rubin said. "I take seriously the efforts of AAPAC, and I'm listening to them. As a casting director, my collaboration is with the creative team, so it's my job to serve their imagination. I hope I did that. It's hard to imagine an occasion where colorblind casting wouldn't be appropriate. I take this seriously, and I'm listening. But I also like the creative choices we made, in terms of our cast."

Ashley noted that the playhouse's stated mission is to "advance theater as an art form and as a vital social, moral, and political platform" and said he looks forward to the discussion because the issues of casting and race in America are "always complicated, and it's a conversation that's very much worth having."