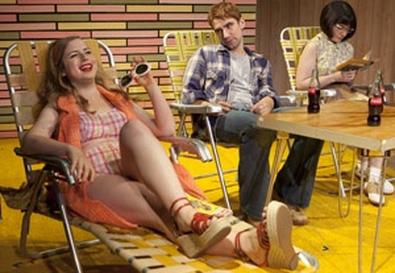 If you have any doubt about the magnitude of the loss we suffered when playwright Lanford Wilson died this past March, Keen Company's heart-stopping production of his 1970 play "Lemon Sky" makes it all too abundantly clear. This unsparing yet deeply humane autobiographical drama about the wounds that families inflict in the name of love is luminous under Jonathan Silverstein's quietly piercing direction. A relatively early work from the pen of the author of such classics as "The Hot L Baltimore," "Fifth of July," "Talley's Folly," and "Burn This," it is further evidence, if any were needed, that Wilson belongs in the pantheon of our greatest playwrights.
"Lemon Sky" tells the story of the teenage Wilson's six-month sojourn in the suburban San Diego home of his divorced and remarried working-class father, here renamed Douglas, in the late 1950s. The two haven't seen each other since Alan (the name of Wilson's stand-in) was 5 years old. Alan's mother has decided it is at last time for him to get to know his father and has sent him there from Nebraska to live while attending the local community college. In the bargain, Alan acquires a stepmother, Ronnie, whom he's never met, and two half-brothers: Jerry, 12, and Jack, 8. Also living in the household are two teenage girls, the slutty Carol and the shy Penny, both wards of the state, which pays for their room and board.
The incipiently gay Alan (though he's not very aware of it yet) and rough and randy Douglas love each other and try their best, but it's not enough to bridge their considerable differences. Though Jerry, Jack, and Ronnie all come to love Alan more successfully than his father does, that's not enough to head off the inevitable conflagration, one in which father and son hurt each other savagely while wreaking considerable collateral damage. Wilson's motivation for writing the play is to make sense of what happened and forgive everyone, himself included. To that end, he has Alan narrate from the vantage point of 1970, a device that elevates the proceedings considerably. The play becomes as much about Alan's struggle to tell the story as it is about the story itself, and Wilson allows all the characters to participate in that struggle in one of the most haunting and effective uses of metatheatrics I've ever encountered.
Silverstein's direction fulfills the script's promise with precision and delicacy, aided greatly by his unerring casting. Keith Nobbs is an ideal Alan, full of boyish intensity, blooming independence, and wry humor. Nobbs mixes vulnerability and strength to great effect and is notable for his careful delineation of the differences between the older and younger Alan. It's a memorable performance. Kevin Kilner never allows Douglas' coarseness to overwhelm his capacity for feeling, while alerting us to how much this unimaginative father is a prisoner of his society. Kellie Overbey makes the no-nonsense yet tolerant Ronnie into a fascinating mixture of empathetic maternity and calculated self-interest. Alyssa May Gold and Amie Tedesco, as Carol and Penny, both emphasize how aware their characters are of the deck stacked against them—Gold by conveying the intelligence belying Carol's enthusiastic lack of self-regard, and Tedesco by highlighting Penny's passivity through an imaginatively jerky, almost percussive reticence. Logan Riley Bruner and Zachary Mackiewicz play Jerry and Jack with faultless honesty and impressive subtlety.
Bill Clarke (set) and Jennifer Paar (costumes) get '50s California suburbia to a T (loved the plywood paneling and multicolored brick wall), while Josh Bradford's lights are invaluable in keeping the time shifts clear. I've recently had a welcome run of good theater, something that makes this job so much easier. "Lemon Sky" goes to the very top of that list. Don't miss it.
Presented by Keen Company at the Clurman Theatre, 410 W. 42nd St., NYC. Sept. 27–Oct. 22. Tue., 7 p.m.; Wed.–Fri., 8 p.m.; Sat., 2 and 8 p.m.; Sun., 3 p.m. (Additional performances Wed., Oct. 12, 3 p.m., and Wed. Oct. 19, 2 p.m.) (212) 239-6200, (800) 432-7250, or www.telecharge.com. Casting by Calleri Casting.