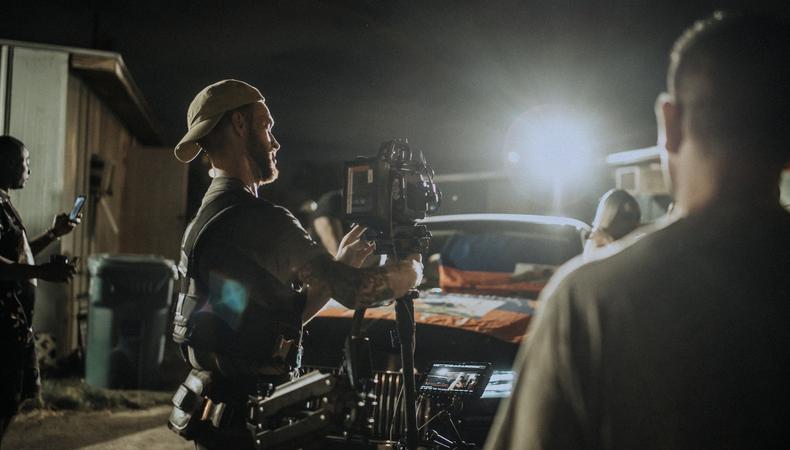 When trying to break into the business, it may often feel like the deck is stacked against you. But for every closed door you encounter, there is a window of opportunity—as long as you know where to look. That's where we come in! In these roundups, Backstage will compile the best opportunities in writing, directing, and every other creative corner, to help you get where you're going.
FILMMAKING/TV
Sundance Institute Documentary Film Program
Attention all aspiring documentarians! The Sundance Institute Documentary Program is accepting applications on a rolling basis (no deadline). For nearly two decades, the program has supported nonfiction filmmakers around the world in their contemporary pieces. Year-round benefits include labs, guidance from established filmmakers, and more.
Deadline: Open
4Stories
4Stories, the talent initiative created to nurture the next generation of diverse television writers and directors, is accepting applications through Nov. 5. Three directors will be chosen to helm the selected scripts of the writing participants. Those who are currently underrepresented in the television landscape (particularly people of color and women) are of particular interest, however, any aspiring director who does not have a single TV drama credit is encouraged to apply.
Deadline: Nov. 5
AT&T Presents: Untold Stories
Submissions are now open for AT&T Presents: Untold Stories, a Tribeca Film Institute grant program. Through Nov. 19, you can submit your feature-length screenplay for consideration, as long as it has a director attached and would be ready to shoot within a year. Winners will have their finished piece premiere at Tribeca Film Festival. Films can span any genre, however, they cannot have been seen publicly at any point and should be within a budget of $1 million.
Deadline: Nov. 19
Making It Possible Pilot Program
WIFT in Australia is accepting submissions for Making It Possible, its pilot program designed to address the needs specifically of women who are returning to work after a career break. The program will offer courses throughout various locations including Sydney, Penrith, Byron Bay, and more, taking place over one day. Participants will additionally be provided with options for follow-up mentorship. Any woman aged 18 or older can apply.
Deadline: Dec. 7
THEATER
Eugene O'Neill National National Music Theater Conference
The Eugene O'Neill National Music Theater Conference is accepting applications now through Nov. 2. Supporting the development of all styles and genres of musical theater, the annual conference creates a collaborative and developmental environment for both new and established artists to explore their work at any point in its process. This year's conference will be held in June and July 2019. You have until the deadline to submit a script, at which point every entry will undergo a scrupulous evaluation before three pieces are finally chosen for O'Neill residencies.
Deadline: Nov. 2
The Sundance Institute Theatre Program
Applications are now open for the Sundance Institute Theatre Program, which will return to the Sundance Resort in Utah July 8–28, 2019. Playwrights, directors, composers, ensembles, performances artists, and choreographers from the U.S., Middle East, and North Africa are welcome to submit their play, which can be about any topic and cover any genre. Of the usually hundreds of submissions, 25–30 will be selected for the intensive and provided with roundtrip airfare and accommodations in Utah. All fellows will be provided with a company of actors and other resources to stage their piece. Applicants will be notified on or before March 15, 2019.
Deadline: Nov. 15
Enter Stage Write
Through Nov. 18, U.K. playwrights can submit their scripts to Transition Stage Company's Enter Stage Write competition. Scripts must have a run-time of approximately 7–10 minutes, and have to be submitted exclusively by the writers themselves. A number of winners will be selected to receive monetary prizes, as well as optioning rights at Transition Stage Company.
Deadline: Nov. 18
HERE Artist Residency Program
Once again, the HERE Artist Residency Program (HARP) has announced its multi-year, $100,000 residency program, which provides funds, development support, career planning, and a full production to recipients. Additionally, recipients receive $50,000 in cash, and that same amount in space, equipment, and services, distributed over the course of a couple years. Every residency is tailored to the individual artist. Previous recipients include Eve Ensler, Young Jean Lee, and Taylor Mac. Those interested have until Feb. 1, 2019 to apply, at which time nine–11 participants will be chosen.
Deadline: Feb. 1, 2019
MISC.
Night of Small Things
Small Things Theatre Company is once again gearing up to present its multidisciplinary evening of art, Night of Small Things. U.K. playwrights, comedians, musicians, and poets are encouraged to send samples of their respective work to be considered in the lineup, which will take place Nov. 26 in Pleasance, Islington in London. The theater company aims to nurture and showcase up and coming artists across all practices.
Deadline: Nov. 4
New York Foundation for the Arts Artist Fellowship
For going on 33 years, the New York Foundation for the Arts has provided $7,000 grants to individual artists living in New York State, in order to support artists from diverse cultural backgrounds at any stage of their career. Distributed across 15 different disciplines, the cash awards are given over a three-year period for unrestricted use. Candidates have until Jan. 23, 2019 to apply in the categories of choreography, music/sound, photography, playwriting, screenwriting, architecture, and beyond. Deadline: Jan. 23, 2019