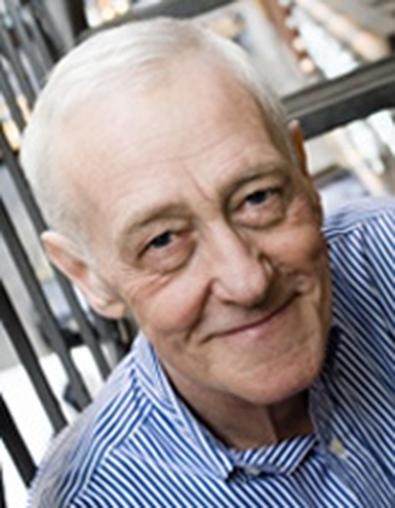 That smile -- wide and disarming -- comes frequently to John Mahoney's face as he sits in his dressing room discussing his life and career. It is usually accompanied by a joyful bark of laughter. You know the one.
When Mahoney laughed that laugh in the opening moments of Broadway's 1986 production of John Guare's The House of Blue Leaves (for which he won a Tony Award for best featured actor in a play), it was edged with nervousness as his zookeeper-songwriter character, Artie Shaughnessy, auditioned pop songs for patrons of the El Dorado Bar and Grill.
When he played salt-of-the-earth Martin Crane on TV's long-running, critically acclaimed sitcom Frasier (1993-2004), the laugh was often a yelp of mischievous glee as yet another hole was poked in the inflated dignity of Martin's snooty sons, Frasier (Kelsey Grammer) and Niles (David Hyde Pierce).
Merriment gets short shrift, though, in Mahoney's current gig: Roundabout Theatre Company's revival of Craig Lucas' Prelude to a Kiss. Mahoney portrays a character listed in the program as Old Man (we discover his name is Julius before the play ends), a disease-riddled widower who wanders from home and stumbles upon the wedding of a young couple, Rita and Peter (Annie Parisse and Alan Tudyk). Julius kisses the bride and finds himself magically inhabiting her body -- as she, meanwhile, takes over his. The play is essentially comic, but Julius -- understandably -- is the saddest of sad sacks. Mahoney says it goes completely against his nature to play such a morose part.
In the Mood
Usually he's not the kind of actor who stays perpetually in character in the rehearsal room or on a film set, Mahoney says. He "turns it on and off," allowing the circumstances of the scene and the other actors to provide him with emotional nourishment. "But this time," he says, "I do find myself sort of getting myself into a mood. I'll actually be backstage just before the wedding, and I'll be saying to myself, 'Oh, look at that; isn't that beautiful? Two young people starting out in life. How beautiful they are!' And I talk like that to myself until I make the entrance."
Prelude to a Kiss is the Chicago-based actor's first return to Broadway since Blue Leaves. He took the assignment in part because he wanted to work with director Daniel Sullivan, but also because the dual roles offered an irresistible acting challenge.
During rehearsals, Mahoney and Parisse worked together, reading each other's lines aloud to become familiar with peculiar vocal cadences. "I didn't want to imitate the timbre of her voice or anything like that," Mahoney says. "I didn't want to make it funny or pantomimey or campy. I wanted to do it with my own voice, but with a lot of her inflections." He also studied Parisse's manner of sitting and the way she brushes her hair from her face.
Parisse says Sullivan advised her not to become caught up in imitation of male behavior. "The difference between Rita and Julius is as much one of perspective and world view as it is physical," she points out. The physicality fell into place when she made the shift in attitude. "And in reality," she adds, "I took as much inspiration from John's portrayal of Rita as I did from his portrayal of Julius."
The Americanization of Mahoney
Mahoney is a man used to trying on new identities. Long before he became an actor, he took on the task of reinventing himself. He was born in 1940 in Blackpool, England, although his family resided in Manchester. (Expectant mothers were relocated to Blackpool during the blitz of Manchester.) At 19, he decided he wanted to emigrate to America. Upon arrival, he joined the U.S. Army almost immediately -- in part because it hastened the citizenship process.
Meeting an array of soldiers from all corners of the continent was a revelation ("I don't think I'd ever met a black person in my life until I came to the United States," he says). It also left him for a time with a "mongrel" accent, as he had picked up pronunciations of various words from different regions. But he knew he wanted to spend his life stateside, and he was determined to sound American. A civilian once again, he settled in Illinois, eventually earning a master's degree in English. Originally he wanted to teach, but he soon drifted into work as a medical editor. By the time he was 37, he was thoroughly unhappy with the way his life was progressing.
Visiting his family back in Britain, Mahoney attended a performance of Tom Stoppard's Jumpers at the Royal National Theatre in London. "It just exploded in my head," he recalls. And it helped him make a plan. As a boy in Manchester, Mahoney had appeared with the Stretford Children's Theatre, playing such parts as Demetrius in A Midsummer Night's Dream and Polonius in Hamlet. "So when I was going through this dark night of the soul when I was 37, I thought, What did I ever do that thrilled me, that made me happy? And it was acting. I thought, I've got to do it again."
Back in Chicago, he once more set about reimagining himself.
Chicago Actor
The first order of business was getting some formal training. Mahoney enrolled in an introductory acting class taught by Steven Schachter at Chicago's St. Nicholas Theater, which Schachter founded with David Mamet and William H. Macy. Says Mahoney, "I just figured you'd go in, you'd learn some lines, you'd do some scenes and get criticized for them. And then you'd get better the next time. I didn't expect all these...repeating games and [games] to get you closer to the character and break down any artifice that was there."
He found Schachter's Sanford Meisner-based approach "tough" at first, but then he played Bill Reynolds, the heroine's husband, in an excerpt from Robert Anderson's Tea and Sympathy. They rehearsed the scene using nonsense syllables instead of actual dialogue. "Something broke through," he recalls. "I don't know what it was.... All of a sudden I knew what they wanted. I knew what I was supposed to be doing."
Much of Mahoney's subsequent training would be, as he puts it, "on the job." He was cast in the St. Nicholas production of Mamet's The Water Engine. And soon he met John Malkovich, a member of Steppenwolf Theatre Company, which was about to expand. Each ensemble member had been asked to bring a new actor into the fold.
"John invited me to be a part of the company, and I pretty much haven't been out of work since then," Mahoney says. "I've done 30 plays at Steppenwolf. It was terrifying at first to be on stage with John, Joan Allen, Laurie Metcalf, Gary Cole, and Gary Sinise. But, God bless 'em, they always treated me as a peer; they were always great to me. And eventually I started to learn from them. I owe virtually everything to...stealing from my fellow Steppenwolfers."
Critical acclaim in one Steppenwolf production, Lyle Kessler's Orphans, brought Mahoney to New York in 1985. The transferred show ran Off-Broadway for eight months, garnering Mahoney enthusiastic reviews. He portrayed a swindler who plays father figure to two troubled young brothers.
Says Sinise, who directed the play, in an email to Back Stage,"Watching him grow into the part was a great treat. I remember one day we decided that the suit he was wearing in dress rehearsals was not quite right, and so we went out and got him a much nicer suit. That was the final ingredient John was looking for -- that and those Tiparillos he would smoke. It was a perfect role for him. You never quite knew if he was a mob guy or an angel sent to protect the boys." Mahoney returned to Chicago after Orphans closed, but he was soon back in Manhattan for Blue Leaves (co-starring Swoosie Kurtz, Stockard Channing, and a very young Ben Stiller). Once again he was in a long-running success -- capped by his Tony win.
The 'Frasier' Factor
In the late 1980s, Mahoney began more diligently pursuing movie work. He has played supporting roles in films by a variety of high-profile directors, including Barry Levinson (Tin Men), Costa-Gavras (Betrayed), Roman Polanski (Frantic), John Sayles (Eight Men Out), Cameron Crowe (Say Anything), and the Coen brothers (Barton Fink, The Hudsucker Proxy). He has an abiding respect for directors, both of stage and screen: "I was very disturbed at the Golden Globes when Jeremy Irons thanked the director for staying out of [the actors'] way, because it's just the opposite with me. I couldn't do anything without a director."
He has taken the helm himself -- once -- with Steppenwolf's 1994 production of Alan Bennett's Talking Heads, starring Estelle Parsons, Martha Lavey, and Alan Wilder. He admits he didn't have the vocabulary for directing, and he felt intimidated in early rehearsals ("I'm thinking to myself...Estelle Parsons has a Tony, she's got an Oscar, she's brilliant. How can I ask her to do something?"). More to the point, he missed being on stage himself. He had originally brought the project to the company because he wanted to play Wilder's role. He says he has no intention of directing again.
Frasier changed everything for Mahoney, of course. He was reluctant at first to take the job, as he'd already been on two failed series: H.E.L.P. and The Human Factor. But when he did a guest shot on Cheers -- playing a character similar to Artie Shaughnessy from Blue Leaves -- he met the team that was preparing the Kelsey Grammer spinoff. Once he read the script for the pilot, he warmed to the idea. Grammer, meanwhile, was leaving messages on Mahoney's answering machine saying, "Please come be my dad!" Mahoney signed on, thinking the NBC series might last four or five seasons, certainly not 11.
Occasionally he considered leaving the show. But the nature of sitcom work -- filmed live and shot in sequence -- was to his liking, reminding him of the stage. And he was able to squeeze in theatre jobs whenever the show was on hiatus. When the series ended, Mahoney was set for life, financially speaking. He has since devoted much of his time to theatre -- in Chicago, London, and now New York. (He does have one new film role, in the Steve Carell starrer Dan in Real Life, scheduled for release this fall.) Formerly the voice of Lincoln Mercury and Federal Express, Mahoney now cedes commercial voiceovers to actors who need the money.
Martin Crane, the feisty, Ballantine-swigging ex-cop, is such a beloved and well-known figure (in New York, viewers can, with a little planning, catch two and a half hours of Frasier reruns a day); wasn't he a tough act to follow? "I was afraid of typecasting, and I thought, Well, this is going to be it," Mahoney says. "But people remembered me enough from my pre-Frasier film career that I got great parts that were totally unlike anything I was doing on Frasier."
One recent role was the judge in the London staging of his old pal Mamet's confrontational comedy Romance. Mahoney is not certain why some viewers found the play so objectionable: "The characters who are saying these [outrageous] things are so obviously idiots."
He wonders whether people like Mamet and Malkovich sometimes intentionally cultivate notorious images for themselves in the press: "I just remember John playing gin rummy in my house and making the gravy at Thanksgiving.... With David, I see this funny, witty guy, who's sweet and everything.... And then you read these things in the paper about them and you think, Who is this?"
Looking Forward
Mahoney has acted in Uncle Vanya and No Man's Land, and he hopes for a future filled with additional Anton Chekhov and Harold Pinter classics. He would also like to try his hand at Shakespeare, something he has not done since his days as a boy player impersonating Polonius back in Manchester.
"Time's running out," he says. Then he drops and flattens his voice to add, "Lear's always there." Mahoney makes the role sound like some annoyingly unscalable Everest. It's the same "Oh-boy-here-we-go" inflection Martin Crane would use to describe one of Frasier and Niles' impossibly pungent, highfalutin cheeses.
Then the grin returns, and another bark of happy laughter. "Maybe Antony and Cleopatra," he muses, "or something like that." He is probably not thinking of the title roles. But considering his experience in Prelude to a Kiss, he just might be up for tackling either one. Or even both.