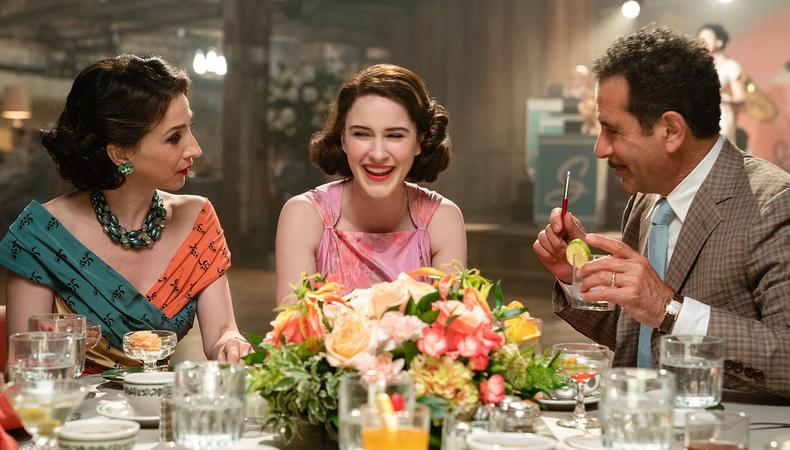 With this Year in Review, we at Backstage have picked through the weeds and found 2019's true gems of the best big- and small-screen ensemble work. And don't worry: We've got you covered with everything else you need to know this awards season right here.
Distributed by: Amazon Prime Video
Created by: Amy Sherman-Palladino
Casting by: Jeanie Bacharach, Cindy Tolan, Meredith Tucker
Cast: Alex Borstein, Rachel Brosnahan, Marin Hinkle, Luke Kirby, Zachary Levi, Jane Lynch, Tony Shalhoub, Michael Zegen
Few series on television today are as delightful and, well, marvelous as "The Marvelous Mrs. Maisel." What started in its first season as an exploration of a 1950s Jewish woman's divorce and unorthodox fling with standup comedy blossomed in Season 2 as a family dramedy of the highest caliber. Giving its supporting players more room to stand apart from the central Midge Maisel, while also introducing beloved new characters, this season was about as entertaining, heartfelt, and scrumptious as hour-long series get.
READ: How to Get Cast on 'The Marvelous Mrs. Maisel'
Let's start with Midge. As played by Emmy and Golden Globe winner Rachel Brosnahan, Midge starts where others stop, goes right where others go left, zigs where others zag. Viewed by most as an oddball or at the very least an attention-grabber for more than just her gossiped-about divorce, she's most comfortable at the center of a room, in a spotlight, with a mic. But rather than an observational stereotype of what we may expect from a period-piece housewife or always "on" comedian, Brosnahan's Midge is a hero worth following to the end: headstrong, whip-smart, loyal, and altogether real. You can't help but stand in her corner, even when she's behaving badly.
And when she does behave badly, we've got others onscreen to keep her in line—or, when that fails, to pull their hair out on the sidelines. Emmy winner Tony Shalhoub as Midge's father and ideological balance Abe Weissman is pitch-perfect neuroticism with heart. Yes, he's overbearing. Yes, he's stuck in his ways and his time. Yes, he's stubborn and short-tempered and probably a little short-sighted. But he leads with his heart, he's funny as hell, and, like Midge, he directs his life as (usually) an admirably family-first affair—after his Season 2 wake-up call, that is. As played by Marin Hinkle, his wife Rose Weissman's midlife self-discovery and resulting move to Paris is exactly the kick in the ass Abe needed to realize just how good he's got it. (Of course, learning of his daughter's secret comedy act later is a reset button on that growth, but alas.) Here, Hinkle really shows the colors of this Rose. She's not only a caring and neurotic (are we sensing a pattern yet?) wife and mother, she's also brilliant and sexy and confident; Hinkle plays to it all in magnificent fashion.
Outside the Maisel-Weissman clan, Alex Borstein takes the cake. An apt foil to Midge's housewife, the two-time Emmy winner's Susie Meyerson is all leather, chain-smoking, hard-edged, butchy grit—in the most appealing way. Rubbing up against Brosnahan's pristine uptown posturing with her downtown, devil-may-care mindset as her manager, Susie eventually manages to harden some of Midge's edges, too. They make a stellar team, and so do the actors behind them.
Aside from her father, the men in Midge's life are also award-worthy. As ex-husband, father to her child, and on-again-off-again flame Joel Maisel, Michael Zegen got plenty of standout supporting work on Season 2, particularly in the family's annual trip to the Catskills. It's there, too, that Zachary Levi's Benjamin enters the picture. What begins as a false fit turns to a stirring romance when Levi turns on the charm and Brosnahan meets his every move with a wink.
We can only guess where this ensemble will lead us in the upcoming third season, but "Maisel," and Maisel herself, will surely have us in stitches.
This story originally appeared in the Nov. 13 issue of Backstage Magazine. Subscribe here.
Want more? Stay in the loop with everything you need to know this awards season right here!