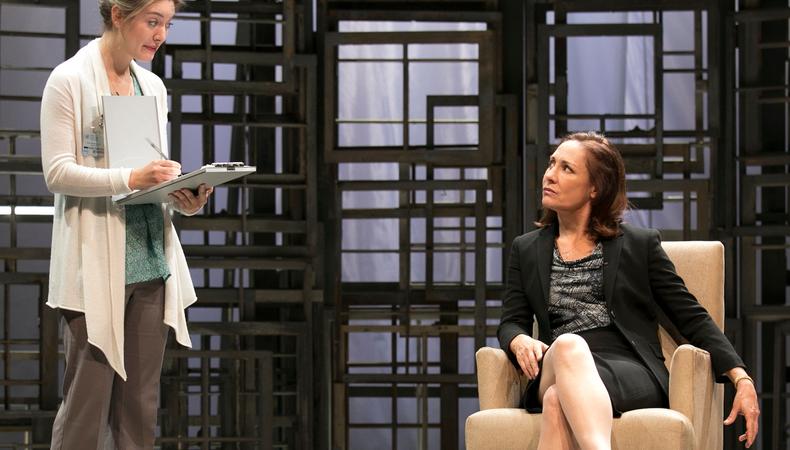 Sharr White's penetrating drama "The Other Place" was a highlight of the 2011 winter theatrical season when it played Off-Broadway at the Lucille Lortel Theatre. Now the MCC Theater show is on Broadway, courtesy of Manhattan Theatre Club, with half of its four-person cast new. Once again guided faultlessly by director Joe Mantello, the production has been expertly expanded to fill the larger space without sacrificing intimacy or nuance. Laurie Metcalf returns to offer her galvanizing portrayal of Dr. Juliana Smithton, a dementia specialist suddenly faced with the condition herself, and Metcalf's shattering work has only gotten richer. Bold, unflinching, and ingeniously constructed, this is a show not to be missed.
Clocking in at a swift 75 minutes, "The Other Place" still begins with Juliana giving a presentation to a gathering of scientists about a possible new wonder drug for fighting dementia. Though White comes back to this lecture repeatedly, he interrupts it with scenes detailing Juliana's attempts to discover why she experienced a meltdown in the middle of it. Included are Juliana's husband, Ian, a well-known oncologist; her estranged daughter, Laurel; and Laurel's husband, Richard, a former postdoc of Juliana's. There's also Juliana's young doctor, Cindy Teller, who remains unfazed by her often condescending, even cuttingly cruel patient. Juliana insists that she has brain cancer, but as the proceedings progress we come to understand that she is in denial about more than just her illness, despite her ferocious intelligence and astringent personality. The title refers to a Cape Cod beach house that has been in Juliana's family for generations and that will be the site of both Juliana's humbling and her salvation.
White asks his audience to put together the puzzle itself, and surprise is crucial to the play's success. Nevertheless, even knowing what would happen, I was again riveted. Metcalf is devastating as Juliana, whether clinically unsentimental while reviewing her options, viciously lashing out at the gentle Ian for illusory betrayals, or suddenly, shockingly vulnerable in her love for him and Laurel. Zoe Perry, Metcalf's real-life daughter, steps into the part of Laurel and also limns Cindy and a third character, a soon-to-be-divorced young woman who comes into Juliana's life unexpectedly. Perry is excellent as all three and particularly shines in the last, going from fear to frustration to melting concern with subtlety. Daniel Stern takes over the part of Ian and stresses his decency and deep feelings for his wife; Stern's playing of the moment when Ian finds himself overwhelmed by the abuse the damaged Juliana is hurling at him is heartbreaking. John Schiappa is again on hand to play Richard and a helpful nurse (his third small role, as a medical technician, is gone) with quiet authority.
As he did with "Other Desert Cities," Mantello proves his adeptness at retaining the magic of an ensemble production despite cast changes and a larger venue. And this is an ensemble piece, notwithstanding the tour de force nature of Metcalf's role and her work in it. "The Other Place" marks White as a formidable talent.
Presented by Manhattan Theatre Club, by special arrangement with MCC Theater, at the Samuel J. Friedman Theatre, 261 W. 47th St., NYC. Jan. 10–March 3. (212) 239-6200, (800) 432-7250, or www.telecharge.com. Casting by Caparelliotis Casting and Telsey + Company.
Critic's Score: A