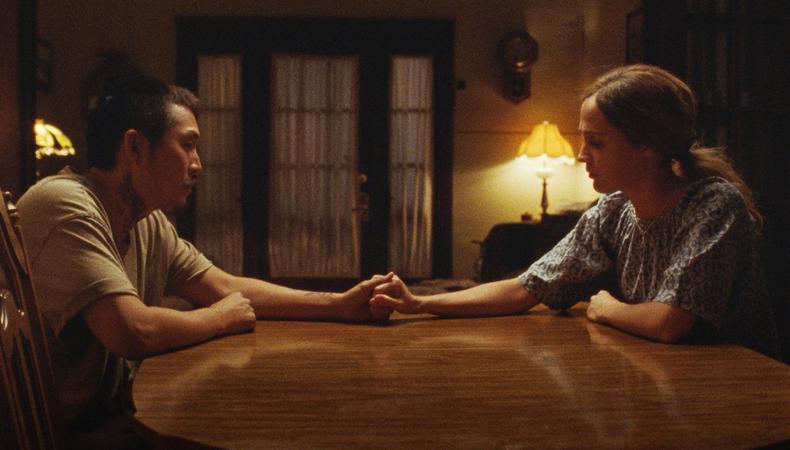 Want the inside scoop on all things awards? Welcome to Letter From the Awards Editor, our series in which Backstage's Jack Smart takes a look at the latest film and television news, industry trends, and awards projections that matter to today's working actor.
Dear movie buffs,
You're seeing a buzzy new film before most audiences get to…and the only audience is you. The smell of popcorn is drifting from…your microwave. The event begins not at a specified time and place but…by the click of your remote, whenever you feel like it, right in your home. It's your very own virtual version of a film festival! And by this point in the COVID-19 pandemic, it's an experience that industry types have become used to.
Most of the festivals that kick off film awards season this time of year are currently putting together partially or entirely virtual programs. The Toronto International Film Festival, which in 2020 led the charge of recalibrating premieres to what I called "moviegoing experiences, just without the 'going,' " is offering this year's attendees remote and in-person options. As pandemic safety precautions continue to change on a wait-and-see basis, industry events are smart to favor flexibility—and accessibility—as a year of virtual fests proved that fans and filmmakers everywhere can and will join in the fun.
From my standpoint, the upcoming 2021–22 film awards season may be characterized as a response to 2020–21, which prioritized weathering a pandemic while figuring out how to recognize and reward still great (albeit more modest and independent) moviemaking. The lineup of the 2022 Oscars is still anyone's guess. But considering how many blockbusters were pushed from last season to this one in hopes of appearing on the big screen, it's safe to predict that bigger, showier fare will populate awards shortlists far more than usual—from movie musicals ("In the Heights," "Dear Evan Hansen," "West Side Story," "Tick, Tick…Boom!" and the musical-esque "Respect") to sci-fi and fantasy spectacles ("Godzilla vs. Kong," "Dune," "The Green Knight") to crowd-pleasers designed for a theatergoing experience ("A Quiet Place Part II," "Candyman," "No Time to Die").
The summer of 2021 has felt like Hollywood is at a crossroads. Behind us is last year's award-winning, intimate filmmaking that emerged amid the chaos, while ahead lies an aspirational return to a more typical film season. It's been a period of shaky rollouts of those blockbusters I mentioned, many of which opted for a release both in theaters and on corresponding streaming platforms. This experimental phase has made box office revenue data an even more dubious way of assessing a project's success than it already was (not to mention Scarlett Johansson's unprecedented move of suing Disney for breach of contract over its dual release of "Black Widow").
Maybe that's where festivals can come in, providing a throughline between 2020 and 2021; if "Nomadland" can successfully ride Venice and Toronto premieres to top Oscar wins, and Netflix, Apple, and Neon can make record-breaking fest acquisition deals, all in the middle of a deadly pandemic, there's hope that this season's more prepared contenders can generate the buzz and recognition they deserve.
Whether film distributors, press, and award voters see this fall's festival programming in crowded theaters or from their couch, I believe the moviemaking ecosystem will survive—and maybe even thrive. Sundance's "CODA" and "Hive" may follow in the footsteps of last season's breakthroughs "Minari" and "Promising Young Woman," while any of the recent Cannes highlights ("Annette," "The French Dispatch," "Blue Bayou," "Titane," and more) could be this year's "Parasite." Keep an eye on the announcements from Academy Awards bellwether Telluride, which was one of the pandemic's casualties last year. And as always, the audience award winners and buzzy premieres from the Toronto International Film Festival are bound to inform the imminent awards race; the last six best picture Oscar winners all screened at the festival.
Change is the only constant, so I'll keep checking in on the state of the industry, dear Backstage readers. Expect awards editor dispatches from TIFF—or, rather, "from" the fest, aka my living room. I'm off to get popcorn.
Sincerely,
Jack
This story originally appeared in the Aug. 26 issue of Backstage Magazine. Subscribe here.
Looking for remote work? Backstage has got you covered! Click here for auditions you can do from home!