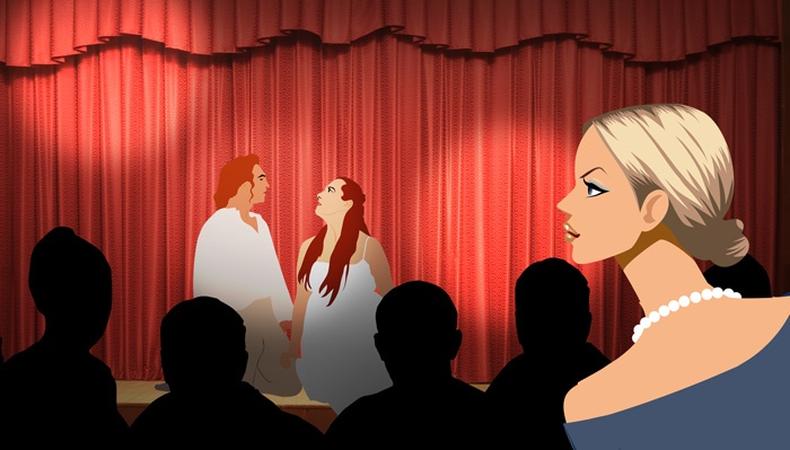 Dating is awkward for everyone. But for actors, the list of peculiarities inherent in the game seems to be a whole lot longer than your average dater's. Should I use my headshot on my dating profile? Should I go out with other actors? What if they're as self-centered as I am? Can I invite first dates to my show? What if they hate it? What if they like it too much? A wrong move in any direction might glue the totally wrong types to your side while the perfect ones get away.
But that is no reason to feel paralyzed. Dating is about putting your most precisely and flatteringly lit face forward and about leaving all your haggardly baggage at home for a night. Everybody does it, but you do it professionally.
We took to the streets to ask real live actors about the quest to find a mate—perks, perils, and peculiarities included.
NO ACTORS NEED APPLY
Bad news: That headshot you used for your OkCupid profile might be scaring off potential mates.
Julia Granacki, whose web series "Hot Mess" features all number of dating disasters, says many people out there have no qualms about stating exactly what they don't want in addition to what they do.
"There are men who, in their profiles, specifically say, 'No actors, please.' Ouch," she says.
Ouch, indeed. And the haters gonna hate on guys, too. Writer–solo performer Brigham tells an almost identical story. "People actually have—a lot more often than you'd think, too—'No Actors' on their profiles, bold," he says.
Both Brigham and Granacki, however, admitted to using their headshots for online dating profiles. Apparently, the benefits of using a professionally retouched photo outweigh the risks. Besides, casting agents look for love too. Love is symbiosis!
What about actors dating other actors? Are actors just as bad as the civilians who look in and move on, noses in the air?
Yes and no, says actor-singer-screenwriter-dater Cam Kirkpatrick, who likens the "actor couple" to the "new baby couple." Only instead of binkies and diapies, all the actor couples talk about are agents and 32-bar cuts. Though he's willing to give other actors a break for several reasons.
"Sometimes we need that mutual understanding," he says, "that comforting embrace of someone who truly gets it. And quite frequently, they have amazing bodies."
WILL THE REAL YOU PLEASE STAND UP?
So your art is your life is your art, and that works professionally. But what about when you just need a date? How do you keep the real you from blurring into the other real you? How do you let people see the professional you while also making sure they know there is another, less dramatic you who's different from your autobiographical solo show?
Barring any creepiness that might result from someone a little too eager to get to know you on hearing about your strained relationship with your father, getting naked (emotionally, of course) in front of a prospective mate might be a good thing. But is it a good idea to let a first date see your show? What if it talks about weird stuff? All the better, according to Brigham, who says he's gotten dates from his performances.
"It's so nice to begin a relationship after you've already put most of your shit out on the table through your work. But then it's like, OK, you know all my issues now; what are yours? So there's that inequality you start with, too."
Kirkpatrick favors a slower, more measured approach.
"I'll take my date to a show of mine if we've already made nooky," Kirkpatrick says. "Heaven forbid I ruin a good thing by forcing their hand. Of course, down the road, I don't care if you hate 'Bye Bye Birdie'! I'm Hugo Peabody, and you're coming to my effing show!"
Dates can come to your shows only after sex, never on first dates. Noted. But this assumes you can control what your date sees of your work. Sometimes that isn't the case. Actors always seem to have the visiting-team disadvantage, something Granacki says she's learned the hard way.
"[Actors] tend to have such a huge online presence. Not only can this open you up to some crazy stalker behavior, but it also ruins the mystery and discovery that makes a first date so fun. I made it a habit of not giving my last name or email out until after the first date."
In short, wait until the second or third date to hand out information that will abet online stalking.
DO NOT GO GENTLY INTO THAT GOOD NIGHT
Go full force! Dating as an actor requires that you be all the things that make you an actor: tough, tenacious, histrionically confident, extremely attractive, and generally a great pleasure to be around (better than everyone else, the best to be around). It requires you to really, fully put yourself out there.
So go on your next date with the same gusto you take to auditions. After you've lured them in with a deceptive headshot, invite them to your naked shout therapy performance art show, and don't just talk about your daddy issues—shout about them! The date who sticks around might just be the one.