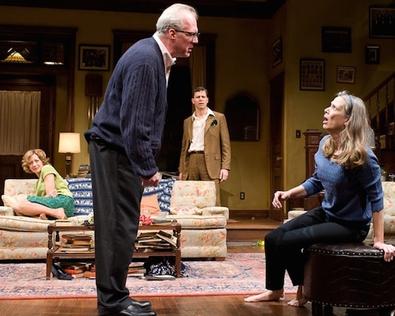 Theater has inspired, entertained, and challenged audiences for thousands of years, but at the crux of great work is often great controversy. These bold playwrights have courted scandal and worse for the sake of their messages; here are 10 important plays that have flown in the face of historical norms, confronting censorship (and even violence) for the sake of art and expression.
"Lysistrata," Aristophanes, 411 B.C.
Politically charged theater is not a recent phenomenon; Aristophanes wrote this anti-war comedy in 411 B.C., and productions continue to spark angry protests to this day. The plot centers on a female-led sex-strike, and themes of power and sex are at the root of the comedy and the controversy. The United States' Comstock Law banned "Lysistrata" in 1873, and the Moscow Art Theatre faced threats of arrest when it brought its production to the States in the 1920s. The play has since been adapted into numerous films, novels, and performance pieces, including 2003's worldwide peace protest "The Lysistrata Project."
"Tartuffe," Moliere, 1664
Moliere's 1664 masterpiece satirizes religious fanaticism and offers a harsh critique of power and hierarchy. The message was heard loud and clear; King Louis XIV censored "Tartuffe" after it's first performance in 1667, and the Archbishop of Paris threatened excommunication for anyone who performed in, watched, or even read the comedy. After some revisions (and political turnover in France), "Tartuffe" was allowed public performances and publication in 1669, and is now considered one of the playwright's most popular and relevant works.
"A Doll's House," Henrick Ibsen, 1879
A masterpiece of modern tragedy, Ibsen's 1879 drama was initially protested as an attack on family, marriage, and decency. His free-spirited and complex heroine led the controversy, creating an uproar with her choice to leave her husband's home and reject the positions of wife and mother. Nora remains one of the best female roles in the modern canon, and Ibsen's plays continue to spark provocative conversation throughout the world.
"Mrs. Warren's Profession," George Bernard Shaw, 1893
George Bernard Shaw was knowingly ahead of his time when he wrote "Mrs. Warren" in 1893, courting scandal with his characterization of an unrepentant brothel owner. The play was immediately censored by the Lord Chamberlain, and did not receive a full public production in Britain until 1925—more than 30 years later. Across the pond in New York, a 1905 performance was interrupted by the police, and the cast and crew were arrested for violation of the Comstock Laws. It has since been revived on Broadway five times, and is produced around the world to great acclaim.
"Spring Awakening," Frank Wedekind, 1906
Best known for the rock musical adaptation that debuted on Broadway in 2006, Frank Wedekind's original play was actually written in the late 19th century, and was banned in Germany for its scandalous subject matter. Wedekind offended numerous organizations with his frank discussion of puberty, teenage sex, rape, homosexuality, suicide, and abortion, and the play has faced censorship and endured protests many times over its 100-year history.
"Who's Afraid of Virginia Woolf?" Edward Albee, 1962
Though arguably Albee's most commercially successful play, "Who's Afraid of Virginia Woolf" caused a storm amongst conservative theatergoers when it premiered in 1962. Though it ran for 664 performances and won numerous awards (including a Tony), the play was denied the Pulitzer Prize in 1963 when the award's advisory board objected to its obscene subject matter. Two members of the Pulitzer Prize committee resigned due to the controversy, and no Pulitzer Prize was awarded that year as a result.
"The Other Shore," Gao Xingjian, 1986
Considered one of the greatest works of modern Chinese drama, Gao Xingjian's experimental 1986 play has actually never been performed inside mainland China; its initial run at the Beijing People's Art Theater was cancelled for political reasons, and the avant-garde examination of the personal versus the collective was instead produced in Taiwan (1990) and Hong Kong (1995). Xingjian's fraught history with the Communist Party came to a head in 1987 when he permanently exiled himself to France, and the Chinese government banned "The Other Shore" and all subsequent works until the early 2000s. An English translation was released in 1997, and "The Other Shore" continues to fuel discussions of individuality and China's Cultural Revolution.
"Angels in America," Tony Kushner, 1993
This monumental Pulitzer Prize-winning play tackled homosexuality, sex, and AIDS head on, sparking much needed conversation and awareness at the height of Reagan's presidency. But the whole world wasn't ready: "Angels'" 1993 premiere faced numerous threats and protests, and a production at Charlotte Repertory Theater resulted in a $2.5 million loss to the North Carolina Arts & Science Council's annual fund. Despite massive strides in gay rights over the past two decades, high schools and colleges still see occasional ire for teaching or performing the play's controversial content.
"Corpus Christie," Terrence McNally, 1998
This provocative 1998 play retells the story of Jesus and the Apostles as gay men living in Texas, raising extreme outrage in many right wing and Christian communities. Manhattan Theatre Club cancelled (and then reinstated) "Corpus Christie's" original New York premiere for fear that protests would lead to violence, and playwright McNally endured death threats from multiple individuals and watchdog groups. Sixteen years later, "Corpus Christie" remains one of the most controversial theater pieces of our time; the documentary "Corpus Christie: Playing with Redemption" examines the political and social storm surrounding the work, and was released on DVD/VOD on Oct. 14.
"Behtzi," Gurpreet Kaur Bhatti, 2004
"Behtzi (Dishonor)" debuted at Britain's Birmingham Repertory Theatre in 2004, and closed only two days later after protests by the local Sikh community grew violent. Leaders were outraged by a scene depicting rape, assault, and murder inside a Sikh temple, claiming that such (fictional) acts violated the sanctity of their religious space. Bhatti was forced to go into hiding, and later responded to the plays cancellation—and the subsequent outpouring of artistic support—in the Guardian saying, "Religion and art have collided for centuries, and will carry on doing battle long after my play and I are forgotten." Ten years later, Bhatti did in fact return to The Rep; her latest play "Khandan (Family)" opened in May 2014.
Inspired by this post? Check out our audition listings!