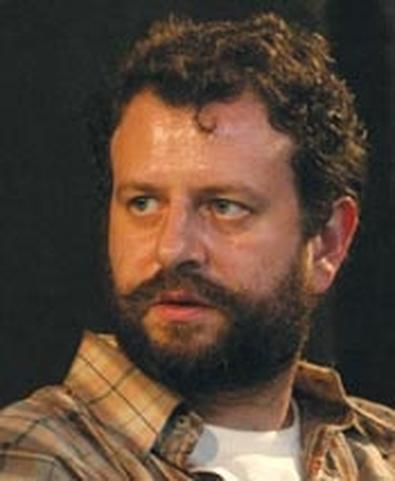 In 1001, the new play by Jason Grote running Off-Broadway, actors hold a dusty tome representing One Thousand and One Nights, the ancient collection of stories that gives the show its shape. That same prop is also turned around and used as a laptop by the play's modern-day characters, a bit of childlike make-believe born of the playwright's aesthetic and dramatic philosophy rather than the thrift-shop production values often seen in shows produced outside the New York theatre mainstream.
In a time when political leaders and television programmers have made it difficult to discern reality from fantasy, Grote believes in stepping boldly through the looking glass — to restore imagination to theatre and, conversely, to challenge standard narratives to reach a larger truth.
"We're stuck in this kind of plague of fantasy that we can't get away from, and I think that the response to that is maybe not to retreat...into constant rationalism," he says. "I think there's a certain poverty to that. Instead it's almost healthier to respond with a fantasy that we know is a fantasy. We can all pretend, and that's what theatre is. And I think that's why I have and probably will continue to stick with theatre, because I think it's the one thing that it offers that TV and film can't offer.... They can't have that live element that everyone is consenting to suspend their disbelief and enter voluntarily into this fantasy. I think that movies and TV are so good at simulating reality that they make that let's-pretend feeling impossible."
1001 conflates the story of The Arabian Nights with a modern-day romance between a Palestinian Muslim and an American Jew. Within his sprawling fantasia, a matryoshka doll that opens to infinity, Grote challenges notions of storytelling and narrative and how they can trap a society into constantly reliving a received history.
"In a way, I wanted to show the weight of this, the stories of history, these two people in the middle of this relationship that history interferes with," Grote says. "But at the same time, I also wanted to give the viewer a sense that if we are living in a story and we are in control of that story, then we can alter that — we have some kind of agency in it. In a way, it's a story that's being written by 6 billion people every day. It's hugely powerful and it's got the weight of history behind it, but it's also in play. People can rewrite it."
That's fairly heady stuff for a writer who wants to make a living from his art. How can an iconoclastic author work within a standard showbiz paradigm and still retain an original voice? And how can someone who sees theatre as his first love fit himself into the current narrative of the New York stage, where he sometimes sees "artistic poverty"?
'Completely Fearless'
Theatre, according to Grote, has spent the past several decades trying to catch up with its electronic artistic cousins, and that has largely been a mistake. "You have big, schmaltzy, capital-intensive productions that are made for the tourists or the touring market," he says. "There's nothing wrong with that, I enjoy those plays, but it leaves very little room for any type of movement forward.... When we're competing with movies and TV, we've already lost."
His answer is to invite people interested in other creative forms to become part of the theatre community — visual artists, musicians, poets, and the like. In one mesmerizing scene, 1001 combines modern dance, a DJ's world-music mash-up, and a huge blue swath of fabric that undulates over the entire stage. It is a visually stunning set piece not often seen in plays operating on an Equity Mini Contract.
For that, Grote owes a large debt to Page 73 Productions, a company that assists young writers and is trying to fill the empty spaces in the New York theatre community — namely the one between Equity showcases and established nonprofit companies.
"There's no one right now who's taking these early-career playwrights and giving them space where they can develop their pieces without any institutional pressure," says Asher Richelli, executive director of Page 73, which he co-founded with three friends in 1997. Richelli was impressed by what he calls Grote's "sprawling epic." "It's totally messy," he says. "He's not afraid to be ambitious. It's completely fearless."
Matthew Rauch, who plays the main male characters in 1001, was equally enthusiastic. "It's wildly imaginative," he says. "It's not passive theatre. It forces the audience to engage it. A lot of plays are traditional narrative plays. That's less creative sometimes.... The way he writes is thrilling to me."
Standard Evolution
For all his desire to challenge convention, Grote's evolution as a theatre artist follows the standard form. He saw a play at a young age — an NYU production of Cabaret when he was 4 — and was mesmerized; he pursued acting in high school and was counseled by Judith Robinson, a Lee Strasberg acolyte; he majored in acting and directing at Montclair State University in New Jersey but switched to writing when a play he wrote won a contest (Just Drowning, an homage to Albee's The Zoo Story).
Things began to change for Grote in the eight years between college and entering the MFA dramatic writing program at NYU. He saw a lot of downtown plays, performed street theatre, and became interested in dramas of unconventional form, including the work of Charles Mee, Paula Vogel, and the Wooster Group. "It showed me alternative ways to approach theatre, which sometimes is so heavily crafted," he says. "I'm not ready to abandon narrative. I want to criticize it while acknowledging a good story is a good story. Although I see myself as a postmodernist, I don't believe in the total abandonment of narrative. In the end, there's only so far you can go."
And, as a writer, he is not exactly rejecting a traditional career arc. At some point, he says, he will get a television writing job or write a book for a musical to pay the rent. Right now he teaches playwriting, screenwriting, and composition in the English department at Rutgers University. But he cannot ever envision a time when he is far from the theatre, despite his misgivings.
"You look at a show like The Wire, and every season they pick one metaphor that best describes why the city of Baltimore is falling apart — the political system, the educational system, the cops, the drugs, whatever," he says. "It's the same with theatre. It isn't just one thing." Grote cites the usual suspects: real estate, advertising costs, artistic directors and producers who second-guess their audiences. "There's also the aging of the audience," he says, "and producers are caught in the middle between trying to please their existing audiences and attract new ones at the same time."
Grote's solution is to take bold risks. "Angels in America altered the way I saw theatre, and I'd be surprised if that made any money," he says. "Even as recently as 2002 you had Topdog/Underdog on Broadway, and I doubt that made a cent. That's work that people really care about. But it's enormously difficult to produce."
The writer realizes the conundrum, but he remains hopeful. "Artists are constantly protean," Grote says. "Academics, politicians, and policymakers have to worry about implementing things. Part of the fun about being an artist is not having to worry about being so practical."
1001 runs through Nov. 17 at the Baruch Performing Arts Center, 55 Lexington Ave. (entrance on East 25th Street between Lexington and Third avenues). (646) 312-4085 or www.1001nyc.com.