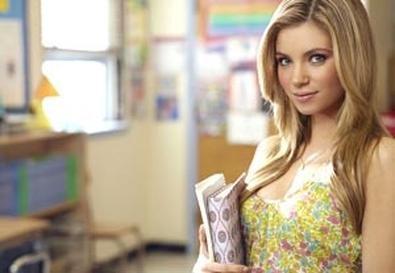 After spending several years as a model and rolling out prizes and cheering on contestants on "The Price Is Right,"
Amber Lancaster
was ready to try at acting. Luck was on her side. MTV's first original scripted series in years,
"The Hard Times of RJ Berger,"
was the first pilot she auditioned for, and she landed it. Revolving around a teenage boy going through hormonal changes, "Berger" recently returned for its second season.
The fun-loving Lancaster—who didn't study theater or acting in school—sat down with Back Stage to discuss transitioning from modeling to acting, the audition process for her role on the MTV comedy as Jenny, a high school cheerleader, and what she has learned so far.
Back Stage
: Was this a natural transition for you, to go from modeling to acting?
Amber Lancaster
: I started realizing all the potential there was in this town for work. I started taking classes. It was fun; I've always enjoyed it. I started auditioning. I was still modeling—it's a lot better to have modeling as a side job than working at a restaurant. When I would audition for TV or film, I was doing it for fun. I think that was really valuable because it took away the need. A lot of actors, they have this "I need to book this" kind of attitude. So that actually worked in my favor.
Back Stage
: This was your only pilot that you went in for. How did you get ahold of the script?
Lancaster
: My agent submitted me for the part, but I actually missed the first audition. [Laughs.] Once I read the part, I thought, "This girl's 16. I'm never going to get it." And they always end up going with someone with a bigger name or bigger credits. At that point of my acting career, I was skeptical of it all. It's relentless. You have to audition, audition, and audition, and there's hardly any payoff for it. The chances of you getting an audition—it's a numbers game. The more you go out on, the more chances you'll get one.
My agent called me and said, "Where are you? They want to see you. Just get there by noon." So I get there and I read for them, and they called me in immediately to read for the executive producer and director. A couple weeks went by and I didn't hear anything, but they hadn't cast the part. They called me in again to read for the producer and director, and then they had me go in to test. They waited another two or three weeks before I finally found out I got it. It was drawn out.
Back Stage
: Did they give you any notes in the room on how they wanted your character to be played?
Lancaster
: Nope. Every single time I went in, they were like, "That was perfect!" [Laughs.]
Back Stage
: Did you take anything that you learned from acting classes and apply it to your audition?
Lancaster
: Honestly, I went through quite a few different acting teachers. It would mess me up more than help me. I think that if you have enough life experience and you're smart enough, you can figure it out. There are all these techniques, which work great for a lot of people, but not for me.
Back Stage
: Figuring it out, as in how to approach a certain scene?
Lancaster
: When you read a book, you take that journey. I did learn a few things, but it's all kind of common sense. What worked for me, anyway, [for instance,] is substitution. If you're having a scene that's really dramatic, you substitute a time in your life that's similar to that scene.
Back Stage
: What's the difference between being a series regular and guest starring on a show?
Lancaster
: When you're on a show, you own that character, so I decide how she's feeling in the moment and how it would make her feel. So you have a lot more artistic freedom to decide. And [as a guest star,] you don't know the vibe of the rest of the cast or even how the crew works. It's such a luxury to be on a show, knowing everyone from the craft service guy to the camera guys. You feel so much more comfortable. So going from that and then auditioning—which is such a foreign, weird, uncomfortable thing—it's night and day.
Back Stage
: There are people who love auditioning, and then there are those who despise it. Where do you stand?
Lancaster
: It's so unreal. If you can give a good audition, then you are going to do awesome on set. Auditioning is the hardest part of acting, hands down. When you're on a set, everything is provided for you. If I have to audition and I have to pretend an alien is eating my leg off, it's going to be a lot harder than if I'm actually on set where there is a guy dressed as an alien eating my leg off. So much of acting is reacting, and when you're reading with somebody who has no emotion, who isn't invested in the scene, it's hard to play off of them, because it's not natural.
Back Stage
: When the pilot was picked up to series, what was your initial reaction?
Lancaster
: I wasn't even expecting it because there are a million pilots that get made that don't get picked up. At this point, we had no idea what was going to happen. It was cool that MTV was doing a scripted show, but we didn't know that we would be the first scripted show that MTV had done in years. I had no expectations, which is pretty much how I've operated my entire life. Prepare for the worst, hope for the best, I guess.
Back Stage
: Your character on the series is a high school cheerleader. Was that close to who you were?
Lancaster
: Yeah, I was a cheerleader in high school and then I was a professional cheerleader for the NFL, for the Seattle Seahawks. What's funny is I didn't get to do any cheerleading during the show.
Back Stage
: How do you approach your character?
Lancaster
: I try and apply as much of myself as I can to the character, because I think that's where a lot of people go wrong. It's so easy to be yourself. Everybody is so unique that that makes you different enough.
Back Stage
: What have you learned from the series that you'd like to take on to future projects?
Lancaster
: It's all a learning experience. Practice makes perfect. Getting to act every day helps you get better at it. Even if you took a professional basketball player, if he didn't practice basketball every single day, he wouldn't be as good as he is. He'd have natural talent, but he wouldn't be as good.
Back Stage
: What do you see for yourself in the future?
Lancaster
: I love comedy. Drama is fine too, but it's so serious. Could you imagine being on the "CSI" set all day long dealing with dead bodies? I wouldn't want that. I want to have fun. I love a challenge and I definitely want to do a thriller.