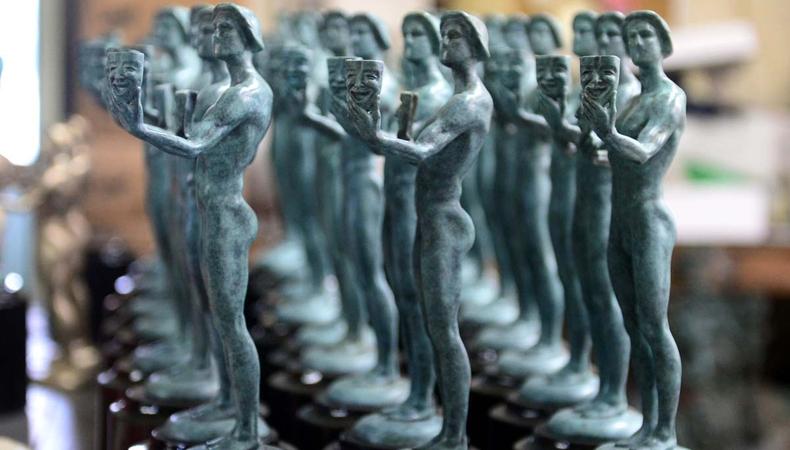 The Screen Actors Guild Awards are the only major accolades given by actors to actors. The Academy Awards are considered Hollywood's highest honors, handed out at the end of a long awards season. For pundits bent on predicting the nominations and winnings of the latter, it's important to scrutinize the former; SAG has a historically predictive relationship to Oscar.
How often does a SAG statue signal Oscar success? In short: often! But although these two awards and their voting bodies have an interlinked relationship, their respective results have demonstrated some notable differences alongside their well-known parallels. Below we break down the facts and figures of how strongly the SAG Awards correlate with the Oscars.
How are they different? The SAG Awards, born in 1995, honor both film and television in the preceding calendar year. There are six film and nine TV categories, voted upon by approximately 160,000 guild members; in addition to individual performances, SAG recognizes both TV drama and comedy ensembles, TV and film stunt ensembles, and film ensembles. The latter category is the highly coveted—and distinct—Award for Outstanding Performance by a Cast in a Motion Picture, which has been in existence since the 2nd annual SAG awards back in 1996 (recognizing performances from 1995) and collectively honors the leading and supporting actors of a film.
The Oscars, celebrating 90 years of being Hollywood's biggest evening, are presented by and decided upon by members of the Academy of Motion Picture Arts and Sciences, over 6,000 professionals active in the filmmaking industry. Members vote within their respective branches, of which there are currently 17. The Academy Award categories number 24 and include both narrative and documentary films, plus a handful of special honors.
How they are linked? SAG shares a large voting block with AMPAS, which is part of the reason behind the accolades' parallels. The acting branch of the Academy—over 1,000 members—is made up of professional performers, meaning they're in the Screen Actors Guild and voting for both awards. Below we break down what that relationship has meant in recent years: For each of SAG's film categories, how often do the subsequent Oscar wins mirror results?
READ: Your Definitive 2017–18 Film Awards Calendar
Best Picture: SAG honors acting rather than filmmaking, but that Outstanding Performance by a Cast in a Motion Picture category is seen by industry insiders as linked to the Oscar for Best Picture. Breaking down recent results, the relationship borders on clairvoyant.
In the last 10 years all Academy Award winners for Best Picture have received a nomination for a SAG Award, with the nominees in the respective categories being exactly the same in 2015, 2014, 2012, 2010, 2008, and 2007. Exactly half of the guild's 22 film ensemble winners have gone on to take that year's top Oscar. Only one movie has won the Best Picture Oscar without previous recognition from SAG—1995's "Braveheart"—and only one SAG ensemble winner—1996's "The Birdcage"—went home without a subsequent Oscar nod.
But a major difference in the two awards is the number of nominees. Since 2009 the Academy increased its Best Picture nominees from five to a maximum of 10, so although a SAG nomination is harder to come by, a film's chances of winning the ensemble award once nominated is up to twice as high as at the Oscars.
Breaking down both groups' nominations over the last five years, surprisingly, not all SAG ensemble cast nominations go on to be nominated for the Best Picture Oscar. For 2016 films, four out of the five SAG nominees showed up again with Oscar, and for 2015 only two SAG nominations made their way to their parallel category (but did share a winner in "Spotlight"). For 2014 and 2012, the Guild and Academy shared all their nominees and the winner, but for 2013 only three films received crossover nods.
So what does this mean for this year's SAG nominees' chances? Looking at the last decade, there have been six shared winners by the two awards shows, meaning 60 percent of SAG winners went on to receive an Oscar—not a stat to sneeze at.
Best Actor: Because the SAG Awards are voted on by actors, both the Best Actor and Actress category have a special significance within the industry. The award winners for leading male actor had run exactly parallel over the last 10 years—until last year in which the SAG statue went to Denzel Washington for his performance in "Fences," and the Oscar to Casey Affleck for "Manchester by the Sea"; both, of course, received nominations from both groups.
Best Actress: Similar to its male counterparts, the SAG Best Actress category also means a well-paved path to Academy success. In the last decade, seven of the SAG winners went on to take the Oscar. In those years that did not result in shared results (2007's Julie Christie for "Away from Her," 2008's Meryl Streep for "Doubt," and 2011's Viola Davis for "The Help") those SAG winners nevertheless received Oscar nods.
Best Supporting Actor: From 2007 to 2011, the Guild and Academy were in perfect step. Then for the ceremonies recognizing 2012, Christoph Waltz won the Oscar for this performance in "Django Unchained" without receiving a SAG nomination for his performance; that year's SAG winner was the Oscar-nominated Tommy Lee Jones for his performance in "Lincoln." Over the following five years, the institutions were just once out of step: for 2015, with Idris Elba receiving the SAG but no Oscar nod for his performance in "Beasts of No Nation," and Mark Rylance the Oscar for "Bridge of Spies."
Best Supporting Actress: Out of the last 10 years, the two institutions shared nine supporting actress winners—but with a twist. For 2008 Kate Winslet won this SAG Award for her performance in "The Reader," but went on to win the Oscar in the leading category (Penélope Cruz picked up that year's supporting Oscar for "Vicky Cristina Barcelona"). The only other out-of-step year was 2007; SAG winner Ruby Dee of "American Gangster" received an Oscar nod but lost to Tilda Swinton for her turn in "Michael Clayton."
READ: Does a Golden Globe Promise Oscar Success?
How might the two awards' relationship fare this year? The casts of "The Big Sick," "Get Out," "Lady Bird," "Mudbound," and "Three Billboards Outside Ebbing, Missouri" are in the running for that SAG equivalent to Best Picture at the upcoming ceremony. For a full list of SAG results, click here. What do you predict?
The 24th annual SAG Awards will take place Jan. 21, hosted by Kristen Bell. Just two days later, the Academy will announce their nominees. And then the 90th annual Oscars ceremony March 4, hosted by Jimmy Kimmel! Follow along with Backstage for every twist and turn of the awards season races.