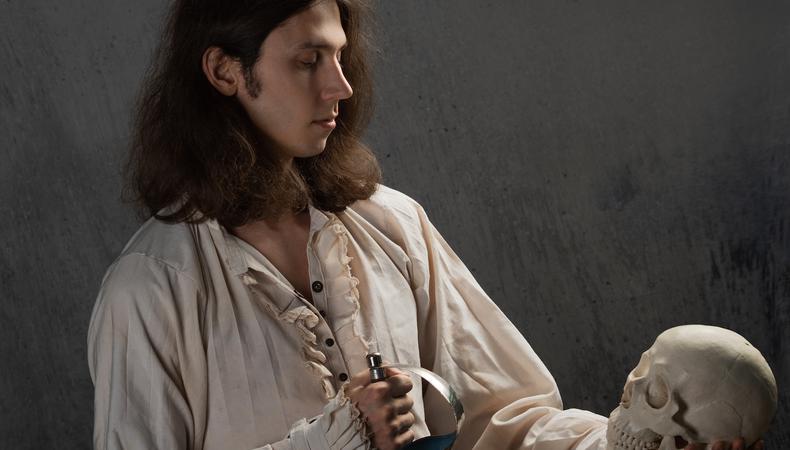 Finding the right Shakespeare monologue can definitely be a daunting task for actors. After all, there are so many options, each of them leading to various questions. Which pieces are overused? Which are right for younger actors? Which will give you the best chance at nailing that audition?
Don't worry, our Backstage Experts are here with some answers! Here are 29 Shakespeare monologues for actors to consider.
Backstage Expert and acting coach Erin Roth knows that finding a Shakespeare monologue can be tricky, and she has some great tips when it comes to finding a Shakespeare monologue that's right for you! Luckily, she's also rounded up a list of six Shakespeare monologues that are perfect for women.
1. Isabella, "Measure for Measure": Act 2, Scene 2
"Could great men thunder"
"If you're looking for [an] Isabella monologue that is less well-known, this one is fantastic... this is the beginning of Isabella's journey into understanding the devastating effects of male abuse of power."
2. Miranda, "The Tempest": Act 1, Scene 2
"If by your art, my dearest father"
"If you're a younger actor or new to Shakespeare, Miranda is a great place to start...Miranda has just seen a ship dashed by a storm and she suspects that her father, who has powerful magical powers, was responsible."
3. Ophelia, "Hamlet": Act 3, Scene 1
"O what a noble mind is here o'erthrown"
"This is both a beautiful monologue and an example of Shakespeare's brilliant stagecraft. Ophelia has no one else to talk to–her brother is gone, her father is using her for political purposes, Hamlet has just said some devastating things to her–so she talks to the audience in a soliloquy."
4. Portia, "Julius Caesar": Act 2, Scene 1
"Is Brutus sick? And is it physical"
"Shakespeare writes brilliantly about marriages and this Portia and Brutus scene is no exception. Brutus is conspiring to kill Julius Caesar but he has not confided in his wife. Portia knows something is wrong."
5. Cressida, "Troilus and Cressida": Act 3, Scene 2
"Hard to seem won, but I was won, my lord"
"If you're looking for a comedic monologue, this is an excellent choice...a delightful and relatable journey for both actor and audience."
6. Titania, "A Midsummer Night's Dream": Act 2, Scene 1
"Set your heart at rest. The fairyland buys not the child of me"
"Another brilliant examination of a marriage-like relationship, this quarrel has severe consequences for humanity and the environment."
You can learn more about these monologues here!
Backstage Expert and acting coach Erin Roth knows how important it is to find a Shakespeare monologue that resonates with you. This can certainly be a difficult task, with so many choices out there, but she's rounded up "six exciting, challenging, and moving Shakespeare monologues for men."
1. Hamlet, "Hamlet": Act I, Scene 2
"O that this too too sullied flesh would melt"
"This monologue is a beautiful example of the power that speaking holds in Shakespeare's plays. Speaking brings Hamlet...into understanding that something is amiss and confirms why he is feeling the way he is feeling."
2. Antigonus, "The Winter's Tale": Act III, Scene 3
"Come poor babe"
"What happens when we're tasked with impossible, inhumane, soul-wrenching tasks by our leaders?...Leontes has ordered [Antigonus] to leave a newborn baby out in the wild to die. Not only that, but he threatens to kill both Antigonus and his wife Paulina if Antigonus doesn't follow his bidding. What would any of us do?"
3. Richard III, "Richard III": Act I, Scene 2
"Was ever woman in this humor wooed?"
"In Shakespeare's stunning portrait of a sociopathic tyrant, this monologue is a rare moment of change for Richard III. He has what he thinks is an amazing realization in this monologue: maybe he isn't as ugly or misshapen as he thought."
4. Egeus, "Midsummer Night's Dream": Act I, Scene I
"Full of vexation come I, with complaint"
"In this monologue Egeus has brought his daughter Hermia, Lysander, and Demetrius before Theseus, the Duke of Athens. Egeus is angry with Hermia because she won't marry Demetrius, the man he has chosen for her, and instead she chooses Lysander. Egeus invokes the ancient law in Athens that if Hermia doesn't do as he wishes he can kill her."
5. Bassiano, "The Merchant of Venice": Act III, Scene 2
"So may the outward shows be least themselves"
"In this monologue the stakes are high. If Bassanio chooses the wrong casket, he has vowed never to get married."
6. Claudius, "Hamlet": Act III, Scene 3
"O my offense is rank, it smells to heaven"
"This monologue happens after Claudius leaves the play, brought into consciousness by watching his own crime committed on stage. Claudius' thought process and the journey he goes on in this monologue are incredible. Can he pray? Can he be forgiven for his crime?"
You can learn more about these monologues here!
Acting coach and Backstage Expert Denise Simon knows that "every young actor dreams of the chance to deconstruct and explore Shakespeare." Unfortunately, it can be difficult for teens to find monologues that fit. That's why Denise Simon has pulled together six of the best Shakespeare monologues for teens!
1. "King John": Blanch
"The strong conflict gives young actors the freedom to play heightened emotions, which, coupled with the complex relationship between Blanch and her husband, makes this monologue a great challenge for any girl looking to expand her acting horizons."
2. "A Midsummer Night's Dream": Helena
"Always a fan favorite, here the conniving Helena laments her inability to woo Hermia's suitor Demetrius. Her desire for beauty, as though confirming her appearance to match Hermia's will make her worthy of love, is one many teen girls can relate to as is her lovesick despondency."
3. "A Midsummer Night's Dream": Lysander
"Lysander showcases unexpected bravery in this scene, essentially standing up to the adults in the room, which is a dream that all teens share. It's a great scene for a timid teen who wants to expand his range"
4. "Henry VI Part 1": Joan of Arc
"Who wouldn't want to play one of the toughest, most headstrong women in history?...Her simultaneous anger at the men who call her a witch gives this monologue great versatility with the tools to make creative choices…If you're a headstrong, independent actor and looking for a character to showcase that, you may be the perfect witch to play her."
5. "Romeo and Juliet": Romeo
"The character is age-appropriate and has the same confusion about life indicative of being a teen. His monologues tackle themes of love, fate, and grief, and use complex metaphors to paint a dynamic picture of what it means to grow up. This makes it an easy character for boys to understand and provides a vehicle for them to improve their craft with nuanced writing."
6. "Two Gentlemen of Verona": Launce
"The language in this speech is definitely a challenge, even tripping up Launce, but it's a hilarious, self-aware piece that an actor can really have fun with. It's a break from Shakespeare's typical style of comedy, playing with language and poking fun at his usual use of metaphor. It really gives an actor the space to play with and become more acquainted with the Bard's style."
You can learn more about these monologues here!
Backstage Expert and acting coach Denise Simon knows that Shakespeare can be a challenge for young actors. But she also knows that with the right material, kids can "have a lot of fun with [Shakespeare]." She's collected five Shakespeare monologues perfect for kids to explore!
1. "A Midsummer Night's Dream": Puck
"What better character to get kids interested in Shakespeare than the mischievous, high-energy Puck? Puck has many great monologues in the show, from breaking the fourth wall to provide helpful commentary to carrying out King Oberon's demands, and they can be performed by any child."
2. "A Midsummer Night's Dream": Snug the Lion
"This is a great segue into Shakespeare for very young actors. It's short and easily understood with some coaching and it provides the adorable irony of a gentle child playing a fierce lion."
3. "Macbeth": Witches
"These wicked ladies are perfect for helping kids expand their range...Kids love getting to play these heightened, extreme personalities while still working to find the humanity hidden beneath the surface."
4. "The Tempest": Ariel
"Another gender-neutral, mysterious character, Ariel is a spirit inhabiting Prospero's island...This is a great piece for young actors to explore with physicality, giving them the chance to build a spirit and how they think it would move."
5. "As You Like It": Rosalind
"The long string of insults flows well because of the engaging language, which will keep young girls excited and connected to the story. It's also a great avenue for kids to express some of their unspoken frustrations, which is always a cathartic experience."
You can learn more about these monologues here!
Backstage Expert and acting coach Erin Roth knows that "Shakespeare monologues are a requirement for many undergrad, grad school, and theater company auditions around the globe." With this being the case, it is only natural that certain monologues end up being overused. Erin Roth however has some suggestions that are great "hidden gems" to consider.
1. Hermione, "The Winter's Tale": Act III, Scene 2
"Since what I am to say must be but that" and "More than mistress of"
"You may have heard of Hermione's other monologue, 'Sir, spare your threats,' and although it is a gorgeous speech, it's performed often. If you can get away with a longer speech, 'Since what I am to say must be but that' is an excellent monologue...If you're in need of a shorter monologue, look no further than a few lines later in the scene for 'More than mistress of' spoken by Hermione as well."
2. Queen Margaret, "Henry VI Part II": Act I, Scene 3
"My Lord of Suffolk say is this the guise"
"In this more intimate scene with Suffolk, [Margaret] questions him over the situation in England where her new husband King Henry VI does not fully command power. Like or dislike her, you've got to understand her situation, invest in her perspective, and fight for it."
3. The Princess, "Love's Labour's Lost": Act V, Scene 2
"A time methinks too short"
"This monologue spoken by the Princess of France is a great monologue for an actor looking for a coming-of-age character...This monologue is not that just of a young lady turning into a woman, but a Princess turning into a Queen."
4. Brutus, "Julius Caesar": Act II, Scene 1
"It must be by his death. And for my part"
"Brutus is alone and, as is always the custom in Shakespeare, speaks to the audience about why he believes Caesar must be killed."
5. Shylock, "The Merchant of Venice": Act IV, Scene 1
"What judgment shall I dread, doing no wrong?"
"This play is complicated and its characters multilayered; Shylock is no exception. After being told repeatedly to have 'Christian mercy' throughout the scene, Shylock deftly points out that many of the Christians in the court are slave owners, and that if the Duke doesn't uphold his contract, none of Venice's laws will have any force."
6. Malcolm, "Macbeth": Act IV, Scene 3
"Macduff, this noble passion"
"Malcolm is often overlooked or misunderstood in this great play...Malcolm is the son of the murdered king and has a claim to the crown, yet he cannot be sure whether Macduff is there to take his life or deliver him to Macbeth."
You can learn more about these monologues here!
Looking for remote work? Backstage has got you covered! Click here for auditions you can do from home!
The views expressed in this article are solely that of the individual(s) providing them,
and do not necessarily reflect the opinions of Backstage or its staff.