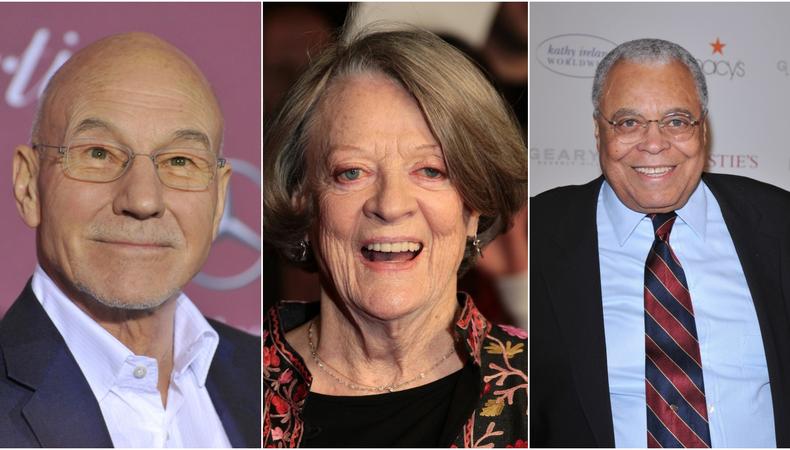 These 14 actors have been treading the boards for most of their lives, defining the way we see (and perform) Shakespeare in the 21st Century. Have you been lucky enough to take in one of their performances? Get inspired with these Shakespearean living legends.
Mark Rylance
Shakespeare lovers cheered when Rylance took home the Oscar for best supporting actor last month, though his role in "Bridge of Spies" marked a departure from his usual fare. The great Shakespearean scholar is best known as the original artistic director of Shakespeare's Globe in London, and for playfully undertaking lead roles in all-male, historically authentic productions including "Richard III" and "Twelfth Night" (the latter of which Rylance won one of his three Tony Awards for the role of Olivia).
Sir Ian McKellen
Long before he was Gandalf in "The Lord of the Rings," McKellen made his name as one of the greatest Shakespearean actors of all time. A graduate of Cambridge University (and its famed Marlowe Society), McKellen has performed the Bard's works all over the world with esteemed companies including the Royal Shakespeare Company and Royal National Theatre. His onscreen performances as Iago and Richard III are fantastic, and his film "Acting Shakespeare," in which he performs and speaks about the playwright's works, is a masterclass for all levels of performer.
Dame Judi Dench
This legendary talent won an Academy Award for her portrayal of Queen Elizabeth I in "Shakespeare in Love," but Dench's own love of Shakespeare goes much farther back. A graduate of London's Central School of Speech and Drama (along with Vanessa Redgrave), Dench made her debut in The Old Vic's "Hamlet" almost 60 years ago. She has since performed in countless Shakespearean productions on stage and screen.
Sir Patrick Stewart
Stewart has enjoyed a long career as a film and television star, but it all started with a turn at the Royal Shakespeare Company in the 1960s. Stewart later performed in "A Midsummer Night's Dream" on Broadway (directed by Peter Brooks) and worked with the Royal National Theatre for many years. Though he took time off for "Star Trek: Next Generation," he quickly returned to the stage in such famous roles as Othello (in a controversial reverse-race production) and Macbeth.
Ralph Fiennes
Another star who got his start with London's Royal Shakespeare Company, Fiennes is an award-winning Shakespearean actor with an astonishing body of work to his name. A graduate of RADA, Fiennes is well-known for his layered performances in mainstream films including "Schindler's List" and the "Harry Potter" franchise in addition to his stage career. He brought the Bard to life on film in 2011 as the director, producer, and star of Shakespeare's "Coriolanus."
Sir Kenneth Branagh
One of the most prolific adaptors of Shakespeare for the screen, Branagh made his name first as a performer, and then as a screenwriter and director of great classical works. Also a graduate of RADA, Branagh performed Shakespeare all over London early in his career and co-founded the Renaissance Theatre Company in 1987. Films include 1993's acclaimed "Much Ado About Nothing," 1996's "Hamlet" and 2006's "As You Like It," and many more.
Dame Maggie Smith
This wildly inventive actor is famous across generations, from a stage career spanning over 50 years to the role of Professor McGonagall in the "Harry Potter" franchise and Violet Crawley in "Downton Abbey." Smith was once a fixture at Canada's Stratford Shakespeare Festival where she performed numerous roles, and received the first of six Academy Award nominations for her work in the 1965 film "Othello."
James Earl Jones
One of this country's most beloved theater and film actors, Jones made his Shakespearean debut in "Othello" over 60 years ago after training at the University of Michigan, and later studied at New York's American Theatre Wing. His career has covered many more of the Bard's works (in addition to great American classics) including "A Midsummer Night's Dream," "King Lear," and "Hamlet." Darth Vader in iambic pentameter? Yes please.
Sir Derek Jacobi
A Cambridge graduate (along with his friend McKellen and longtime director Trevor Nunn), this Shakespearean actor honed his skills from a young age as a member of the Birmingham Repertory Theatre. His career has included countless Shakespearean productions on stage and screen, along with mainstream films including "Gladiator" (he plays Senator Gracchus) and "The King's Speech."
Kevin Kline
A founding member of what is now the touring theater troupe known as The Acting Company, Kline has been performing Shakespeare since his days as a Juilliard student. The actor spent a decade working on stage in New York before breaking into film with "Sophie's Choice," and was in several productions as part of Shakespeare in the Park throughout the 1980s including "Richard III" and "Hamlet."
Vanessa Redgrave
Part of the great Redgrave theatrical family, Redgrave trained at the Central School of Speech and Drama and has had an epic career with roles spanning film and television, classical and contemporary. She starred in the Ralph Fiennes' helmed film "Coriolanus," and will soon co-star with Fiennes again in "Richard III" at London's Almeida Theatre.
Sir Ian Holm
This British performer began his incredible half-a-century long career with 13 years at Stratford in what would become the Royal Shakespeare Company. Perhaps known best as Bilbo Baggins in "The Lord of the Rings," Holm played countless Shakespearean roles with the RSC and starred in many Shakespeare movie adaptations including 1989's "Henry V," 1990's "Hamlet," and 1998's award-winning "King Lear."
Christopher Plummer
The original Captain von Trapp alongside Julie Andrews in "The Sound of Music," Christopher Plummer is also a highly respected Shakespearean actor boasting a 60-year history with Canada's Stratford Festival. Plummer earned Tony Award nominations for his Iago (opposite Jones' Othello) and twenty years later for a brilliant "King Lear."
Zoe Caldwell
This four-time Tony Award-winning Australian actor has been performing Shakespeare for most of her very long career, captivating audiences in England (with the RSC), Canada (at the Stratford Festival) and the U.S. (at the Guthrie Theatre and on Broadway). Her memoir "I Will Be Cleopatra: An Actress's Journey" is a must-read for any thespian looking for inspiration.