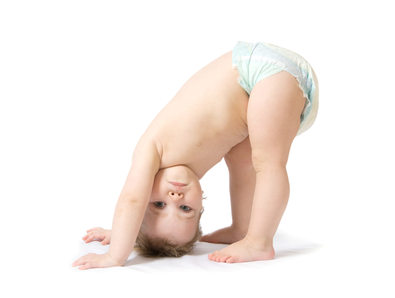 When my daughter Ashley was born, I was convinced that she was the most beautiful baby in the world. So convinced that when we went to a restaurant, I would walk her around to all the tables so that everyone could admire her. Not wanting to deny the world her cuteness, I took her to an open call looking for babies for television and print work. She was 6 weeks old and she was signed on the spot.
During her first year, she booked TV commercials for Gerber Baby Food, Cabbage Patch Dolls, and print ads for Carters, Babies 'R' Us, K-mart, and others. During that year, I learned so much about what to do and more importantly what not to do when auditioning with a baby. Here are some tips that we share with our clients with babies.
1. Arrive at the audition early so that you have time to feed and change the baby before entering the audition. The baby should be awake, alert, and ready to be handed to the casting director when the casting director is ready. No one wants to wait while you feed and burp the baby, or worse, have you stop feeding the baby before he is done and then he starts to cry.
2. Dress babies like babies! A cute onesie or simple outfit is best. The tuxedo or poofy holiday dress is adorable, but wrong for auditioning. No solid black, white, or red outfits for television auditions. Keep the patterns simple; you want the focus to be on the baby not the outfit.
3. No earrings or jewelry of any kind.
4. Always have a recent picture on hand to leave with the casting director. Babies do not need professional headshots. They change very rapidly during the first years, and the picture should reflect how they look that day, i.e current hair length, number of teeth, etc. A current 5x7 picture taken that week is best. Affix a sticker on the back with the baby's name, DOB, height and weight, clothes and shoe size.
5. This one sounds like a no-brainer, but we have had it happen enough times that we need to mention it in our rules. Your baby needs to have a clean face before auditioning! As parents we think it's adorable when their face is covered in spaghetti sauce or strained peas, but casting directors do not. If I had a nickel for every time I got a call from a casting director complaining about this, I would almost have a dollar.
6. Most of all have fun and enjoy your baby. These days go by way too quickly!
Do you have an adorable baby that you would like to get into television or print? Stop by our website and fill out an application. www.LilAngelsUnlimited.com.
Jackie Reid owns and operates L'il Angels Unlimited, a talent management company, which specializes in young actors for placements in film, television, theater, commercials, voiceover, and print media. She works extensively with agents in New York and L.A. She possesses an excellent eye for talent that both casting directors and agents value. She understands what it takes to support young actors as a stage mom to two children, one of whom currently plays Sinjin on Nickeldeon's hit series "Victorious." Follow her on Twitter @LilAngelsTalent and like her on Facebook.
Thinking of letting your child pursue acting professionally? Check out this video about how it affects the whole family: