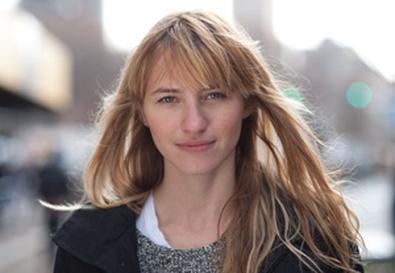 "For a long time, there's been this very tired conversation about what images of skinny models are doing to the public, to the consumer," supermodel Sara Ziff says over coffee in New York's Gramercy Park neighborhood. "If you really want to do something about it," she argues, "you have to look at it from a labor standpoint and from a public health standpoint, and start with the worker — the model herself. How can we make sure that she is protected and is not working ridiculous hours, not having to drop out of school? It's been reported over and over that models on the runway are too thin, but what people fail to realize is that a lot of the time they have that body type because they're adolescents."

Ziff knows what she's talking about. Discovered at age 14 while walking home from high school in New York City, she was shortly afterward walking the runways in New York, Paris, London, and Milan before becoming the face of such brands as Moschino, Nautica Jeans, Stella McCartney, and Tommy Hilfiger. She was earning enough money that she was able to buy her own Manhattan apartment before she turned 20, but Ziff realized that the world's perception of supermodels as carefree millionaires belies most working models' reality of the business. "I was extremely lucky," she says. "I also recognize that I'm the exception. Most models are not making that kind of money. In fact, a lot of them aren't making any money at all." She pauses and adds, "I got a lot from it, not just financially. I don't think there's anything inherently wrong with modeling, but there is an inherent problem with an unregulated industry that relies on a labor force of minors."

Ziff tends to punctuate her comments about the dark side of high fashion with a wry laugh. She seems embarrassed to talk about her success because so few in her line of work ever achieve it. After more than a decade of working with many of the top names in fashion, though, she is in a unique position to affect industrywide change from within.

Now 29, Ziff is the leader of a labor movement. Instead of hard hats, her workforce wears high heels.

Forming an Alliance

The majority of models begin their careers before they turn 16 and may be exposed to drugs, alcohol, and sexual exploitation at a young age. They are often paid in trade, meaning with designer clothing rather than cash. Many are in debt to their agencies and do not have access to health insurance, while eating disorders, drug abuse, and exhaustion after working long hours are all too common.

To combat these unsafe labor practices and set a new code of conduct that protects models in the industry, Ziff has created the Model Alliance, a nonprofit organization that officially launched in early February before Mercedes-Benz Fashion Week in New York. The alliance's primary goals are to enforce child labor laws, provide access to affordable health care, achieve financial transparency by agencies, and establish a support system for models who have been victims of sexual harassment and abuse. The group has drafted a Models' Bill of Rights to propose a set of standard industry practices. Models Coco Rocha and Caitriona Balfe are among its proponents.

Unlike actors or dancers, models in the United States are not protected by a performers' union. The Models Guild was founded in 1995 to offer the same type of financial and health protections that the Screen Actors Guild provides for actors, but it faded from memory a few years later due to lack of members or support from the industry.

"I hadn't even realized there was a union, even though I was modeling when it existed," Ziff says. Neither had most other models.

One major obstacle to organizing is the fact that the average modeling career has such a short life span. Girls who are plucked at a young age from small towns in the Midwest, eastern Europe, or Africa often don't understand their rights or are too afraid of costing themselves a job to complain. Most have no professional experience, so they do not realize the injustices they've faced until after retiring from the runways. Therefore, Ziff understands that in order to improve conditions, she needs interest not only from working models but also from others with more influence in the industry, such as designers, photographers, and agencies.

The idea for the Model Alliance began a few years ago while Ziff was studying political science at Columbia University, with a focus on labor and community organizing. She had postponed college but became disillusioned with her daily life as what she affectionately calls a human "clothes hanger," and she was able to pay for school with her modeling income. She continues to model, mostly for catalog, but has largely left behind the runways and billboards.

"People talk about models starving themselves," Ziff says. "One of my biggest issues was just that I was intellectually starved. I felt like I was losing my mind."
A paper Ziff wrote for Professor Dorian Warren's class at Columbia articulated many of the issues that the Model Alliance intends to address. At the same time, she was editing "Picture Me," a documentary about her career that was released in 2009.
Co-directed by her then-boyfriend, Ole Schell, the film offers an intimate account of Ziff's rise from a fresh new face to one of the top print and runway models in the world in just a few years, but it also exposes the dangers of working in a morally ambiguous and often exploitative business. By incorporating Ziff's personal video diaries and footage shot by other models, "Picture Me" gives voice to a population of young women who are usually paid to be seen but not heard.




Ziff realized that the documentary could be the first step in her quest to tell not only her story but those of other models as well. She used the film as a recruiting tool, gaining disciples at each screening and Q&A session. By the time she graduated from Columbia in 2011, Ziff had formed the core of her cause.

Susan Scafidi, director of the Fashion Law Institute at Fordham Law School, is a member of the Model Alliance's board of directors because she attended a screening of "Picture Me" in the fall of 2010.

"What was amazing about that evening wasn't just the film," Scafidi told Back Stage before the Model Alliance's launch event in February. "It was Sara speaking afterwards to an absolutely riveted auditorium of people who wanted to tell their own stories, some people who were in tears. I saw Sara bringing together people who would become the Model Alliance, and I thought, 'How can we not offer to help?' " Scafidi calls Ziff and Schell's documentary "the genesis of this movement."

Ziff says she was inspired by Marshall Ganz, the longtime civil rights activist and lecturer in public policy at Harvard University's John F. Kennedy School of Government, who is credited with devising the successful grass-roots organizing model for Barack Obama's 2008 presidential campaign. "He talks about the importance of personal narrative in community organizing," Ziff says. "I took that lesson from him and tried to apply it to the Model Alliance by getting models to speak, to draft first-person narratives but also talk about the larger community, and how their own personal stories can be the basis for greater collective strength and a catalyst for change."

In addition to Scafidi and Columbia's Warren, former model-turned-journalist Jenna Sauers has been integral in getting the group off the ground. Current and former models are also encouraged to share their experiences on the Model Alliance's online forum, where their essays may alert others to the realities of life in the business and suggest solutions for the future.

A Movement, Not a Union

In 2009, British Equity began accepting models, and the union negotiated a Code of Conduct with an elected committee of working models.

But in the U.S., models are considered independent contractors, and therefore antitrust laws prohibit them from unionizing. That doesn't stop Ziff and her team from partnering with other labor unions. Actors' Equity Association and the American Guild of Musical Artists are working with the Model Alliance to provide a support system for models to confidentially report and seek assistance with their complaints. "That's what I'm most proud of since our launch," Ziff says. "Every day, we're getting calls and emails."

And since 2007, the Council of Fashion Designers of America has collaborated with the medical community to set forth new guidelines regarding models' health and safety. The CFDA, led by president Diane von Furstenberg, revised its Health Initiative Guidelines this season to conform with the Model Alliance's goals of minimum age requirements, backstage privacy, and healthy eating habits.

The Model Alliance is now collaborating with the Freelancers Union to pass the proposed Freelancer Payment Protection Act, which would protect independent contractors in New York from losing out on wages from clients and agencies. The organization is also in talks with Career Transitions for Dancers, a nonprofit that helps dancers plan for the end of their performance careers with counseling, scholarships, and placement. Ziff hopes that they can create a similar program for models.

"It's wonderful that modeling was part of her life and she's not forgetting about this business," says Chris Gay, the president of the Marilyn agency in New York, which has represented Ziff since 2009. He is also on the Model Alliance's advisory board. "She's actually putting her education to use in our world. It's wonderful to see someone doing that, helping out a bunch of girls she'll probably never know. Sara has worked with our agency as a mentor to a lot of the girls that are just starting out in this business, so we're very thankful for that."

"When I think back to my 14-year-old self, although I fell into working as a model, I did feel that it gave me a sense of empowerment to be able to have some control over my image," Ziff says. "Fashion is a language. When you're coming of age, the idea of being able to communicate your sense of self by changing your appearance can be very empowering."

Ziff believes that by sharing her awareness and activism with more young women, she can use concrete objectives concerning health and labor to transform the subjective standards of the fashion industry from within.


---
The Art of the Pose
"As a model, kind of like a Method actor, I think you learn to adopt a certain persona," Ziff says. "There are a lot of parallels between fashion and art, and I think some of the most intriguing artists are not necessarily revered so much for their artwork as for their persona. You look at people like Andy Warhol or Julian Schnabel, and these are performers. That's part of the work. It's not just what's on the canvas. And that's something that doesn't necessarily translate on the pages of a magazine or a snapshot on the runway, but I think the most successful models do learn to adopt a persona that other people in the industry see."