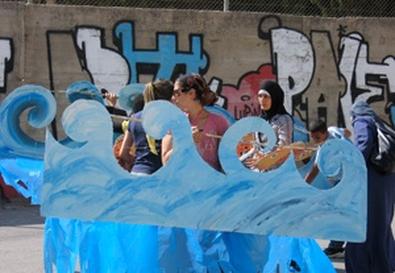 Playwright and social activist
Catherine Filloux
was already a player on the international theater scene before the terrorist attacks of 9/11. But in its wake she felt an urgency to keep the lines of global communication open. So did her friend, director Roberta Levitow.
"In America there was a battening down of the hatches, and cultural exchange was becoming more difficult," she says. "In 2003, we created
Theatre Without Borders
(TWB) as a way to encourage cultural exchange and reach out to others with similar interests."
TWB is an informal network of theaters, organizations, and international artists who represent a range of missions and sensibilities. Many theater artists, such as Marcy Arlin, have been social activists for decades. Arlin's 24-year-old New York–based
Immigrants' Theatre Project
was spawned to produce works dealing with immigrants' experience in an alien American world. Similarly Arab-American artists Tracy Cameron Francis and J.J. El-Far, who run
Hybrid Theatre Works
in New York, have had a long commitment to cross-cultural pollination in addressing social and political concerns. Playwright
Ruth Margraff
was always committed to international exchange -- her plays have been produced all over the world -- but her experiences in war-torn Croatia and Serbia convinced her that as an artist, she had to address global issues.
Some TWB members go abroad to entertain children in refugee camps; others travel to hot spots to help victims of war crimes forge theater projects that encourage catharsis and self-empowerment. Still others go abroad to collaborate with international artists in danger zones; there are those who present timely plays they've written and/or directed and cast with local talent.
Challenges and Revelations
Working abroad and bringing foreign artists to the States are not without challenges. Funding, obtaining visas, and language barriers can be problematic. Theater artists may face physical risks in danger spots. Indeed, in the former Yugoslavia, Margraff had to sign papers stating the United Nations was not responsible for any bodily injury she might sustain traveling. "Crossing the borders was tricky," she says.
Artistic bumps in the road are commonplace. In some economically downtrodden countries, for example, backstage equipment and technicians are virtually nonexistent. Arlin became the lighting designer by default when she staged a play in Romania. It made her appreciate the skilled behind-the-scenes technicians in the West that much more.
Nevertheless, the American artists interviewed have come away with a renewed belief in the value of internationalism and an appreciation of the seemingly alien. Consider the response Filloux's play, "The Beauty Inside," generated in Muslim Morocco. The play deals with honor killings, the practice of a family member murdering a daughter or sister if it's believed she's had sexual relations before or outside marriage. Even if she has been raped, some fundamentalist Muslims contend she has been ruined, has brought shame on the family, and deserves to be killed.
But instead of eliciting rage the drama was embraced, at least among those who came to see it. "The play was better understood there than when we did it in the United States," Filloux says. "When we performed it in the States we had to bend over backwards to make sure no one was painted in a negative way. I always look at the shades of gray, but in Morocco we were allowed to be more black and white in our presentation."
Margraff had an eye-opener in Calcutta when she partnered with a theater troupe to help children who were the victims of human trafficking write and perform a play about their horrific experiences. "But the leaders of the workshop did not talk about human trafficking with the kids," she says. "They talked about art and performance. This approach gave the kids a way to express themselves with dignity. The results -- scenes that could be interpreted as metaphors about sex trafficking -- were very powerful." The production drove home that metaphor, poetry, and music transcend language and are far more potent than literal-minded message plays.
Margraff's travels further reinforced the idea that cross-cultural pollination coupled with making theater are political acts, especially when adversarial countries join creative forces. She recalls theater artists from Russia and the formerly Soviet-occupied Azerbaijan exchanging ideas about theater in an open forum. "We use performance to open up a dialogue," she says. "We'll talk about politics if it comes up, but we've found that art is longer lasting and universal."
Artistic collaborations centering on the crises in the Middle East are well-documented. For Iranian-born theater artist
Mahmood Karimi-Hakak
, the experience was revelatory. He teamed up with Israeli and American theater artists to create "Benedictus." The play is set in Iran three days prior to a scheduled U.S. attack and details the evolving relationship between two estranged Iranian childhood pals, one Muslim, one Jewish, who join forces to negotiate a deal for safety and freedom. The theme of reconciliation should have resonance with all audiences, Karimi-Hakak says, adding that artists should be "agents of change who have the opportunity to plant seeds of cultural understanding and acceptance with every performance, and hope that these seeds grow to become a forest of peace and harmony."
Playwright
Lisa Schlesinger
, who has been involved in a number of theatrical collaborations in the Middle East and elsewhere, is also more committed than ever to collaboration, asserting that it can create more in-depth dialogues onstage and off. The Chicago-based writer is pulling together "an international series of folk plays in response to the current global economic struggles and intended for intimate venues with local food, music, and conversation."
Evolving Aesthetics and Ambitions
All the artists say their aesthetics and ambitions reflect their internationalism. Margraff employs more metaphor and music in her work and is committed to telling stories that have multiple points of view that are typical in some non-Western countries, instead of the single point of view identified with American theater. She's also more interested in writing about the experiences of the marginalized.
Francis and El-Far want their projects to reflect the sense of urgency they've seen in the work of many international artists. They're hopeful their productions answer the questions "What's everyone talking about now and does this work address their concerns?"
Filloux has become a champion of artists abroad, especially those who are impoverished or come from cultures that don't favor the arts. "It's not that I didn't want to champion someone's work before, but now it's become imperative," she says.
"Imperative" is the operative word for all the artists who believe TWB's presence in the world must be bred and nurtured. If not now, when?