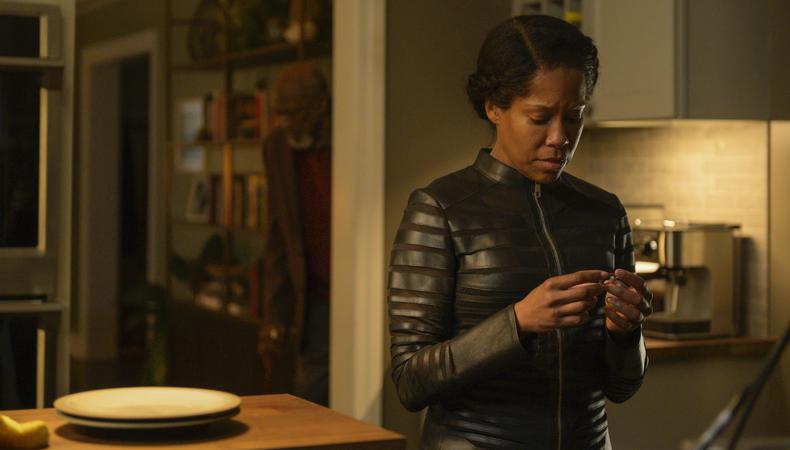 Nine Inch Nails' Trent Reznor and Atticus Ross have been dabbling in on-camera scoring for years, most notably winning an Oscar for David Fincher's "The Social Network." But their involvement in HBO's "Watchmen," the miniseries based on the DC Comics graphic novel, came about for one reason—more specifically, one person: Damon Lindelof, the series creator and showrunner, with whom they were dying to collaborate. Here's how they found the aural sound for the epic Regina King–starrer, and how thinking of a script lyrically has been the secret to their success.
How was it you became attached to "Watchmen"?
Trent Reznor: A few years ago, we found ourselves saying, "I guess we're composers now." We had a great experience with David Fincher, and the phone was ringing occasionally. We spent some time thinking about what we wanted to do with this sort of parallel career we have outside of Nine Inch Nails. Why were we in it? The leading thing we realized was [that] it was the ability to work intensely with these camps of people. We gain a lot from that. The world of Nine Inch Nails can be pretty insular, it's just [Ross] and I in a room working on things and then being on tour and feeling like we're in a fish tank. Collaborating on various scoring projects has really afforded us to get in people's heads. We compiled a list—some projects we'd heard of, but mainly it was people we were interested in working with based on just [thinking,] We'd like to know how their brains work. Damon was on that list, largely due not only to "Lost," but we're both huge fans of "The Leftovers" and also fans of what the medium of television has become, long-form storytelling. When I heard "Watchmen" was being kicked around at HBO, it combined a number of things: the quality of HBO, the idea of "Watchmen," which we're both fans of, and the chance to work with Damon. We kind of proactively told them, "Hey, reach out, we'd definitely be interested in this."
How did you find and then establish the aural mood of the show?
Atticus Ross: We recorded about 15 pieces based on the first script. That's something we always do on every project, to kind of make inroads into the sonic identity of this show or film. What's interesting about "Watchmen" is, usually those initial recordings have been pretty successful in terms of establishing what that sound is, and there have been many times where a lot of those initial recordings have appeared in some form or another in the project. In the case of "Watchmen," we wrote these 15 pieces and—Trent used this word—we were a bit timid, which is a good description of why this particular batch was slightly less successful. It was when we saw the pilot that we really understood what Damon was going for: Music is going to be a substantial character, it's going to be a driving force in the show, and it's going to allow us to dip into the toolbox that we hadn't really previously explored in score before, which is some of the instrumentation and attitude of our Nine Inch Nails stuff. Obviously, we're dealing with an immense story and subject matter, and there's certainly a lot of emotion involved. But there's also a fun quality to it.
What is the actual process for scoring an episode? Is it all done in post-production or is it more ongoing?
TR: We normally get a rough cut of whatever's in an upcoming episode. Like Atticus said, we wrote a number of things to kind of see what would be responded to and we colored in a lot of things that didn't get responded to, and that was helpful because we knew, Ah, music is going to have a different role here, at times playful and fun and in your face. And once we got that heavy lifting out of the way, the roadmap of what was needed was pretty clear. We'd have a handful of scenes in a certain mood category that we knew worked, and there was a lot of attention paid to characters having similar sounds or a lot of themes that, for the person sitting around really thinking about it—are any of those people left in the world?—that connects to this because of X, Y, and Z. A lot went into those things. Generally, we'd get a rough cut of an episode and would have about a week to try placing some stuff we've already written or composing new pieces in, and then formally composing to each of those scenes; flush it out, make it come to life.
"My intent at the end is that you feel a certain way, that I have emotionally made you feel something and it's usually the lyric that's delivering that message. If I swap out the lyric with the script, it becomes a much easier path for my brain to comprehend."
For TV and film, do you compose in accordance with the characters, as a way to help the audience understand them more deeply?
TR: That process is still kind of new to us. We are taking cues project-to-project, and on this one there was a little bit of that coming from Damon and his camp—"It would be nice to kind of have these threads of connectivity"—but it wasn't written in stone. When I think of, say, the original "Twin Peaks," there are maybe four or five themes that repeat endlessly per episode and it works really well because it emotionally delivers that "I'm supposed to feel this way" melancholy, whatever it might be. It certainly didn't play out that simply here. The other thing that complicated this pretty dramatically was, as our camps became more familiar with each other and truly became friends, Damon and us, he realized, "Oh, I can ask them to do more stuff." That led to things like in Episode 6, the 1940s big band track. [Damon said,] "Do you think it would be possible to write something that would be indecipherable from something that actually came out that year, that also could maybe be juxtaposed against the scene of a lynching, and make everyone feel kind of sick to their stomach?" We hadn't been asked to do that before. In the context of this show, it was a cool challenge to have to try to rise to, and it is filled with those sorts of things. Initially we talked about, "Yeah, it'll be easy to do a TV show, just write a handful of themes"—but, now we know that is not how it works.
AR: I would add that, although it's not sort of "Star Wars" themes, they are fairly intricate. There are the obvious ones like "NUN WITH A MOTHERF*&*ING GUN." If you look at the opening, say, of Episode 2, which starts in World War I, there's an interpretation of "How the West Was Really Won" on that piano that's being put through a gramophone that then morphs into the modern-day version that plays when we cut to Will under that tree. Or if you think about Episode 8, "Lincoln Tunnel," that starts off as a kind of requiem for the capture of Manhattan but then continues the throughline of one aspect of what the show is about, which is trauma through the ages. It's a different interpretation of that same choir when Will's talking to Angela about healing, when they're in the empty cinema, the same cinema that opens the show. There was a lot of thought in terms of that specific question of the emotional content of the story and the characters and how that played into the music.
How different is composing for film and TV compared to writing standalone music for Nine Inch Nails?
AR: Obviously, we're in service to the picture, so that is musically different. But generally, the way we spend our time is two guys sitting in a room in the same clothes eating the same food day after day after day. It's a lot of fun, but the nature of what instrumentation it might be or the ideas that go into it, the actual mechanics are pretty similar. We literally spend all our time writing music. I can't remember which author said it, something along the lines of, you'll never get anything done waiting for inspiration. There's something about process and actually doing it that gets you to the point you want to be. In our case, I can say that we've never turned in anything that we haven't thought is the best we could possibly do. To get to that, there is something about the rhythm and the kind of essence of doing. It's not sitting around waiting for inspiration to strike, it's being constantly in action.
TR: Here's one way that it's similar that I think has helped us. I know I was quite intimidated back in the day when Fincher asked us to score "The Social Network," because I didn't know how to write fiction. I didn't know the process; I didn't know the terminology. I knew if I liked a score, but I had no idea how you actually do it. If you're presented with a scene where someone walks down a hall and goes up a staircase, how do you write for that? I can write a chorus, I can write a verse, but how do you do that? How do you write a 14-second segue? Eventually, what we kind of stumbled into [as far as] the similarities of writing for pop music, pop songs, Nine Inch Nails, whatever you want to call it, is, really, I am starting with an idea, a lyric, and I'm trying to dress that with the right emotional support to help convey that message. Maybe it's working in concert with the lyric, maybe it's working against it, juxtaposing. But my intent at the end is that you feel a certain way, that I have emotionally made you feel something and it's usually the lyric that's delivering that message. If I swap out the lyric with the script, it becomes a much easier path for my brain to comprehend. What is the scene trying to convey? Dread? Uneasiness? Anxiety? Comfort? Joy? Exhilaration? If you start from a completely emotional point, not thinking about technique, process, anything, that being a north star has been the recipe for our work. And in that way, that scene becomes more decipherable. There is always time for editing and overthinking and analysis, but just aiming toward, emotionally: "How can we support what's happening?"
This story originally appeared in the June 25 issue of Backstage Magazine. Subscribe here.
Looking for remote work? Backstage has got you covered! Click here for auditions you can do from home!