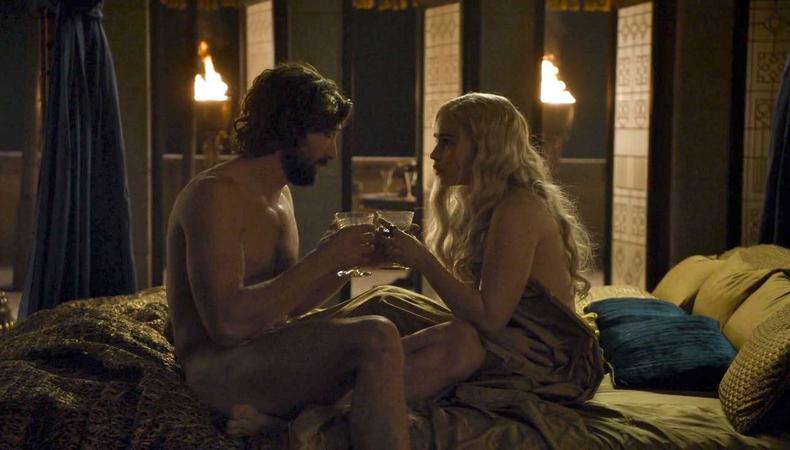 There has been little to complain about when it comes to the rise of cable television. For actors, creators, and below-the-line makers, the age of prestige has meant a proliferation of jobs. And for viewers, it's meant endless, binge-worthy hours.
But there has also been a side effect of cable television that has, unfortunately, fallen by the wayside and more perilously, is only now entering the general discussion.
"Here's why Hollywood is bullshit: when it's time to talk about [sex] stuff up front, people get uncomfortable and don't want to talk about it," says Glen Mazzara, a showrunner on "The Walking Dead." Speaking with Vanity Fair, Mazzara is adamant that given the rapid influx of cable series, the care and handling of on-camera intimacy has been egregiously overlooked.
"People often just say, 'They'll work it out on the set. So you have a director who may or may not have conversations with the actors," he says. "Often, it is left to the costume designer or the wardrobe department to explain to the actors that they are going to wear pasties, or what parts of their bodies are going to be covered."
That ambiguity can yield very serious disputes. Recently, for example, "SMILF" creator, star, and showrunner Frankie Shaw was on the receiving end of claims that she had coerced an actor to go beyond the stipulations in her nudity rider. Shaw rejected the accusation, however, the aggrieved actor departed the Showtime series; the incident proved to be a high-profile but all-too-plausible exemplification of the unregulated process.
Since the dawning of #MeToo—and the broader, subsequent cultural shift in the industry—there has been some progress on this matter. Specifically, HBO has required that every one of its productions now has an intimacy coordinator on-set, there to liaise between actors, directors, writers, and the production at-large and to ensure sex scenes are as choreographed as fight or action scenes.
"I come in just like any specialist coming into a scene," intimacy coordinator Alicia Rodis tells Backstage. "Having someone there—who has been trained in conflict negotiation, who has been trained in movement direction, who has created a process of how to frame these scenes and how we approach them—is what allows us to remind everyone that we're in a professional environment and we're at work."
Still, for those many productions that have not yet required professional intimacy coordination, the area is endlessly gray.
"It can turn into a form of bullying and coercion, in which women are forced into sex scenes they may not be comfortable with," Mazarra adds. "[Productions can say], 'We don't have time to get anyone else, so can't you just show some boob?' The woman expresses concern or has a grievance, she is considered a pain in the ass. Nobody wants that reputation."
Rodis, however, insists that in this current climate, actors can and should advocate for themselves.
"I also always have to address how to work without an intimacy coordinator, which is: You ask for an intimacy coordinator, just as you would ask for a fight director," she says. "If it is someone who would fire you for asking to be taken care of, why would you want to work with them? It's what I say to companies when they're like, 'We just don't think that that's necessary.' Well, you're either on the wave or you're under it, and this is not going away."