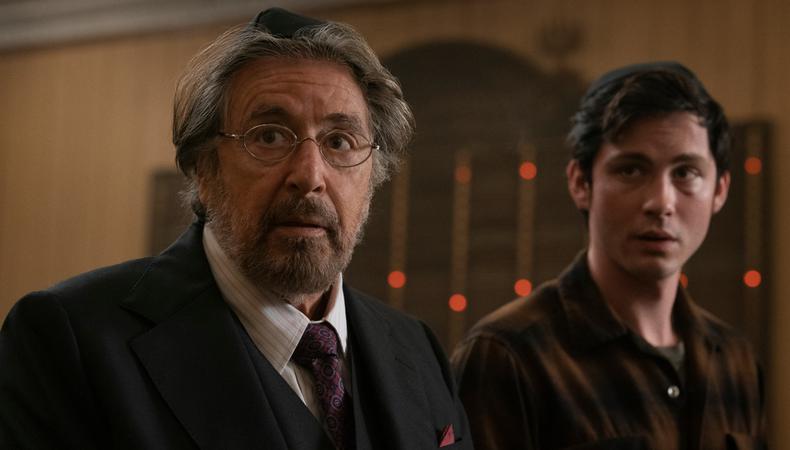 Television doesn't sleep. The sheer amount of content—almost 500 scripted programs aired in the year 2019!—can prove overwhelming for even the most dedicated TV buffs. Television Academy voters make Emmy selections in August, and SAG-AFTRA members vote on SAG Awards in January, but their job requires tuning in all year long. Backstage is breaking down, month by month, the buzzy shows and performances that merit awards attention in the ever-growing landscape of the small screen. Mark your calendar and become a couch potato along with us!
The shortest month of the year is a big time for television. So if you find yourself alone this Valentine's Day, there will be plenty of new shows for you to binge solo.
February 2020 features new series from major broadcast networks and streaming services alike, and lots of A-listers coming to the small screen. Edie Falco will return to TV for CBS's latest procedural "Tommy," and Amazon's "Hunters" about Nazi Hunters in late '70s New York will mark acting legend Al Pacino's first regular TV role ever. And that's just the tip of the iceberg. Zoë Kravitz will star in Hulu's "High Fidelity" reboot, Showtime's new miniseries, "The Good Lord Bird," stars Ethan Hawke as John Brown and Daveed Diggs as Frederick Douglass; and Bill Pullman reprises his role as Detective Harry Ambrose in "The Sinner." Check out the rest of February's premieres below!
ABC
This month ABC debuts their newest drama, "For Life," on Feb. 11, this one based on the true story of Isaac Wright Jr., a man wrongfully convicted and sentenced to life in prison, who is exonerated and continues on to get his law degree. The show is produced by rapper 50 Cent, and stars Nicholas Pinnock in the main role, alongside Indira Varma, Mary Stuart Masterson, Glenn Fleshler, and Dorian Missick.
Acorn
The streaming subscription service, offering the best of UK televised content, offers up its original crime drama, "Agatha Raisin," now in its third season, on the 10th.

Amazon Prime Video
David Weil's "Hunters" will be added to the streaming service on the 21st. This Jordan Peele-produced thriller follows a group of Nazi hunters in 1970s NYC, starring Pacino, as well as Logan Lerman, Josh Radnor, Saul Rubinek, Carol Kane, Jerrika Hinton, and Lena Olin.
AMC
Critics' Choice Award-winning crime drama "Better Call Saul," starring the one and only Bob Odenkirk, launches its fifth and penultimate season on the 23rd.
Apple TV+
One of the newest streaming juggernauts in the game launches its newest show on the 7th: "Mythic Quest: Raven's Banquet," from the makers of "It's Always Sunny in Philadelphia." This show about employees of a video game developer has already been renewed for a second season.
CBS
CBS launches a new crime procedural, "Tommy," starring Falco as a former NYPD officer moving to Los Angeles to be its first female police chief, Feb. 6. Falco stars alongside Michael Chernus, Thomas Sadoski, and Adelaide Clemens. The next night, the reboot of "Macgyver" enters its fourth season.
CBS All Access
The streaming arm of the broadcast network launches its newest original program, "Interrogation," on the 6th. Starting Peter Sarsgaard, Kyle Gallner, and David Strathairn, "Interrogation" takes its inspiration from a true story about a man convicted of murdering his mother and who denies the charges; the show is crafted so you can view the episodes in any order.
Cinemax
The 8th and final season of spy drama "Strike Back" debuts on Valentine's Day.
The CW
The CW adds the "Riverdale" spinoff, "Katy Keene," to its lineup on the 6th. "Katy Keene" stars Lucy Hale as the titular character, as a 20-something looking for fame in NYC. The show takes place 5 years after "Riverdale" and also stars Ashleigh Murray, who will be leaving the show to reprise her role as Josie McCoy for the spinoff series.
Facebook Watch
Facebook Watch has two new seasons this month: Season 3 of "The Real Bros of Simi Valley" on Valentine's Day, and, on the 20th, Season 2 of drama "Sacred Lies: The Singing Bones" premieres, starring Juliette Lewis, Ryan Kwanten, Jordan Alexander, and Kristin Bauer.
HBO
Season 4 of the much beloved comedy series, "High Maintenance" starring Ben Sinclair, debuts on Feb. 7.
Hulu
The newest adaptation of "High Fidelity" debuts on Valentine's Day; the Nick Hornby novel has already been adapted to a beloved movie, starring John Cusack, back in 2000. This version features a gender reversal of the main character, a record store owner reaching out to exes on a journey of self discovery, played by Kravitz, whose mother Lisa Bonet appeared in the original film. This iteration also stars Jake Lacy, Da'Vine Joy Randolph, and David H. Holmes. That same day, "Utopia Falls" lands on Hulu. The sci-fi musical drama, besides hitting every genre, features the disembodied voice of Snoop Dogg and music from musicians like Kendrick Lamar and The Roots. Also this month, the latest in the streaming services's anthology series, "Into the Dark," aptly titled for the holiday, "Into the Dark: My Valentine," debuts on the 7th.
IFC
British comedy "Year of the Rabbit" makes its stateside debut on the 19th. The show stars Matt Berry of "Toast of London" as a Victorian police detective.
NBC
Season 7 of "Brooklyn Nine-Nine" returns to NBC on the 6th. Originally airing on Fox for five seasons, the comedy has already been renewed for an 8th season. That same night, new comedy "Indebted" makes its debut; it stars Adam Pally and Abby Elliot as a couple forced to take in Pally's parents, sitcom veterans Fran Drescher and Steven Weber. On the 16th, crime drama "Good Girls," starring Christina Hendricks, Mae Whitman, and Retta, launches its third season.
Everything You'd Ever Need to Know About the Emmy Awards
Netflix
Added to Netflix Feb. 7 is "Locke & Key," an adaptation of Joe Hill's graphic novel; the 10-episode first season stars Jackson Robert Scott, Connor Jessup, Emilia Jones, Darby Stanchfield, and Bill Heck. Another graphic novel adaptation, this time of Charles Forman's supernatural teen dramedy, "I Am Not Okay With This" from Jonathan Entwistle, joins Netflix on the 26th. Second seasons of crime thriller "Narcos: Mexico" and sci-fi drama "Altered Carbon" will be available Feb. 13 and 27, respectively. On the 21st, Netflix adds "Gentrified," produced and directed by America Ferrera, a bilingual family dramedy starring Wilmer Valderrama centered around a Mexican-American family in L.A.
OWN
Drama anthology series "Cherish the Day" will launch on the 11th, following the key moments in a couple's relationship, each episode focusing on a single day.
Showtime
On Feb. 9 the premium cable network will premiere the eighth and final season of critically lauded spy thriller "Homeland" starring Emmy winner Claire Danes. Season 2 of Jim Carrey's dark comedy "Kidding" launches that same night; the series features a stellar cast including Frank Langella, Judy Greer, Cole Allen, Juliet Morris, and Catherine Keener. On Feb. 16 comes "The Good Lord Bird," an eight-episode adaptation of the James McBride novel about famous abolitionist John Brown, who will be played by Hawke, joined by Diggs as Frederick Douglass, as well as Wyatt Russell, David Morse, Steve Zahn, Orlando Jones, and Ellar Coltrane.
Spectrum
Season 2 of anthology series "Manhunt: Deadly Games" will debut on Spectrum, moving from the Discovery channel. This iteration will follow the 1996 Atlanta Olympics bombing, with all 10 episodes available on the 3rd.
Starz
Time-traveling drama "Outlander" launches its fifth season on the 16th. Based on the Diana Gabaldon novel of the same name, the popular historical romance starring Caitriona Balfe and Sam Heughan has already been greenlit for a sixth season.
USA
On Feb. 6, Rosario Dawson stars in a new anthology-style series, "Briarpatch," based on the Ross Thomas novel of the same name. Created by Andy Greenwald, and produced by Sam Esmail, Season 1 has Dawson's character returning to where she was raised in small town Texas, taking on the investigation of her sister's death. The series, which debuted last fall at the Toronto International Film Festival, also stars Jay R. Ferguson, Kim Dickens, Alan Cumming, Chris Mulkey, and Ed Asner. That same night, USA's other anthology-style why-dunnit, "The Sinner," comes back for its third season. Bill Pullman reprises his role as the troubled detective Detective Harry Ambrose, with newcomers Matt Bomer and Chris Messina.