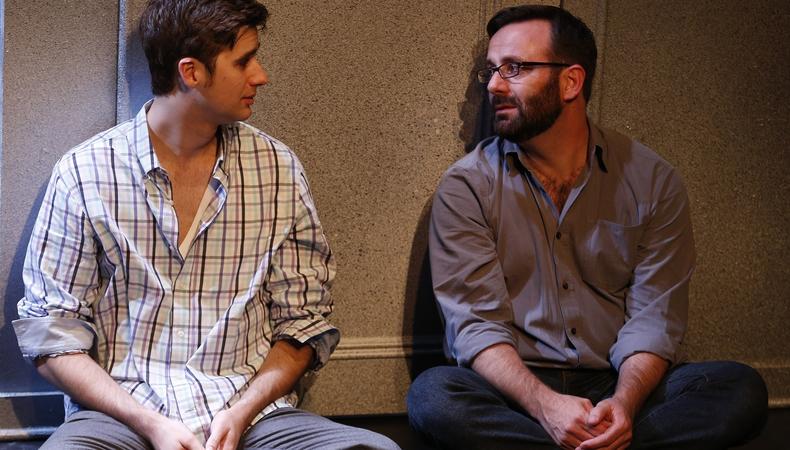 "A Twist of Water," which comes from the Chicago-based Route 66 Theatre Company, is not only set in Chicago but strives to make that city an additional character in Caitlin Parrish's family drama. The play is based on a story by Parrish and Erica Weiss, who also directs. The show is a love letter to the Windy City wrapped around a father-daughter story in which a lack of love is the driving force. On Stephen Carmody's gray and white set, onto which John Boesche's projections of Chicago past and present are cast, there is also a model of the city that twinkles before us throughout the play. The script's last line is "Chicago is Chicago because of its water," explaining the title and letting the city have the last word. While this metaphoric device does not quite mesh with the family dramatics that go with it, it is original and interesting. The same cannot always be said of the central conflict of a father and a rebellious teenage daughter, which often leads us down a well-worn path.
At least the family is nontraditional. Noah (Stef Tovar), a teacher, is trying to raise his adopted African-American daughter, Jira (Falashay Pearson), in the wake of his partner's death in a car accident (yes, in a lake). Jira was devoted to her dead father Richard, with Noah now attempting to take up the paternal reins single-handedly. The strained relationship becomes even more so when Jira decides to seek out her birth mother. Also on the scene is Jira's English teacher, Liam (Alex Hugh Brown), who has developed strong feelings for Noah. This new family grouping needs to rebuild, just as Chicago had to rise from the ashes.
The tangled narrative web includes two strong scenes of clarity that exhibit considerable promise. The first is Liam upbraiding Jira, first for her English composition and then for the way she treats her father: "You are a remarkably ungrateful person," he tells her. The second is the meeting of Jira with her birth mother, Tia (Lili-Anne Brown), a scene that balances emotion and reality in smart proportions.
Tovar works hard, doing double duty as stolid, loving father and poetic city guide, with the latter having more cachet. Pearson, while totally convincing, is trapped in all the clichés of troubled youth. It is left for the supporting two players to add spice to the play's characterizations—Brown spice. Lili-Anne Brown's part is small, but she succeeds in making Tia touching and tough, while Alex Hugh Brown is tall in both person and talent. He is a performer of stylish intelligence whose future is worth watching.
Presented by Route 66 Theatre Company, in association with Laura Ramos Wilson and Jeremy and Renee Lipshutz, at 59E59 Theaters, 59 E. 59th St., NYC. Nov. 7–25. (212) 279-4200, www.ticketcentral.com, or www.59e59.org.
Critic's Score: B